In this drawing guide, I will tell you how to draw Pop It for kindergarten. This will be a really very simple tutorial for aspiring artists.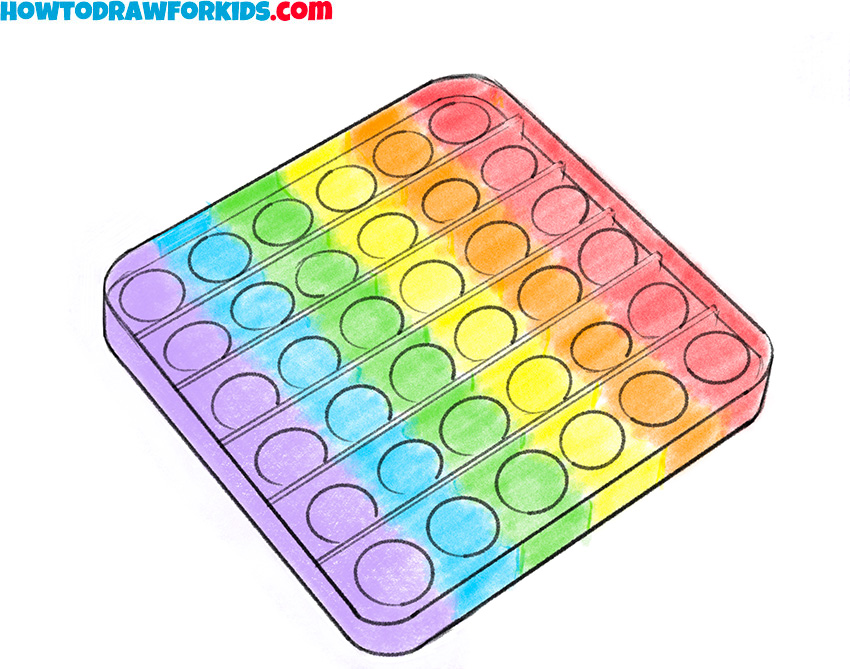 So let's draw Pop It. But before starting, I will say a few things that will make your drawing practice more rewarding. Firstly, try to draw all the geometric shapes without the help of auxiliary tools. This will greatly speed up your progress. Second, try to use light lines in the first steps. This will help you a lot before working with colors.
I think you will get great results. Just repeat these steps and you will see vibrant, realistic Pop It on your paper.
So, grab any of your painting supplies, set up a comfortable light, and try drawing this cute pop it step by step!
Materials
Pencil
Paper
Eraser
Coloring supplies
How to Draw a Pop It for Kindergarten
Draw the base.

Depict a diamond with smooth corners in the center of your piece of paper.

Add the bottom edges.

These lines should be parallel to the lines from the previous step.

Draw regular lines.

Depict some lines like in my reference.

Draw oval bubbles.

Six ovals correspond to each line.

Color your Pop It.

Use any colors according to your imagination.
So, we have completed this tutorial on how to draw Pop It. I'm sure you got a great result. However, if you want to practice drawing a few more times, you can use this PDF file.
This is a very useful thing, in fact. Firstly, this pdf file will help you to practice drawing even with no internet connection. Secondly, I created some special drafts for the most comfortable drawing. If you are having difficulty with the basic part of my drawing guide, these drafts are sure to help you.