In this guide, I will teach you how to draw a realistic dragon step by step. You will get very good results quickly and easily.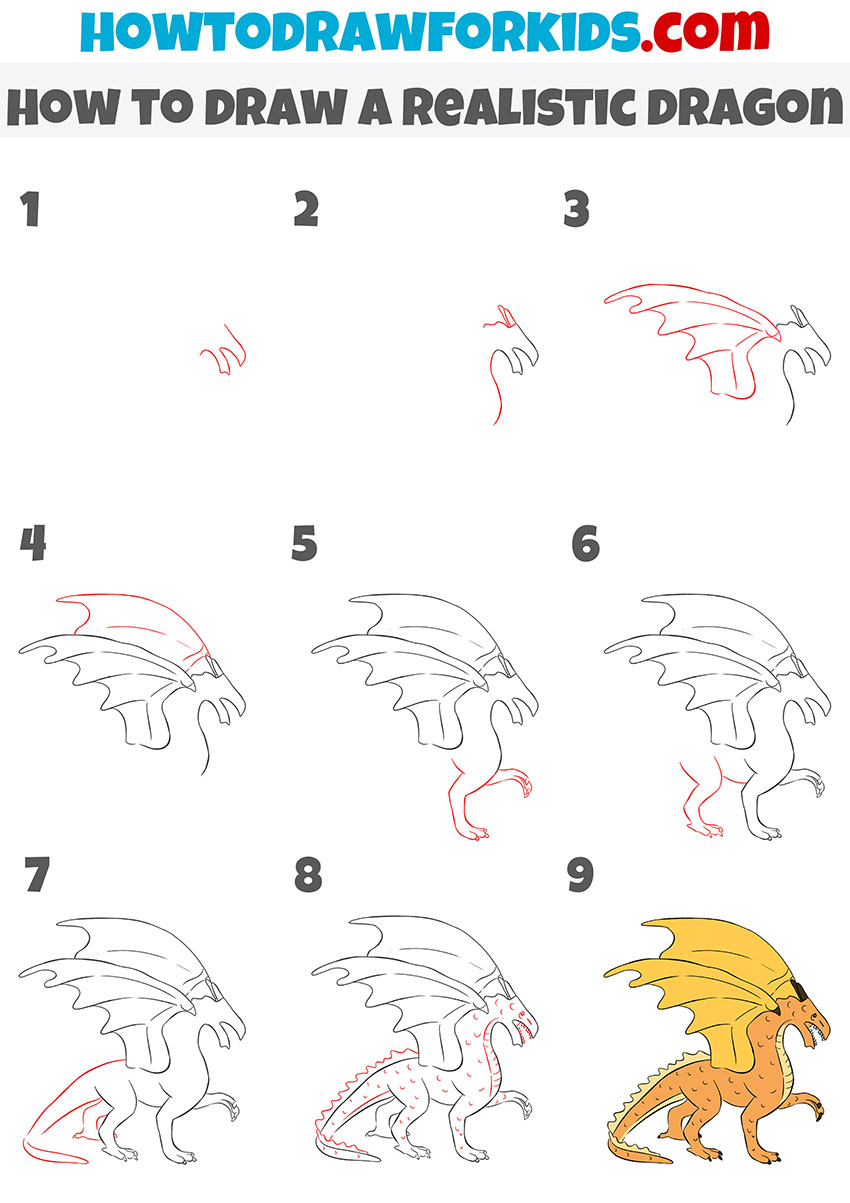 In this tutorial, I will show you in detail how to draw a realistic dragon. Undoubtedly, this lesson will be interesting and not difficult at all, as it is designed specifically for beginners artists.
The image of the dragon is very common. The image of this fabulous monster can be seen in printed publications, on various household items, on souvenirs, on clothes, on decor elements.
In this lesson, you will learn how to draw a realistic dragon step by step and try to make a beautiful drawing yourself. You can easily draw this mythical creature with the help of clear and accessible instructions.
I am sure that the creative process will be exciting. You only need attention and accuracy at every stage. For your convenience, each step has a small hint that you can use to get a great result.
Materials
Pencil
Paper
Eraser
Coloring supplies
Time needed: 30 minutes.
How to Draw a Realistic Dragon
Draw the front of the head.

Using smooth lines depict an open mouth.

Add horns and front torso.

At the top of the head draw two horns. With a smooth line, draw the neck and front of the torso.

Sketch out one wing.

Using smooth lines draw one wing. Depict the outer edge of the wing with wavy lines.

Add the second wing.

Depict the second wing, which is further away from us.

Draw the front paws.

One paw has a stable position, the second paw is raised up.

Sketch out one back leg.

With the help of smooth lines draw the part of the belly and the hind leg.

Depict the second hind leg and long tail.

Draw the hind leg, which is located farther from us. Add the tail that is turned to the side.

Add the rest of the elements.

Add bumps on the body. Draw spikes on the upper body and on the tail and other details.

Color the realistic dragon.

Use beige for the body and yellow for the wings.
I suggest that you download the short version of the lesson in PDF so that you can repeat the lesson at any convenient time.