A new and very simple lesson on how to draw a stingray is ready for you. I'm sure you can draw it easily.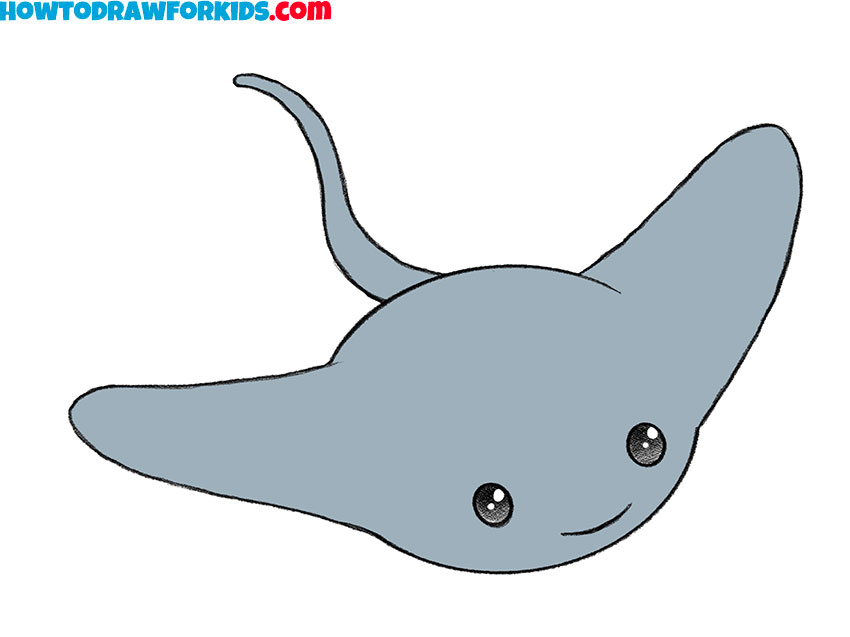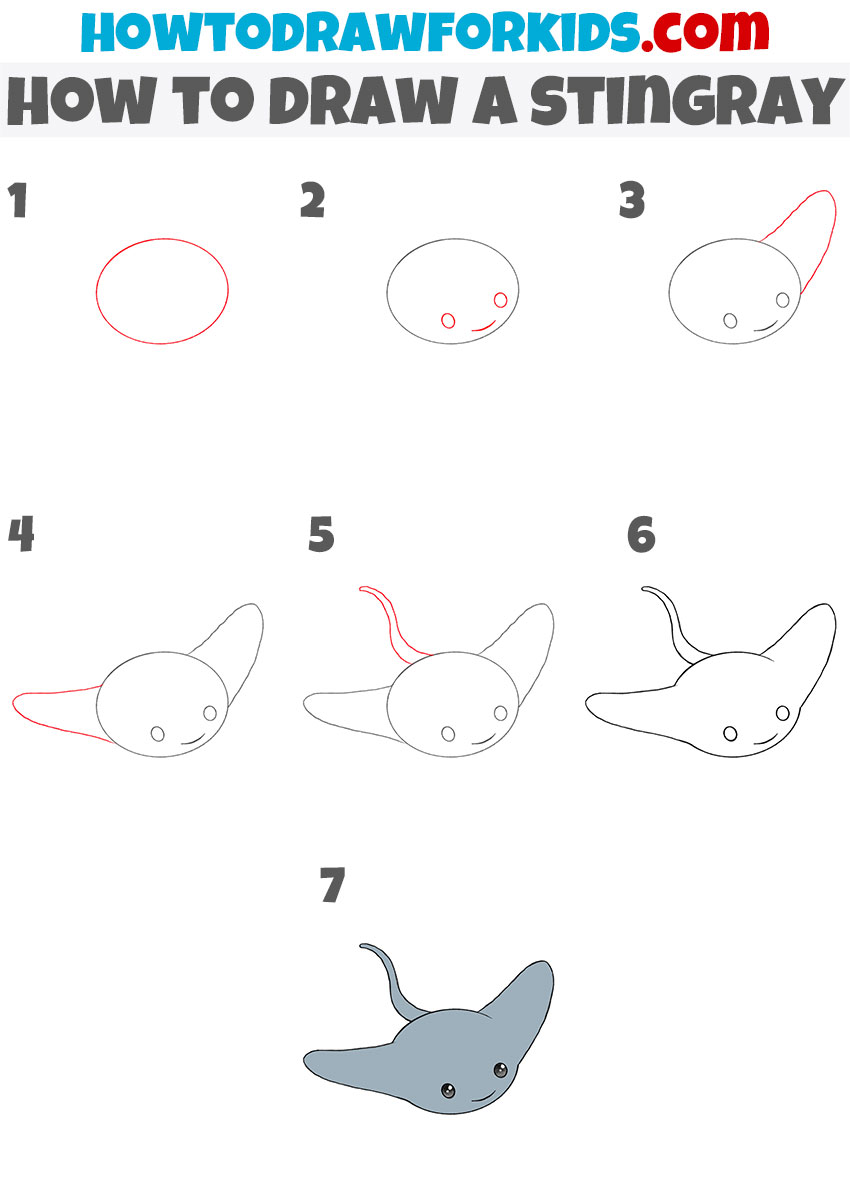 In this drawing tutorial, I will tell you and show you how to draw a stingray step by step. This guide is very simple and consists of only seven easy steps. This lesson is created especially for children and aspiring artists.
Stingrays, with their wide, flat bodies, may not look like fish, but they are. They are related to sharks, and like sharks, they do not have bones. Instead, their bodies are supported by cartilage. Stingrays have broad fins that run the full length of their bodies, giving them a flat, roundish shape.
The stingray you draw will look really cute. So, let's get down to drawing!
Materials
Pencil
Paper
Eraser
Coloring supplies
Time needed: 20 minutes
How to Draw a Stingray
Draw the outline of the torso.

Depict it as an oval. It will be an auxiliary line for drawing the body of the stingray.

Add facial features.

In the lower part of the torso, draw the eyes as two ovals and the mouth as a short curved line.

Draw the stingray's fin.

Depict it as a curved line on the right-hand side.

Add one more fin.

This fin should be similar to the one you have previously drawn. Outline it on the left-hand side.

Depict the tail of the stingray.

Position it on top of the oval outline of the torso. Draw it with wavy lines.

Erase the auxiliary lines.

Use the eraser to remove unnecessary lines from the stingray's body.

Colour the drawing.

Colour the whole stingray's body grey and its eyes black, adding highlights on them.
The lesson on how to draw a stingray step by step has come to an end. I hope you enjoyed it and found it useful. Now you can admire the finished drawing. Be sure to write in the comments what you liked best about this lesson. I have prepared a PDF file for you, where you can see a short version of this lesson, download it and draw whenever you want. It will help you draw a stingray even without the internet.
How to Draw a Stingray: Alternative Method
In the picture, you see one of the types of stingrays, which is called the manta ray or sea devil. This stingray is very large and fearsome, but in fact, it is harmless. The stingray has a wide body, in front, there are two head fins.
You can easily draw such a stingray if you carefully follow all the steps in this instruction.