In this drawing lesson, I will show you how to draw among us step by step. This instruction will be simple for you.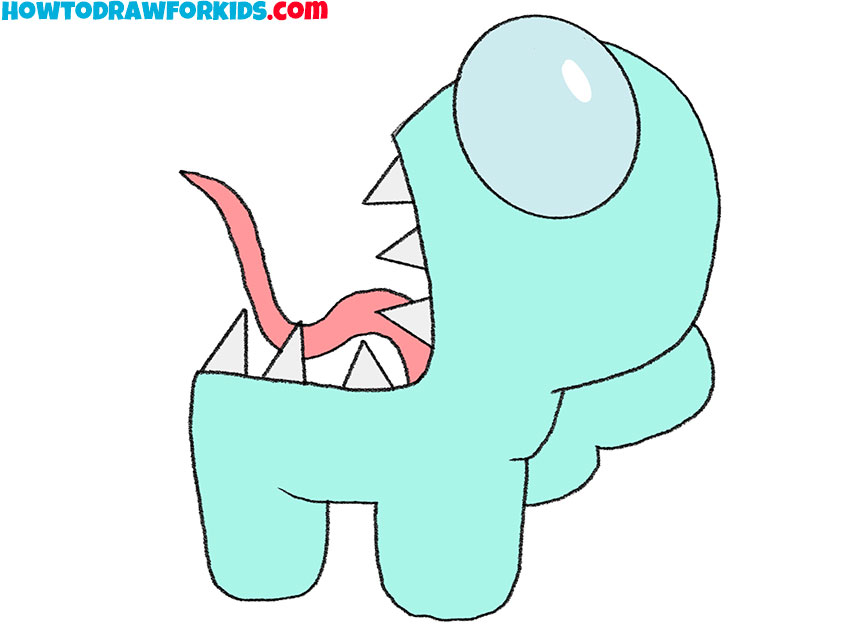 I am glad to bring to your attention this fascinating drawing lesson in which you can learn how to draw among us step by step. This drawing lesson consists of nine steps, each of which has a detailed description.
Surely, you are familiar with the character that you will learn to draw with the help of this drawing lesson. Among us is a famous computer game.
So, the character among us is a humanoid in a spacesuit. This character has no arms, short legs, and a backpack attached to the back of his suit. With the help of this instruction, you will learn how to draw among us a character who opened his mouth wide, showing sharp teeth and extended his long tongue.
By learning how to draw an among us character with the help of this lesson, you can easily depict any episode of the game, as well as depict this character as the main object of your drawing.
It is believed that depending on the color, the characters among us have different character traits. Among us, depicted in this tutorial, is a quiet and hard-working, but often feigned character.
Materials
Pencil
Paper
Eraser
Coloring supplies
Time needed: 30 minutes
How to Draw Among Us
Start drawing the outline of the character's head.

To complete this simple step, you need to draw one curved line, as shown in the picture.

Add the outline of the open mouth among us.

From one end of the previously drawn line, draw another curved line.

Depict the outlines of the torso.

Connect the ends of the previously drawn lines by adding several curved lines of varying lengths.

Draw the outline of the character's backpack.

Add curved lines on the back of the character's torso, as shown in the figure.

Sketch out the top of the suit.

Draw one oval inside and outside the previously drawn outline of the head.

Add the teeth among us.

Along the lines of the mouth, add many straight lines to represent the pointed teeth.

Draw the character's tongue.

Depict the long, pointed tongue inside the mouth using wavy lines.

Correct inaccuracies.

To prepare the drawing for coloring, remove extra lines with the eraser.

Color the drawing.

To color the among us, use light blue, red, and cyan.
I remind you that you can download the PDF file that I have prepared especially for your convenience. This file contains a short version of this lesson and has additional useful training materials. Download this file so as not to lose it and return to this lesson at any time convenient for you.