In this lesson, I will show you how to draw an easy car. You will learn how to draw this object in nine easy steps.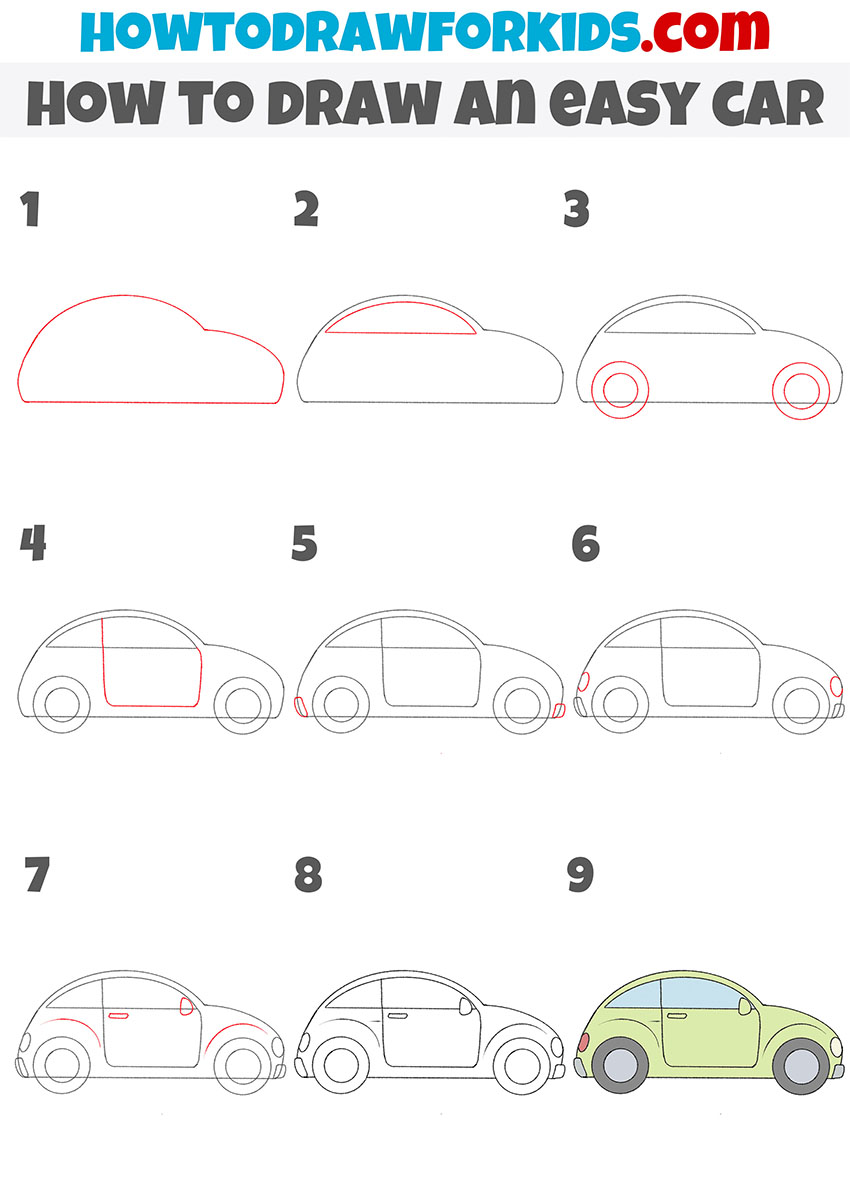 If you are new to drawing and want to improve your skills, then you will enjoy this lesson and will be useful. With the help of a simple instruction, you will learn how to draw an easy car step by step.
Here is a simple model of a passenger car, which belongs to the outdated collectible brands of cars. You can easily draw such a car, even if you have no experience.
At each drawing step, the next new element is shown as a red line. Try to draw the same lines as shown in the instructions and use small tips to help you correctly depict all parts of the car.
Materials
Pencil
Paper
Eraser
Coloring supplies
Time needed: 30 minutes.
How to Draw an Easy Car
Draw the body of the car.

Depict a horizontal line and add the top with rounded lines.

Add the side window.

At the top, draw the elongated window of the same shape as in the example.

Sketch out the wheels.

On each side, depict two circles of different diameters.

Draw the door.

Depict one door with a smooth line.

Depict the bumper.

Add small elements to the front and back of the car.

Add the headlights.

Draw two small ovals to depict the front and the rear lights.

Draw the rest of the elements.

Sketch out the side mirror, the door handle and the wheel arches.

Correct inaccuracies.

Use the eraser to remove any unnecessary guidelines.

Color the easy car.

You can choose any color for the drawing.
Now you can download a short version of the lesson in PDF format for free. Save this file so that you always have access to this lesson, regardless of whether you have an Internet connection.