With a super simple step by step guide you will learn how to draw an easy cheetah even if you are a beginner.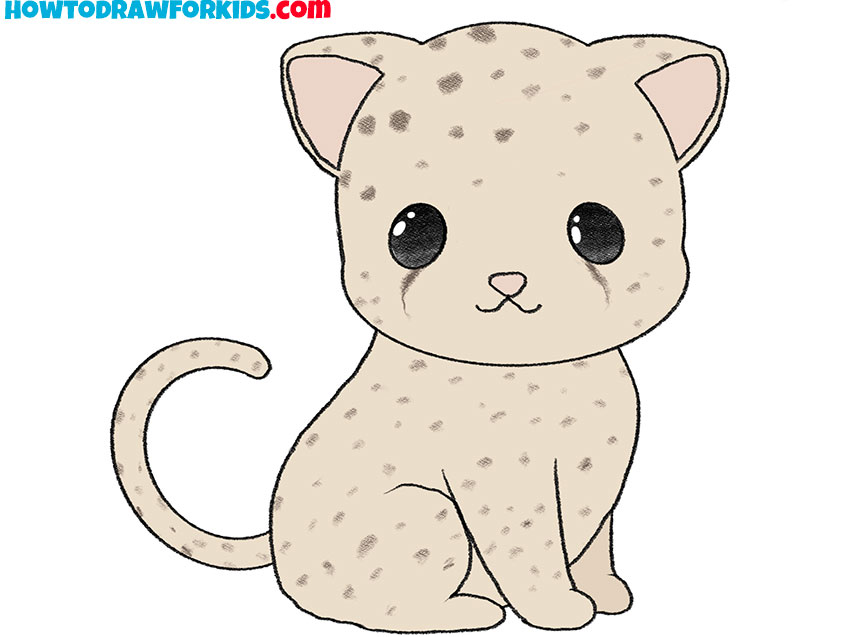 In this tutorial, I want to show you how to draw an easy cheetah. I am sure that you will get pleasant impressions from the creative process and improve your skills.
Here I have prepared for you a simple instruction in which you will learn how to draw an easy cheetah. In the picture, you see a small representative of the cat family. This is a carnivorous mammal.
The cheetah is one of the fastest animals on our planet. In pursuit of prey, the cheetah is able to develop tremendous speed. This drawing is in cartoon style and the easy cheetah looks very cute.
Materials
Pencil
Paper
Eraser
Coloring supplies
Time needed: 30 minutes.
How to Draw an Easy Cheetah
Draw the head.

The head has a rounded shape. There are small convex parts at the bottom on the sides.

Depict the torso.

From the head, drawdown smooth lines to depict the rounded torso.

Sketch out the ears.

Draw the ears on the sides of the head. Then, using smooth lines, add the inner part of the ear.

Add elements of the muzzle.

Depict oval-shaped eyes, add the small nose and mouth.

Sketch out the front paws.

The front legs are short and located side by side.

Add the back paw.

With the help of smooth rounded lines draw the hind paw in a sitting position.

Draw the tail.

On the side of the body, add the long tail that turns up.

Correct inaccuracies.

Carefully remove all extra lines.

Color the easy cheetah.

For fur, use light beige. Color the spots gray. For the eyes, choose a dark gray and add highlights.
You can now download a PDF of the short version of the lesson for free. This will help you return to the lesson at any time, even if there is no Internet access.