I invite you to complete a very interesting character drawing lesson in which you will learn how to draw Todoroki in just nine easy steps.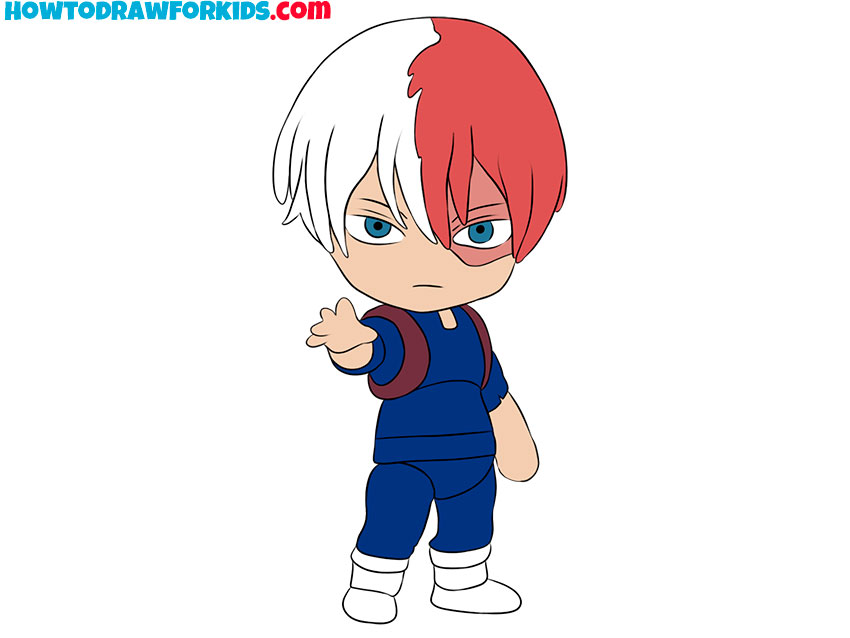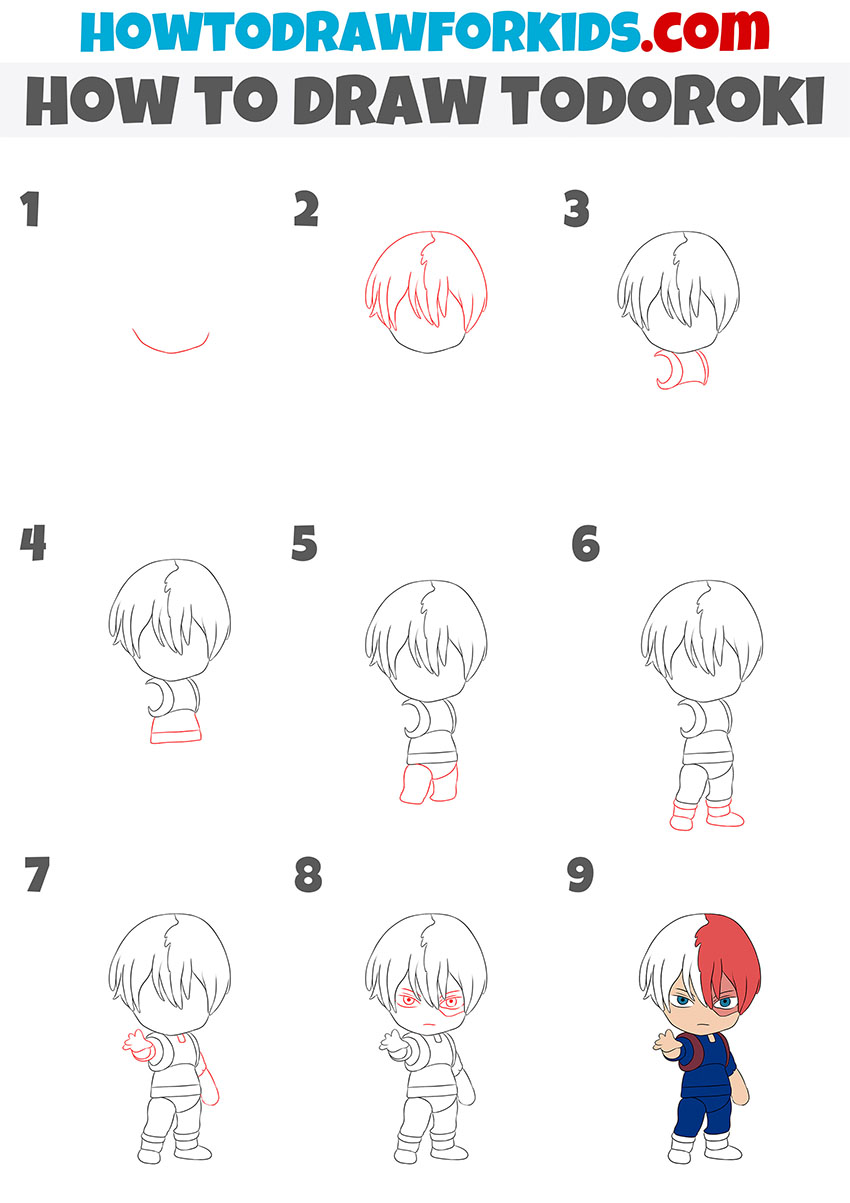 In this drawing lesson, I will tell you how to draw Todoroki step by step. I am sure that this drawing lesson will be appreciated by all manga lovers. Todoroki is a Superhero and one of the main protagonists of the Hero Academia manga series.
Todoroki is known as a student of Yuei Academy Class 1-A, one of the students who entered under official recommendations. He is training to become a Pro Hero.
By nature, Shoto Todoroki is cold and aloof. This character trait appeared as a result of a harsh upbringing. Todoroki is quite skilled in combat, being able to remain calm even when fighting real villains.
Although he is fierce in combat, all of his actions are based on the ethic of heroism, which is why he always leaves his opponents frozen rather than killing them.
Todoroki's appearance is quite unusual. He looks like a teenager of average height. He has medium length hair that is evenly distributed between white on the right side and red on the left, which is a prominent reflection of his Quirk.
He has a burn scar on his left eye that he received as a child. He also has heterochromia. His left eye is turquoise and his right eye is gray.
Materials
Pencil
Paper
Eraser
Coloring supplies
Time needed: 30 minutes.
How to Draw Todoroki
Draw the bottom of the character's head.

Complete this simple step by drawing one small, curved line.

Add the outlines of the hairstyle.

Above the outline of the face, add many curved lines to draw thick hair.

Depict the upper body of Todoroki.

Below the previously drawn outline of the head, draw several arcs, as shown in the figure.

Sketch out the lower body.

Draw several straight lines of different lengths to depict the sides and waist.

Draw the top of Todoroki's legs.

Below the previously drawn elements, draw a few curved lines.

Add the bottom of the legs and Todoroki's shoes.

Use rounded lines and arcs to add the steps and outlines of the boots.

Depict the character's hands.

Draw one arm outstretched straight and the other down. Add an element near the head.

Sketch out the facial features of Todoroki.

Inside the drawn outline of the head, add the eyes, eyebrows, and mouth using curved lines.

Color the drawing.

To color the Todoroki, use beige, red, brown, and shades of blue.
For your convenience, I have prepared a PDF file that contains all the useful information from this lesson, as well as additional practice materials that will help you develop your artistic abilities. You can download this file right now, so you don't lose it in the future, and return to this tutorial even without an internet connection.