In this drawing lesson, I will tell you how to draw Super Sonic. This step-by-step guide consists of only nine easy steps.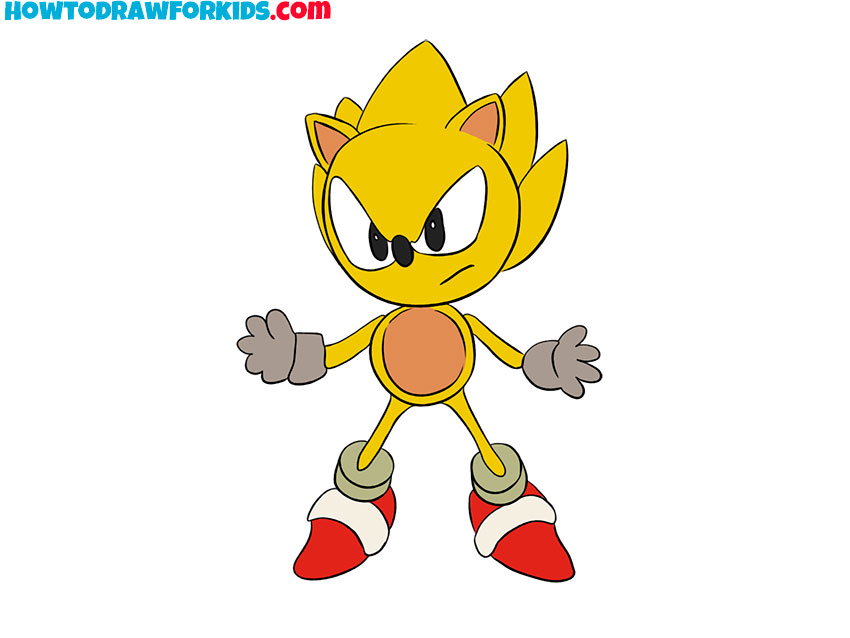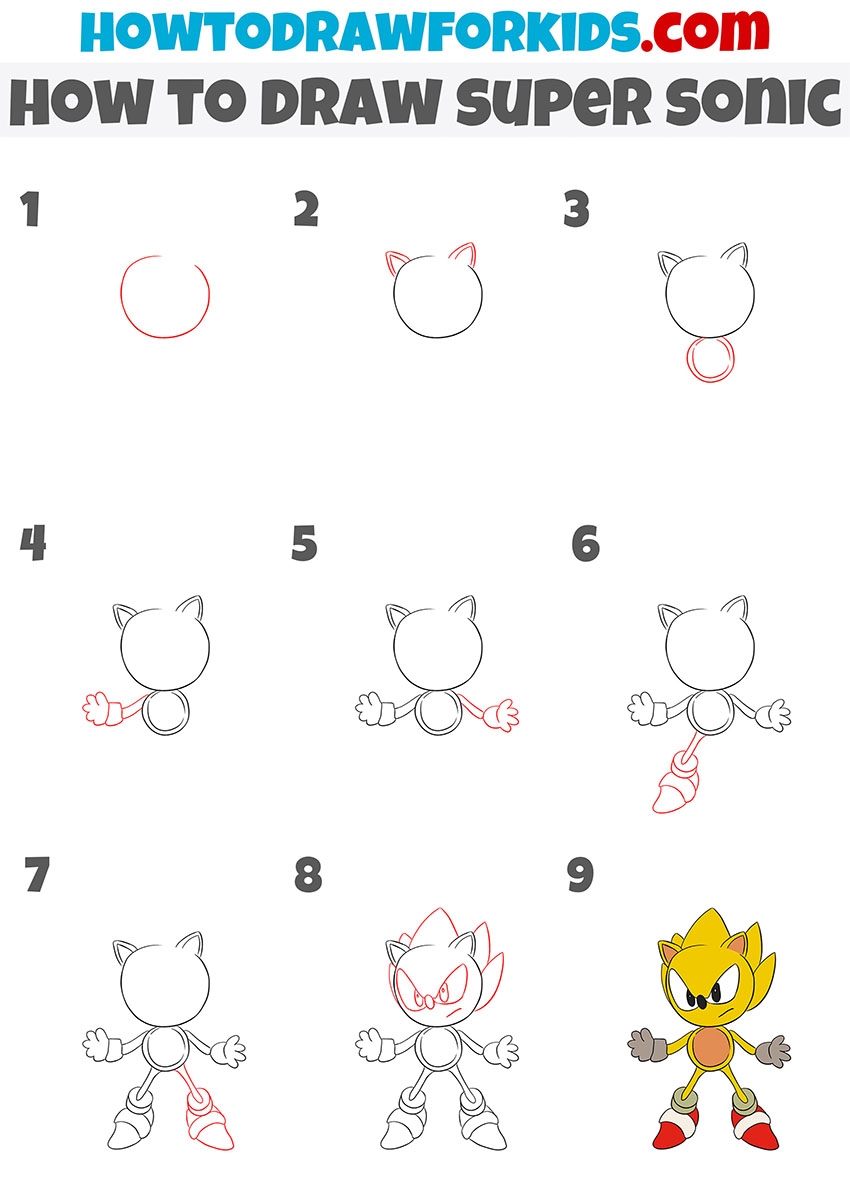 I suggest you complete this wonderful drawing lesson, in which I will tell and show you how to draw Super Sonic step by step. This lesson will definitely appeal to all lovers of this character, and is also perfect for beginner artists and children.
Surely, you know such a character as Sonic the Hedgehog. He can run at the speed of sound, is endowed with a memorable appearance and strong charisma.
Super Sonic is a super form that Sonic the Hedgehog can assume using the power of the seven Chaos Emeralds. The form gives invulnerability, the ability to destroy enemies with just a touch, increases strength and speed, and it also changes the appearance of Sonic.
From blue, it turns to golden yellow, and its needles belligerently bend upwards. This lesson will help you greatly improve your artistic skills and learn how to draw your favorite character.
Materials
Pencil
Paper
Eraser
Coloring supplies
Time needed: 30 minutes.
How to Draw Super Sonic
Draw the outline of the character's head.

To complete this step, depict an incomplete circle using a rounded line.

Depict two ears of Super Sonic.

At the top of the head, add two identical ears using curved lines of different sizes.

Add the outline of Super Sonic's torso.

Below the previously drawn outline of the head, draw an incomplete oval and rounded lines.

Sketch out one hand of the character.

On the left side of the previously drawn Sonic torso, depict one arm laid aside.

Add Super Sonic's second arm.

The second hand of Sonic looks almost the same as the previously drawn one.

Draw one leg of the character.

On the left side of the bottom of Sonic's torso, depict the leg using curved lines and arcs.

Depict the character's second leg.

This leg looks the same as the previously drawn one. Draw it on the right side.

Add facial features and elements on the head.

Draw the eyes, nose, and mouth inside the head, and add pointed elements on the head.

Color the drawing.

To color Super Sonic, use yellow, orange, red, green, and gray.
As usual, I have prepared a PDF file for you, where you can find a short version of this tutorial and additional useful materials that will help you improve your skills as an artist.