I have created for you a very simple and interesting tutorial on how to draw a basketball step by step. It consists of just seven easy-to-understand steps.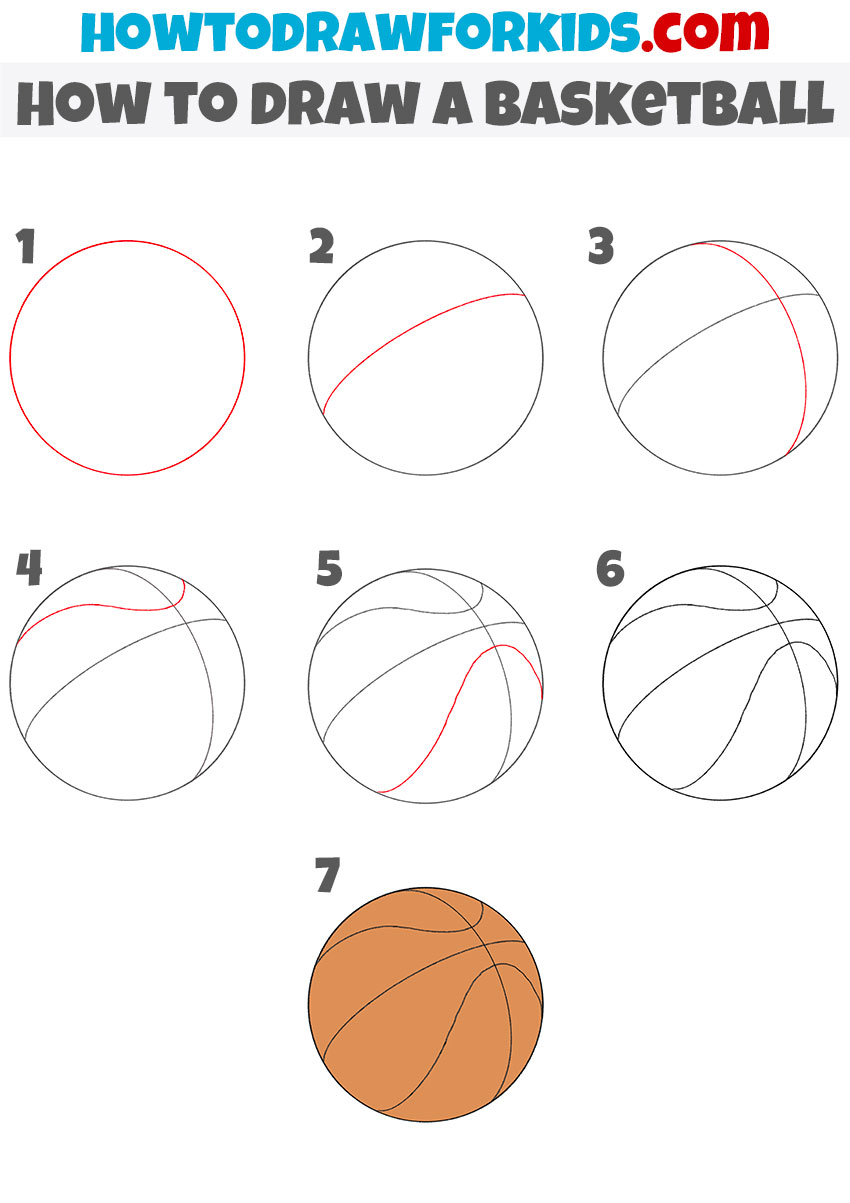 This drawing lesson will help you learn how to draw a basketball step by step. You don't need much time at all to complete this task, even if you are still a beginner artist.
A basketball is a spherical ball used in basketball games. Aside from the court and the baskets, basketball is the only piece of equipment necessary to play the game of basketball. During the game, the ball must be bounced continuously, thrown through the air to other players, or thrown towards the basket. The ball is also used to perform tricks, the most common of which are spinning the ball on the tip of one's the index finger, dribbling in complex patterns, rolling the ball over one's shoulder.
I now suggest that you start drawing the basketball.
Materials
Pencil
Paper
Eraser
Coloring supplies
Time needed: 20 minutes
How to Draw a Basketball Step by Step
Draw the outline of the ball.

Outline a circle, it will be the base of the basketball you are going to draw.

Add a line across the ball.

Draw one curved line through the middle of the basketball.

Draw one more line.

Paint another line that will cross with the line you drew earlier.

Add a pattern to the top of the ball.

Depict one curved line at the top of the basketball. This step is quite easy.

Outline a pattern at the bottom of the ball.

At the bottom of the basketball, draw a curved line like the one you drew earlier.

Check if it is done correctly.

Now make sure you have drawn everything right and you don't need to erase any details.

Color the drawing.

You only need one color to paint the basketball. Use orange to color the whole ball.
This drawing lesson has come to an end. I think you had a great time and did a great job. I would love to read your comments on this basketball drawing lesson. Don't forget to follow us on social media. Traditionally, I have prepared a short PDF version of this tutorial for your convenience.