This lesson is about drawing a well-known object, and here you will learn how to draw a disco ball step by step.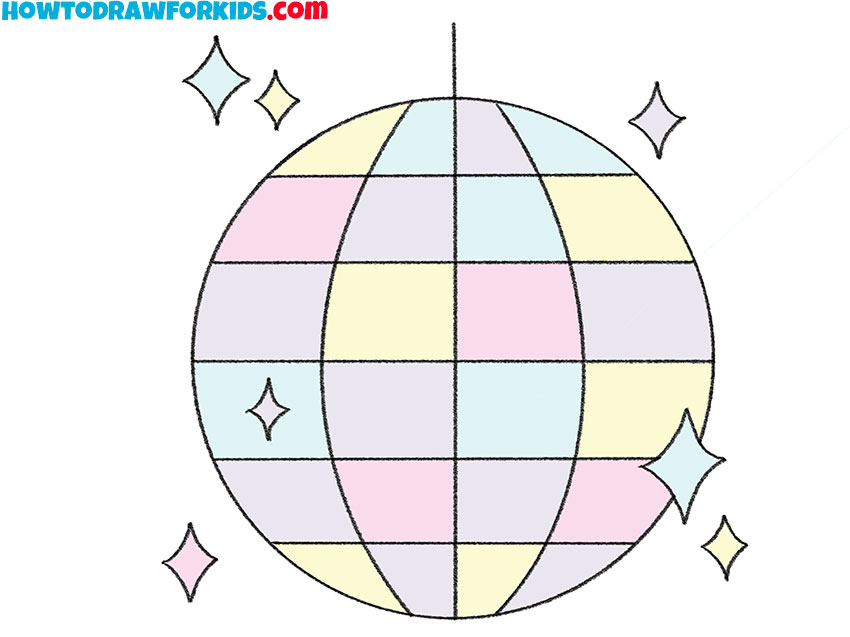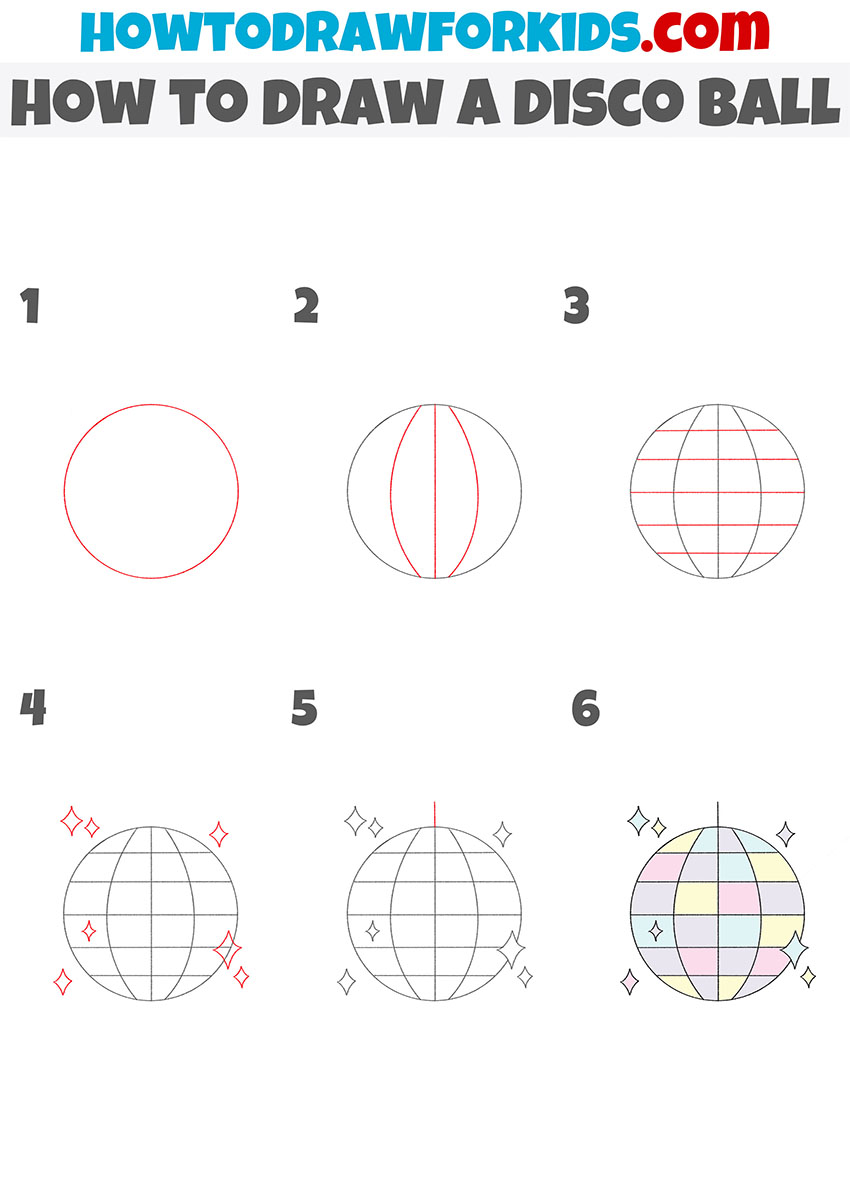 I am sure that you will really enjoy this exciting and useful drawing lesson, in which I will tell and show you how to draw a disco ball. Completing this tutorial will put you in a great mood and will also help you improve your artistic skills. Any novice artist or child can easily cope with the implementation of this lesson. Surely you have seen a disco ball many times in your life. Also, you could see it in various films or cartoons.
The disco ball is the most popular symbol of disco and dance and club culture in general. This is an element of lighting design for dance floors and discos, as well as stages, which is a sphere covered with many flat mirrors. It was invented in the seventies of the twentieth century by fans of the musical direction called Glam Rock. Glam rock artists spearheaded this fashion wave, their costumes often adorned with hundreds of tiny foil sequins. During concerts under spotlights, such clothes reflected thousands of sparks, creating a stunning effect. The clubs where such concerts were held were also decorated in the appropriate style with a variety of mirror toys. Illuminated by a spotlight, a disco ball creates many light spots that move as the ball rotates.
In this lesson, you will practice drawing geometric shapes such as a circle, arcs, and straight lines. If necessary, you can use a ruler and compass to make your drawing look more perfect. And also, you can try to complete this lesson without using auxiliary tools to improve your drawing skills. Right now, you can prepare the materials you need for drawing, and then proceed with this lesson. I am sure that you will enjoy drawing a disco ball and get a great result of your work.
Materials
Pencil
Paper
Eraser
Coloring supplies
Time needed: 30 minutes
How to Draw a Disco Ball
Draw the outline of the disco ball.

To complete this step, you need to draw one large circle, as shown in the picture.

Start drawing the inside of the disco ball.

Inside the drawn circle, draw one straight vertical line and add two arcs on the sides of it.

Finish drawing the inside of the disco ball.

Now you need to add many straight horizontal parallel lines of different lengths.

Add decorative elements.

Draw some stars of different sizes inside and on the sides of the disco ball using arcs.

Depict an element inside the disco ball.

Now you should draw one small straight vertical line at the top of the disco ball.

Color the drawing.

To color this disco ball, you can use blue, yellow, pink, and also purple.
If you liked this tutorial and found it useful, you can share it with your friends. I remind you that you can download the PDF file that I have prepared especially for your convenience. This file contains a short version of this lesson and has additional useful training materials. Download this file so as not to lose it and return to this lesson at any time convenient for you.