Really Simple Tutorial on How to Draw a Penguin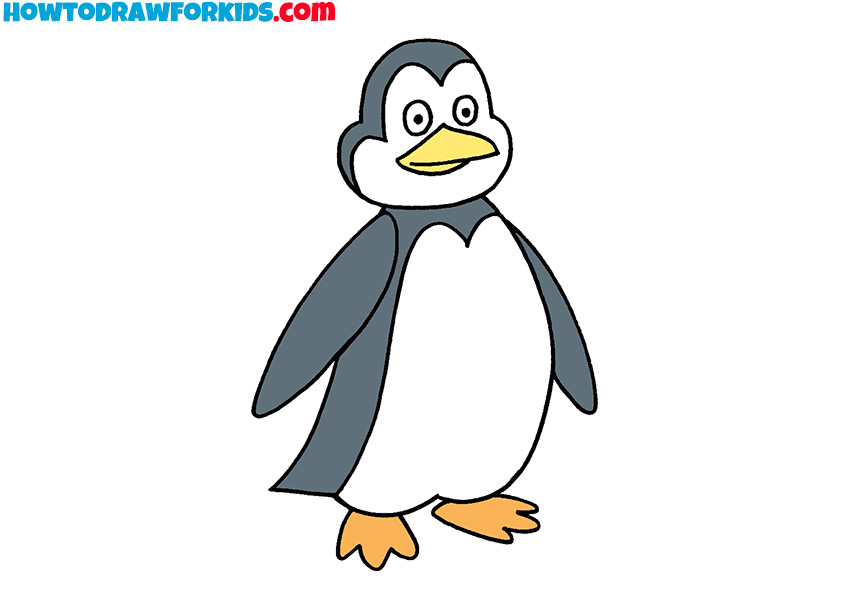 I promise you that in this really simple tutorial you will learn how to draw a penguin. My lesson consists of only nine steps and contains drawing instructions that will be useful for you.
Penguins are quite common on the planet and have a wide variety of species. Gentlemen in a suit are loved by the absolute majority of children. Gentlemen in a suit are loved by the absolute majority of children.
Are you ready to draw your penguin? Get started and you will definitely get a good result!
Materials
Pencil
Paper
Eraser
Coloring supplies
Time needed: 20 minutes
How to Draw a Penguin
Sketch the outline of the head.

Depict the head in the shape of a small pear.

Add details.

Draw the border that will later be between the two colors.

Depict the face.

In this step, sketch out the penguin's beak and eyes.

Start drawing the torso.

Depict the front of the torso, which will differ in color.

Continue drawing the torso.

Sketch out the back of the torso as in my example.

Depict the wings.

Using two ovals draw out the penguin's wings.

Draw the paws.

At the bottom of the artwork, depict the penguin's paws.

Erase the guidelines.

Remove all excess lines with an eraser.

Color the penguin drawing.

Paint the head and torso in black and white. Choose yellow for the beak and orange for the penguin's legs.
It was easy, right? If my lesson was helpful to you, subscribe to Howtodrawforkids.com on social networks so as not to miss other lessons. Don't forget to download the PDF version of this guide, which comprises the steps set forth above, and some interesting and useful additions.