In this lesson I want to tell you how to draw a camel. This simple lesson consists of nine steps.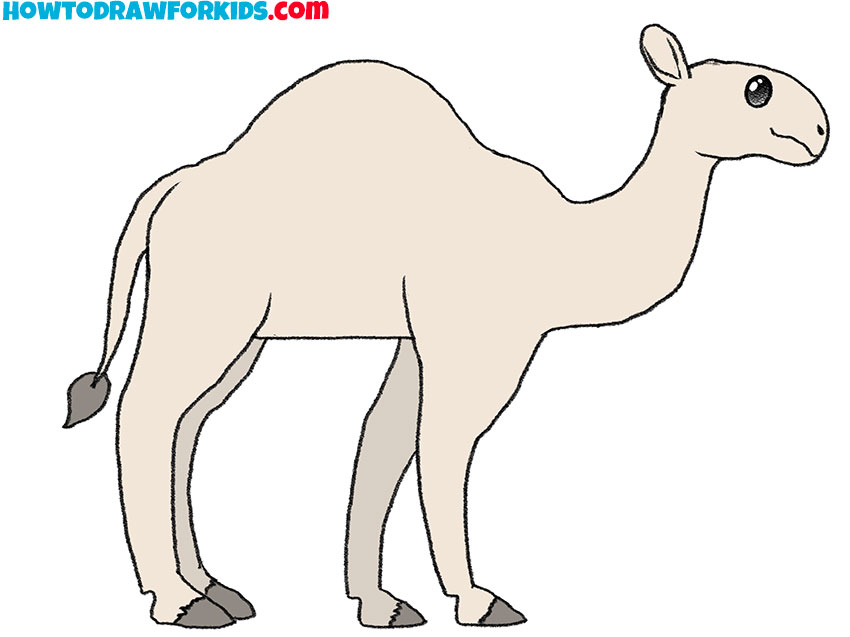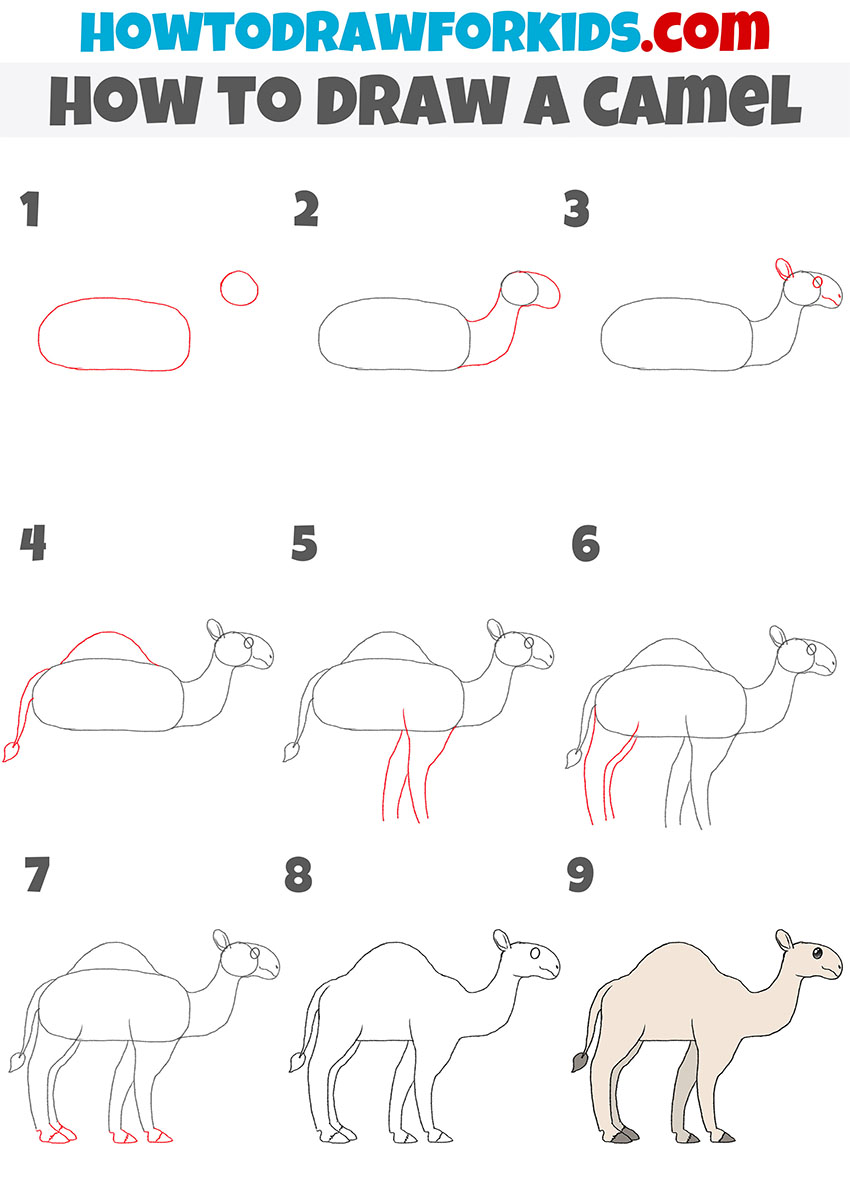 I have prepared for you a fascinating lesson in which I would like to tell and show you how to draw a camel. A camel is an even-toed ungulate that bears distinctive fatty deposits known as "humps" on its back. Camels are working animals especially suited to their desert habitat and are a vital means of transport for passengers and cargo. Nowadays there are one-humped and two-humped camels.
This lesson presents step-by-step instructions for drawing a one-humped camel. This tutorial is very simple and does not contain too complicated elements to draw. I created this lesson for kids and beginners, so you can easily do it.
Prepare your drawing materials and enjoy the artistic process.
Materials
Pencil
Paper
Eraser
Coloring supplies
Time needed: 20 minutes.
How to Draw a Camel
Draw the outline of the camel's head and torso.

Depict the head as an oval-like figure, and add a big torso underneath, using curved lines.

Depict the neck and the front of the head.

Add a curved line to the right side of the head, and connect the outlines of the head and body.

Picture the ear and facial features.

Draw the camel's eye as an oval, its nostril as a dot, and its ear and mouth as curved lines.

Add the camel's hump and tail.

Draw a curved line on the camel's back and add a tail with a pointed tassel on its end.

Picture a pair of camel's paws.

Add long curved lines at the front of the torso. one paw is partially covered by the other.

Add a second pair of paws.

To represent this pair of camel paws, draw three curved lines at the back of the camel's torso.

Depict the hooves on the paws.

Use the curved lines to add hooves to each of the camel's paws you drew earlier.

Erase unnecessary lines.

Use an eraser to remove auxiliary lines that appeared during the drawing process.

Color the drawing.

To color this drawing, you should use different shades of gray and black.
This drawing lesson has come to an end. Don't forget to download the PDF file below, which I prepared especially for you so that you can use the short version of this lesson and other useful additions at any time.