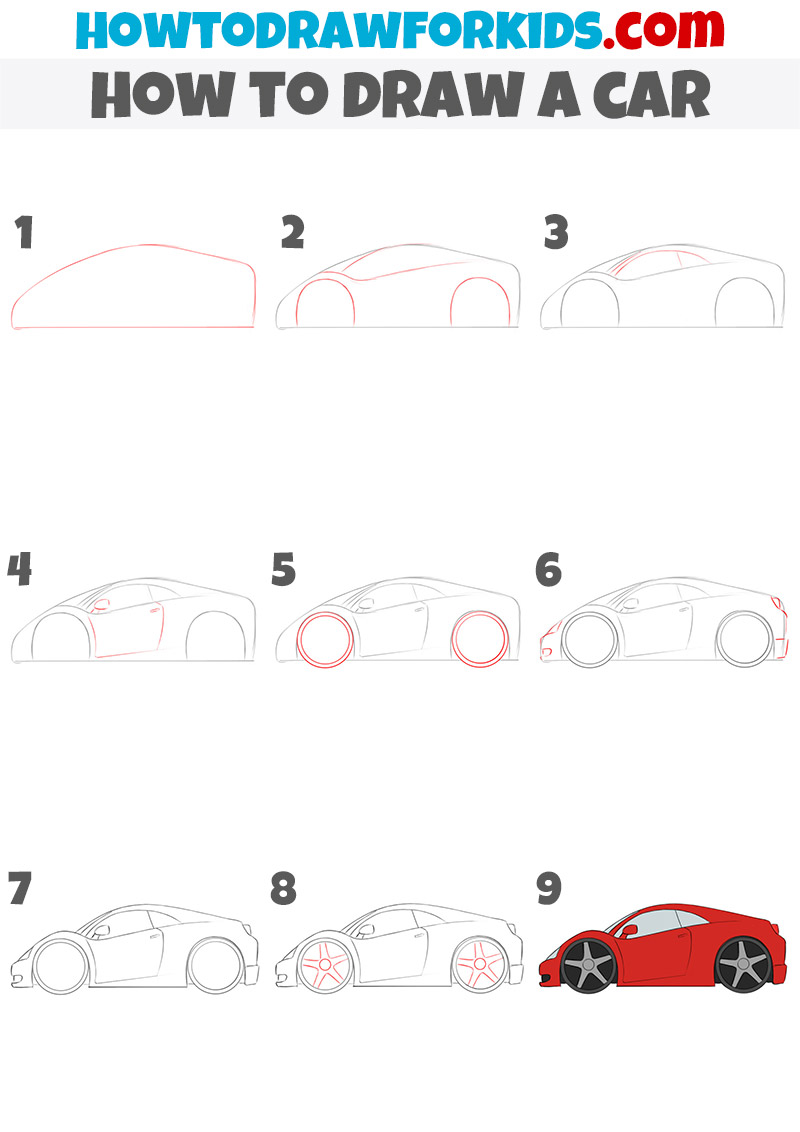 This is another instruction on drawing cars on Howtodrawforkids.com, in which I will show you how to draw a car easy.
To draw a car, you will need a pencil or marker, as well as a sheet of paper. At the very end of the instruction on how to draw a car easy, you can use a set of paints, colored pencils, or markers for coloring.
Step 1
We are drawing a sports car, which means we need to depict a stylish sporty silhouette.
Step 2
Now depict the caricatured tall wheel arches and the flowing lines of the window frame.
Step 3
Now add a couple more smooth, curved lines to depicture the top edge of the window frame and windshield.
Step 4
Now depict a door and a small neat mirror. After that depict a small handle on the door.
Step 5
Now depict huge cartoon wheels inside the arches previously depicted.
Step 6
Let's add details to the car drawing to make it look more interesting and completed.
Step 7
To give your car drawing an even more complete look, get rid of any remaining construction lines.
Step 8
Now depict the shape of the rims as shown in the image below these words.
Step 9
I decided to paint the car red, the glasses in gray, and the wheels in the shades of dark gray.
But you can of course paint the car any other color. For example, replace red with yellow or any other color.
If this instruction on how to draw a car easy was really interesting and useful to you, then go to the Cars category, where you will find a huge number of different instructions about vehicles.