If you want to learn how to draw a cat face in just nine easy steps, then you will really enjoy this lesson!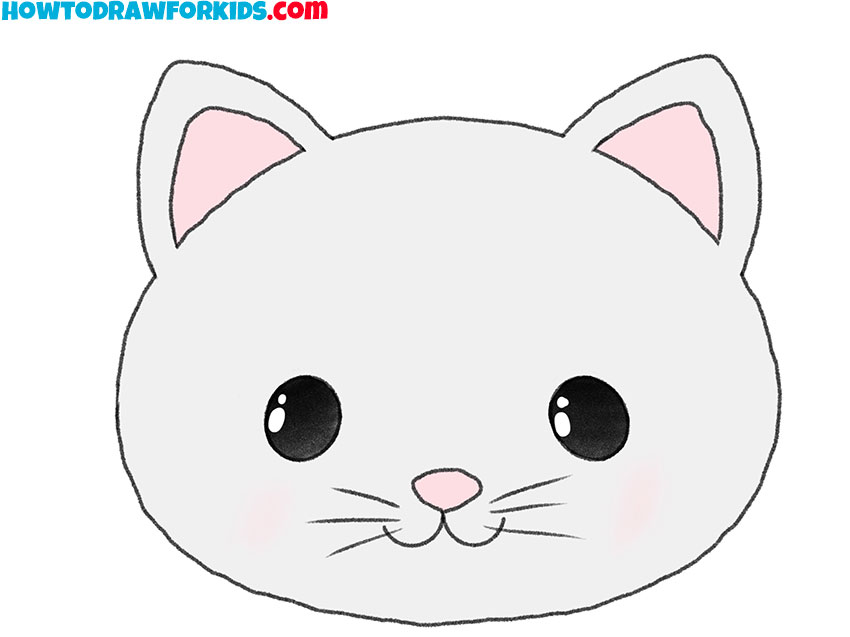 I present to your attention a new lesson on how to draw a cat face. I am sure that this creative task will give you pleasure and you will have a pleasant impression.
This simple instruction shows in detail how to draw a cat face. This is a cute pet that always lives with a person and gives his affection. Cats are independent, freedom-loving, and at the same time very attached to their owner. I hope you love these pets and find it interesting to draw a cat face.
The lesson is intended for children and beginners, so simple elements are used here that you can easily repeat. Be patient in the process and carefully follow all the drawing steps, then you will get an excellent result.
Materials
Pencil
Paper
Eraser
Coloring supplies
Time needed: 25 minutes
How to Draw an Easy Cat Face
Draw the outline of the head.

At this stage, sketch out an even oval.

Depict the eyes.

Approximately in the middle of the head, draw two identical ovals.

Sketch out the nose.

Just below eye level, depict the small nose.

Depict the mouth.

From the nose, add two rounded lines in different directions.

Sketch out the ears.

Depict two pointed ears on the head.

Add the inner outline of the ears.

Inside each ear, draw lines that are parallel to the outer outline.

Draw the whiskers.

Sketch out three small lines on each side.

Correct inaccuracies.

Using the eraser, carefully remove any extra lines.

Color the easy cat face.

You will need black, pink and gray. Add highlights to the eyes.
By tradition, I have prepared a PDF file for you, in which you will find a short version of the lesson and additional materials. Rather, download the file and it will help you return to the lesson if necessary, even if the Internet is not available to you.
Cat Drawing Tutorial: Additional Tutorial
This cat drawing tutorial will be very similar to the previous one, but at the end you will get a slightly different result. To sharpen your skills, try this option and compare it with the first one.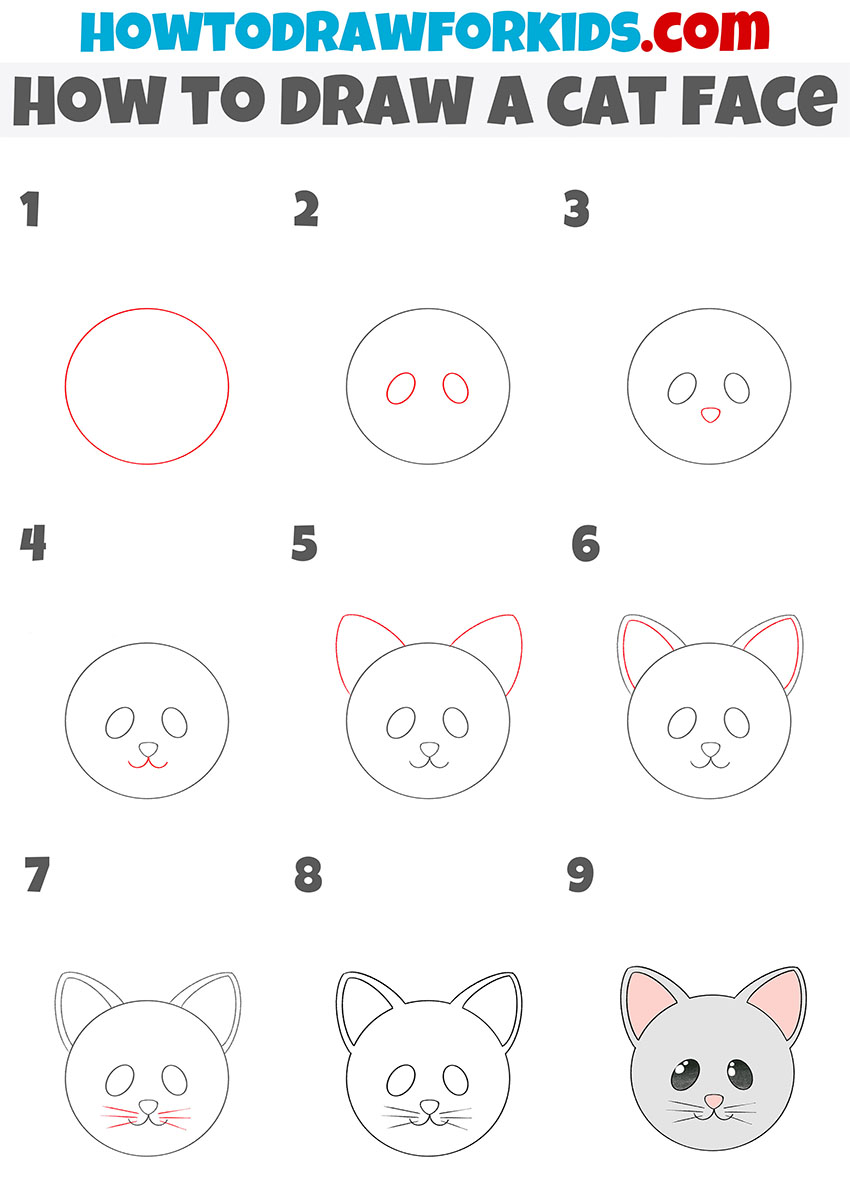 Yellow-Eyed Cat Drawing Tutorial
In the picture, the cat head is presented in a cartoon style and looks very funny. The cat has very large eyes, it looks unrealistic, but it gives the cat a special charm.
Follow each drawing step in the sequence and use small hints to help you in your creative work. For coloring it is not necessary to choose the same color as in the example, you can use any other color.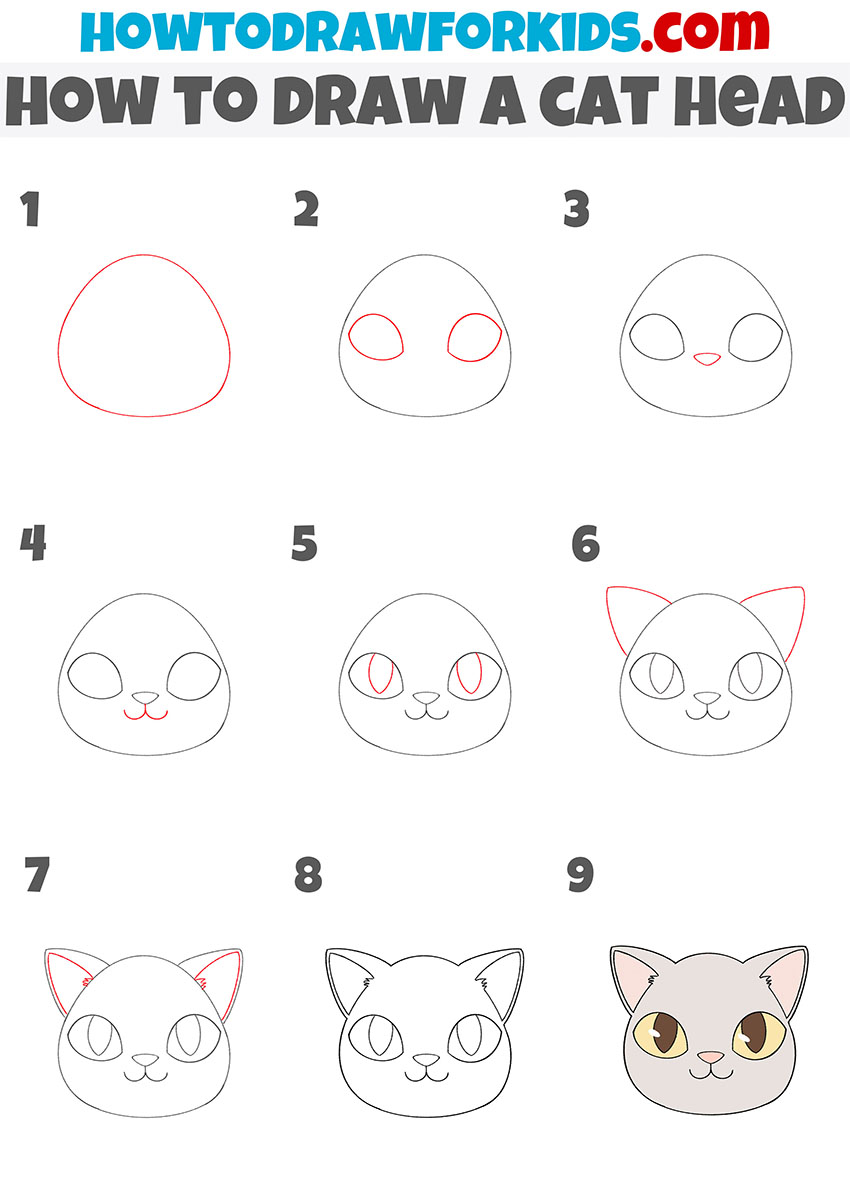 How to Draw a Cat for Kindergarten
This drawing is done in a cartoon style, so only simple lines are used here. The cat's face looks very cute. Surely you have seen such an image in cartoons, in print media, and even on any items, for example, on clothes.
You can easily cope with this task if you follow my prompts. The cat face drawing tutorial consists of a few simple steps. Follow all the steps consistently and a good result awaits you.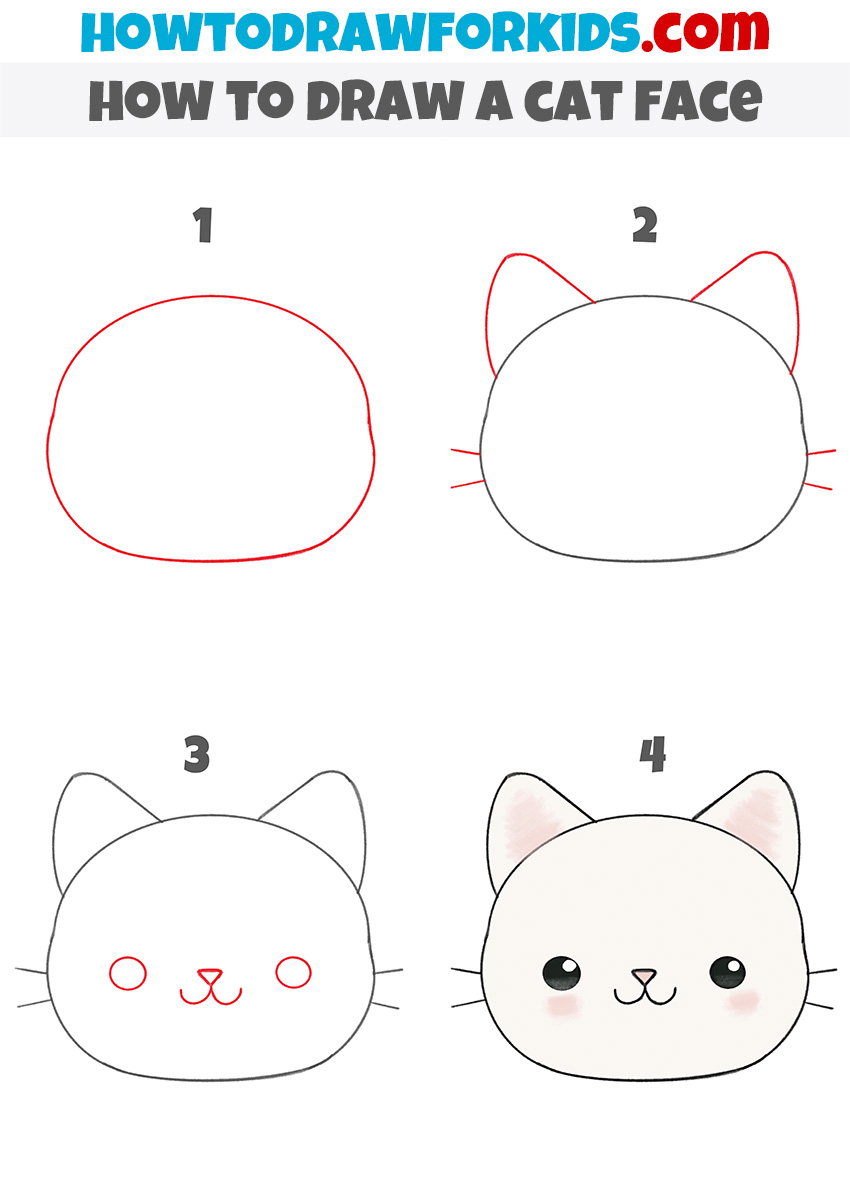 Learning to Add a Little Realism
Of course, this cat is not so realistic that it can be confused with a photograph, after all, we are still on the drawing site for children. But nevertheless, this cat will turn out to be much more realistic than the ones you saw above.