The lesson how to draw a cute dinosaur is ready. You will really like this tutorial because it is simple and has only nine steps.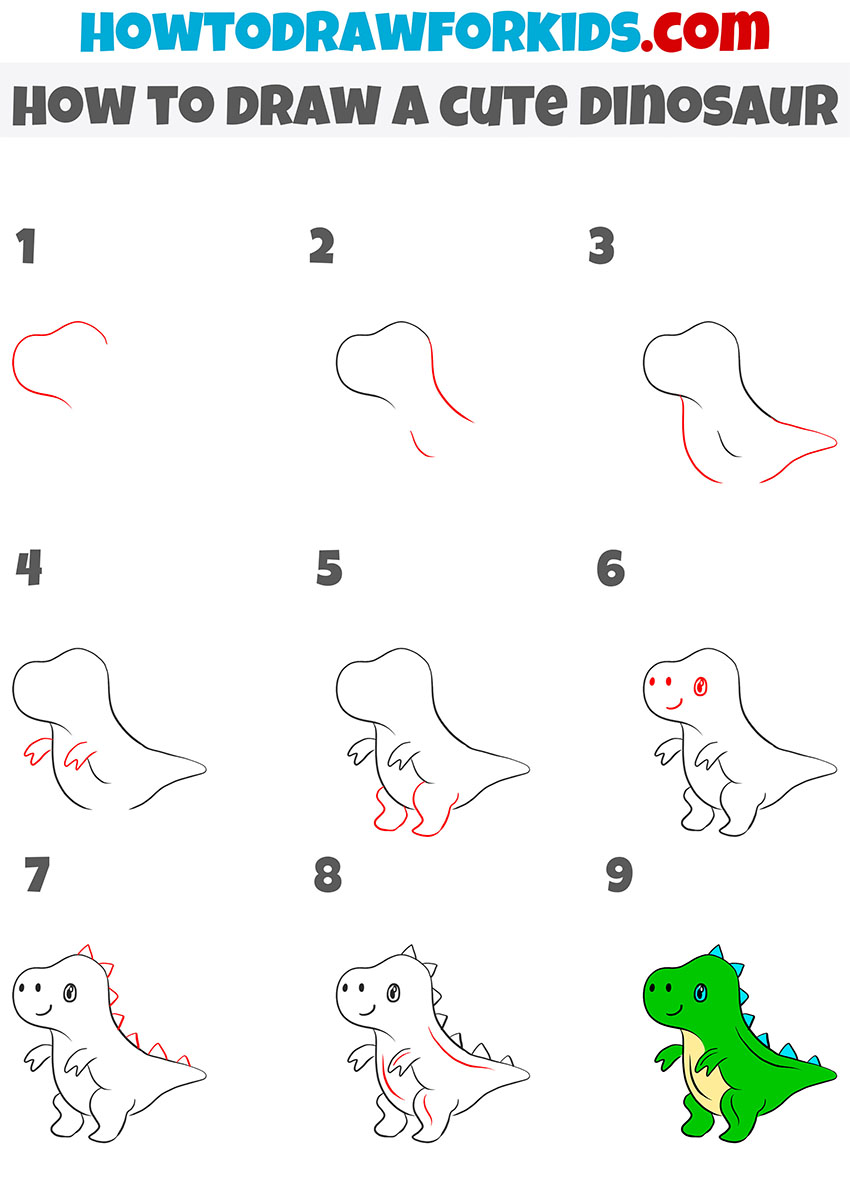 I have prepared for you another interesting drawing lesson in which you will learn how to draw a cute dinosaur. This tutorial will be simple enough as it won't use complex elements. I suggest you try to draw this cute dinosaur and have a great time.
Of course, you have seen the dinosaur many times in various cartoons, films, works or video games. Dinosaurs are large reptiles. Dinosaurs are considered extinct animals that lived on Earth many years ago. The dinosaur you draw with this tutorial will look very cute and funny.
I am sure you will enjoy this tutorial and find it useful. Drawing skills acquired in this lesson, you can use in the process of completing other drawing lessons.
Materials
Pencil
Paper
Eraser
Coloring supplies
Time needed: 20 minutes.
How to Draw a Cute Dinosaur
Draw the outline of the dinosaur's head.

This element is very easy to draw – all you need to do is draw a curved line.

Add the outline of the dinosaur's neck and chest.

Continuing the line of the head, depict another small, curved line, as well as a short line below.

Depict the belly and tail of the cute dinosaur.

The dinosaur's tail should look pointed. Use a rounded line to draw the belly.

Add the paws of the dinosaur.

The dinosaur's legs are short enough and raised directly in front of him.

Sketch out the legs of the dinosaur.

Draw the legs not too long and rounded at the bottom.

Depict the facial features.

Add the nostrils and eyes in small circles, and draw the mouth using a short line.

Draw scales on the back of the dinosaur.

These elements should look pointed and resemble triangles in shape.

Add details.

To add volume to the drawing, add small, curved lines on the dinosaur's back, belly, and legs.

Color the drawing.

Use green, blue and yellow to color the cute dinosaur.
Subscribe to us on social networks. I have prepared a short PDF version of this tutorial for you. After downloading this file, you can return to the lesson at any time convenient for you, without using the Internet.