The lesson on how to draw a cutest dragon for kindergarten is ready. I promise you will enjoy this tutorial.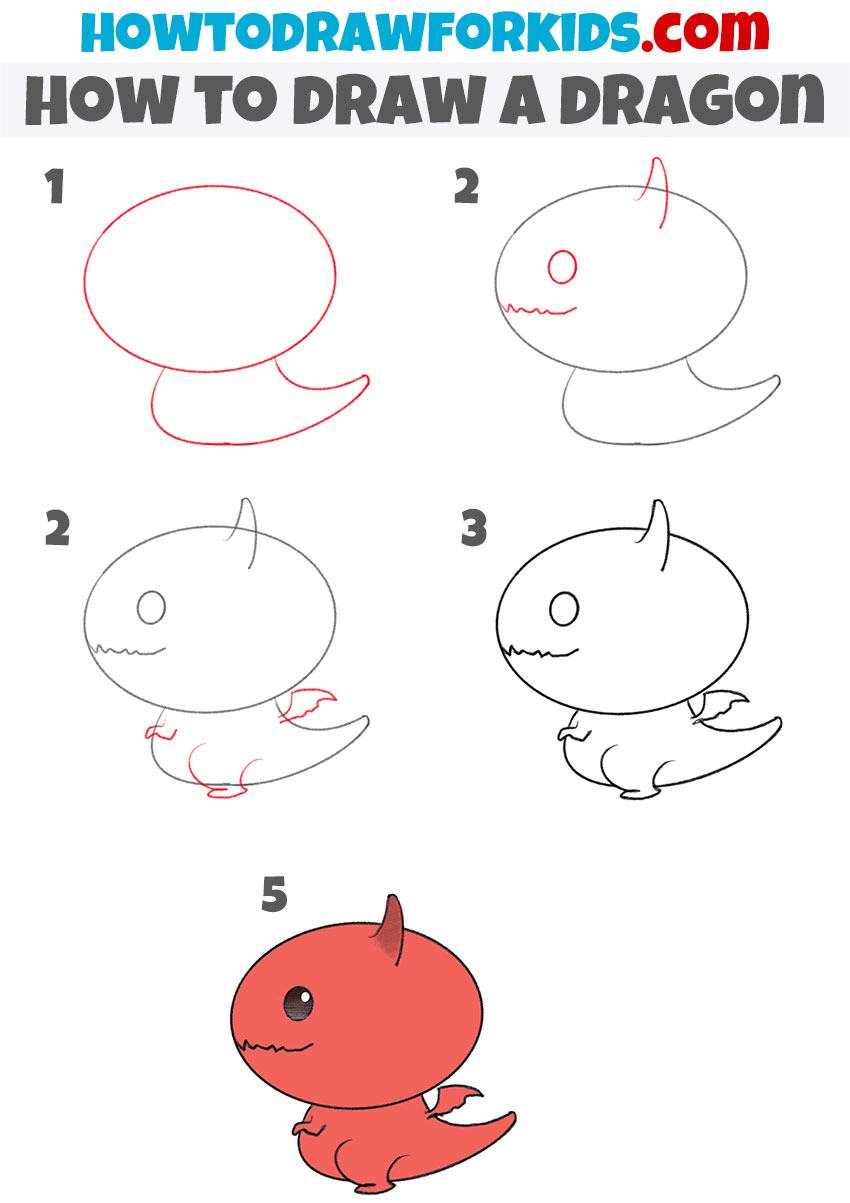 This lesson will be very interesting for you because you will draw a fabulous monster. Now I will show you how to draw a dragon for kindergarten. Just don't be alarmed, the dragon will be very small and completely harmless. This dragon is made in a cartoon style and looks very cute. The dragon has a large head and a very small body. He also has very small legs and wings. You can easily draw the same dragon if you carefully follow all the drawing steps.
This tutorial is specially made for kids, parents, and art teachers. Simple shapes and a minimum of additional elements are used here. In the picture, the dragon is shown in red, but you can get creative and color it differently. For example, you can paint a dragon green or brown.
So let's get down to doing this fun tutorial. Follow my tips and you will succeed.
Materials
Pencil
Paper
Eraser
Coloring supplies
Time needed: 15 minutes.
How to Draw a Dragon for Kindergarten
Draw the head and torso.

Draw an oval and use a smooth line to add a shape like in my example.

Depict the ear and muzzle.

The ears are triangular. Draw the eye in the form of a circle. Draw the mouth with a curved line.

Add details.

At this stage, sketch out the wings and legs.

Color the drawing.

Use red or choose any other color you like.
Now you have learned how to draw a dragon. I hope you enjoyed this tutorial and are happy with the result. Next time, you can change the shape of the dragon a little, for example, draw large wings or a long tail. You can also add small spikes on the head and back. Use your imagination to draw this fabulous monster. Thus, you can get a new unusual result every time.
I have prepared a PDF version of this tutorial for you so that you can draw a dragon without the Internet. Download the file and complete the lesson at any convenient time.