In this lesson you will learn how to draw female eyes step by step. Start this simple tutorial to get very useful skills.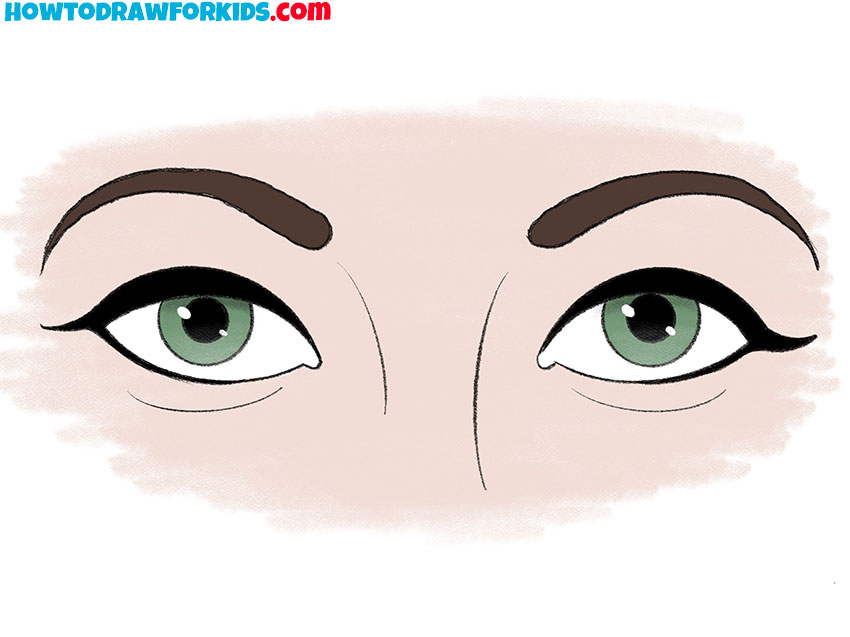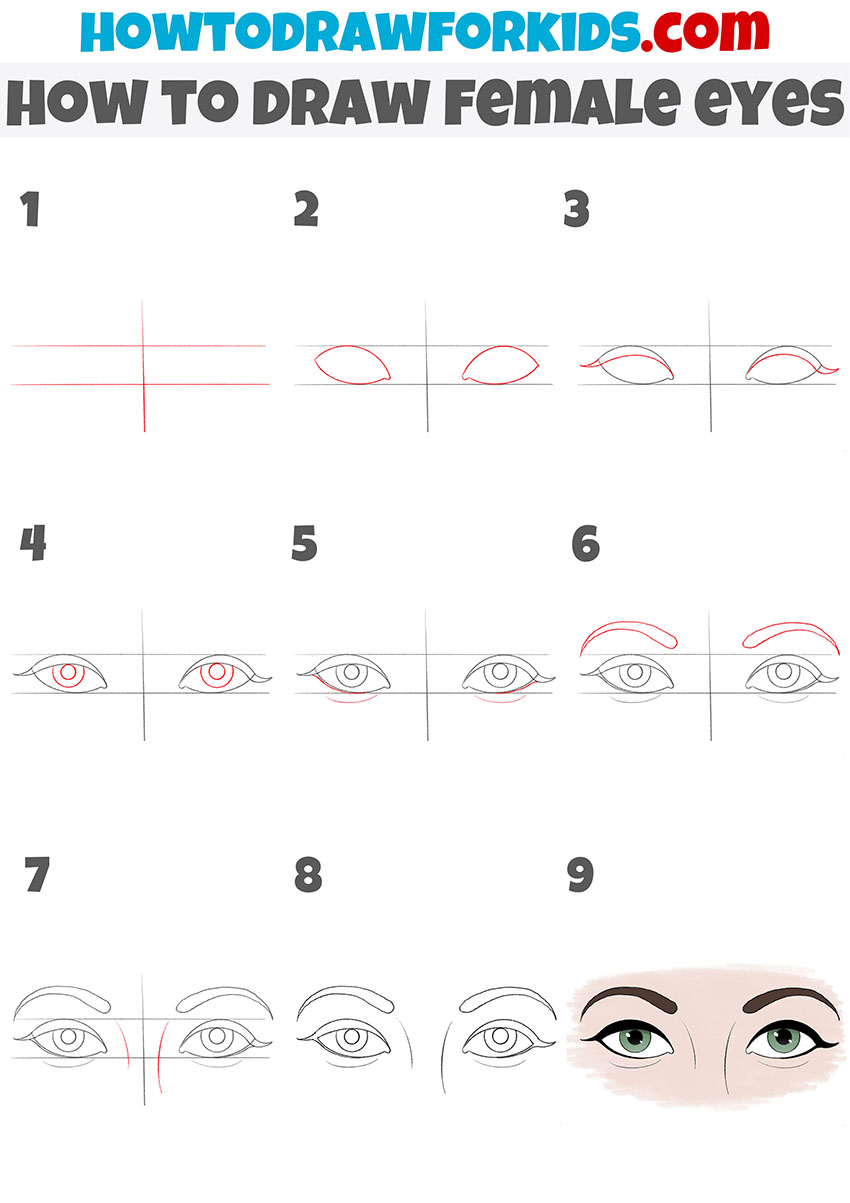 I suggest you complete the next lesson in which I will show you how to draw female eyes. This tutorial will be very simple, like all the other tutorials on this site. At the same time, this is a very useful lesson and the acquired skills will definitely come in handy in the future.
This drawing depicts beautiful female eyes that have a realistic shape. You can easily draw such eyes if you carefully follow all the steps in this instruction. Be careful at every stage of drawing and try to make symmetrical lines.
So, prepare all the necessary art supplies for this lesson and you can start working.
Materials
Pencil
Paper
Eraser
Coloring supplies
Time needed: 20 minutes
How to Draw Female Eyes
Add a few auxiliary lines.

Draw two horizontal and one vertical lines.

Depict the outer outline of the female eyes.

Draw two eyes of the same shape as in the example. Observe symmetry.

Draw the outline of the eyelashes on the upper eyelid.

Sketch out smooth, curved lines across the top of each eye.

Add the iris and pupil.

In the center of each eye, draw two circles of different sizes.

Depict the contours of the lower eyelid.

To do this, you need to draw smooth thin lines.

Sketch out eyebrows.

Depict the eyebrows in the same shape as in the example.

Draw the bridge of the nose.

Depict two thin smooth lines between the female eyes.

Remove the guidelines.

Carefully erase all extra lines.

Color the female eyes.

Choose any colors for your drawing.
Lesson over! Now you know how to draw beautiful female eyes. By tradition, I have prepared for you a short version of this step-by-step guide in PDF format.
How to Draw Girl Eyes: Additional Method
In the picture, the girl eyes look very cute. You can see that the eyes are oval and wide open. There are beautiful lush eyelashes on the eyelids. The iris has a beautiful delicate shade.
For coloring, you can choose the same color or any other that you like best. Memorize the drawing steps and use the acquired skills in your next works when you want to draw a character or a portrait of a real person.