How to Draw a Mug of Coffee
This lesson will help you learn how to draw mug of coffee quickly and easily. In just nine simple steps, you will gain very useful skills.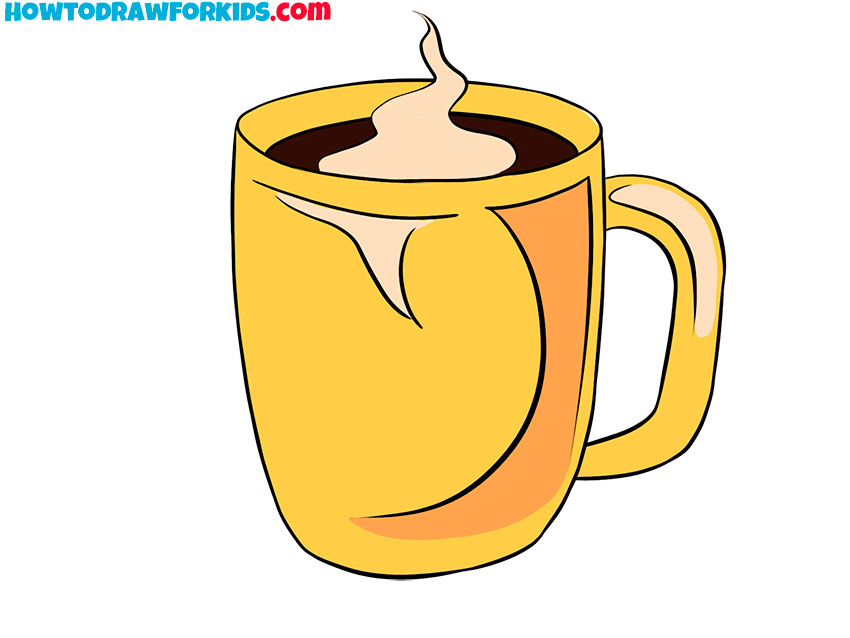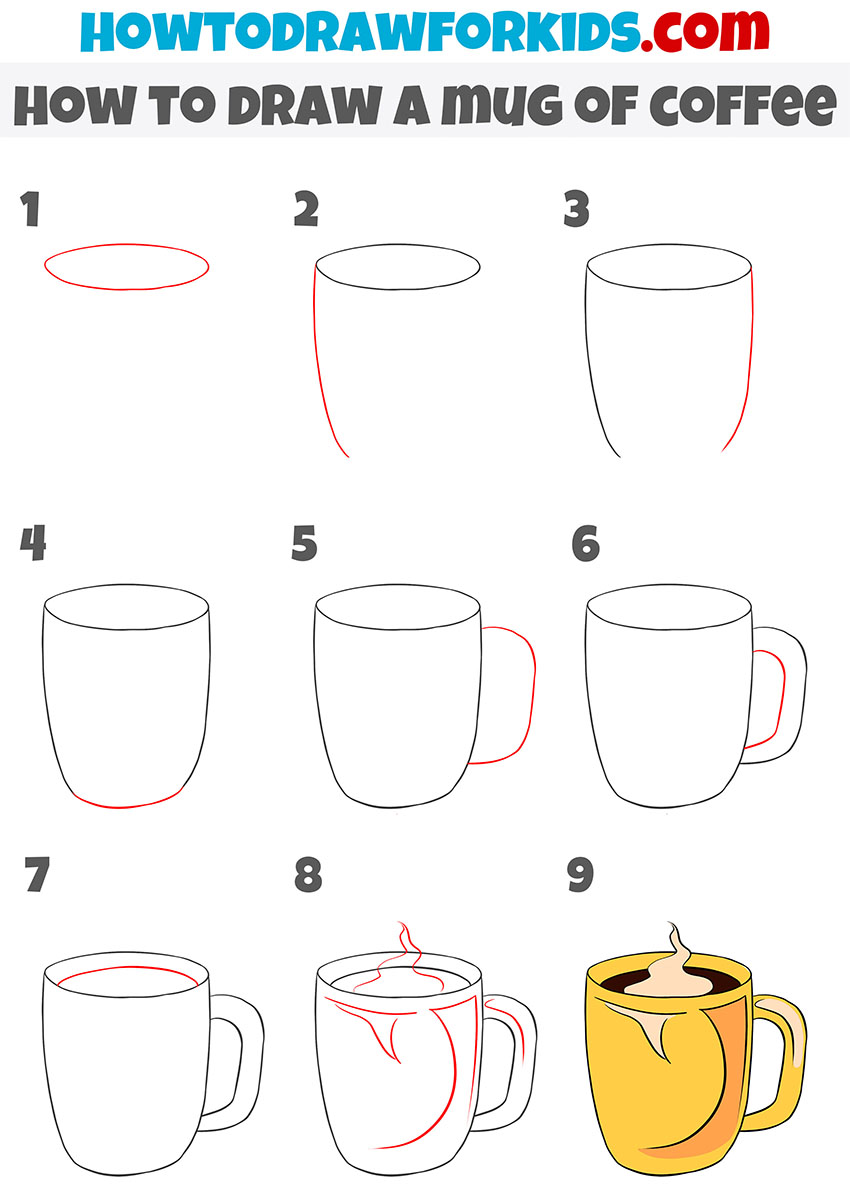 In this tutorial, I will show you how to draw a mug of coffee. This drink is extremely popular all over the world and many people start their day with a mug of aromatic coffee.
In this picture you see a mug of the usual shape, it is very convenient to hold such a mug in your hands. Inside the mug, you see dark-colored coffee and clouds of steam that rise above the surface of the hot drink. It looks very appetizing.
I think that you will follow this lesson with interest and acquire useful skills. There will be no complex lines and additional elements, so any child or aspiring artist will easily follow all the drawing steps.
You can paint the mug in the same colors as in the example, or you can use any other color and draw any image on the mug.
Materials
Pencil
Paper
Eraser
Coloring supplies
Time needed: 25 minutes
How to Draw a Mug of Coffee
Draw the top edge of the mug.

Determine the size of the mug and draw an even oval.

Depict one side of the mug.

On one side of the oval, draw down a smooth curved line.

Add the other side.

Repeat the previous step and use a smooth line to depict the other side of the mug.

Draw the bottom edge of the mug.

At the bottom, connect both sides with a rounded line to depict the bottom of the mug.

Add the outer outline of the handle.

Sketch out a rounded line on the side of the mug.

Depict the inner outline of the handle.

Draw the same line as in the previous step, but smaller.

Sketch out coffee in the mug.

Draw a smooth line inside the mug to depict the level of the drink.

Add details.

Depict steam and highlights on the mug.

Color the mug of coffee.

Choose brown for coffee, pink for steam, any color for the cup. Don't forget to add highlights.
Now you know how to draw a mug of coffee easily and quickly. You can show the result of your work to your friends. Offer to do drawing lessons together. It will be a pleasant and useful pastime.
Especially for your convenience, I have prepared a PDF file with a short version of the lesson. Download this file and complete the drawing lesson at any convenient time, even if there is no Internet access.