In this drawing lesson we will tell you how to draw Pegasus. This is a very simple drawing lesson that will help you create a cool and cute sketch.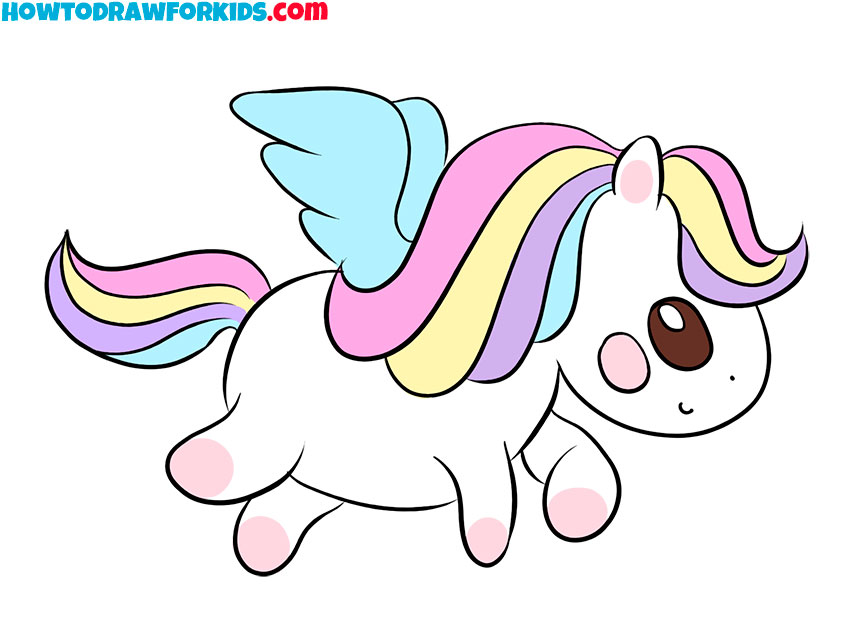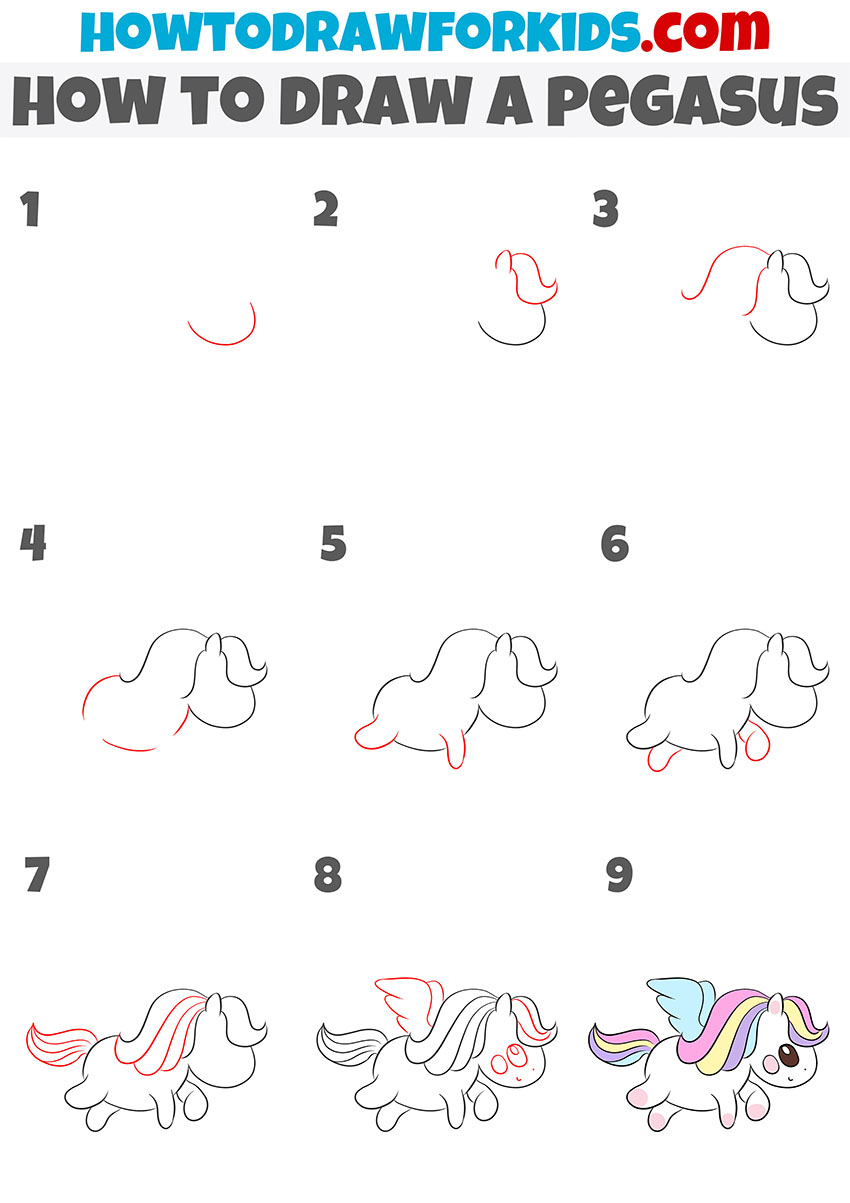 In this tutorial, you will learn how to draw a Pegasus. This is a beautiful-winged horse that we know from ancient Greek mythology. This mythical creature is a symbol of inspiration.
I am sure you will enjoy this tutorial and have a great time. You can easily draw a Pegasus because the lesson is adapted for beginner artists. All the lines are very simple, and you will quickly repeat all the drawing steps.
In the picture, Pegasus is made in a cartoon style and looks very cute. It is a small horse that has short legs, a lush mane, a beautiful tail, and graceful wings on the back. Pegasus is usually white, but you will portray this creature in a more attractive way. To do this, you will use beautiful delicate shades for coloring the mane and tail.
Materials
Pencil
Paper
Eraser
Coloring supplies
Time needed: 30 minutes
How to Draw a Pegasus
Draw the front of the face.

Sketch out a smooth, rounded line.

Depict the bangs and ear.

Using smooth lines draw the hair on the forehead and the small ear.

Add part of the mane.

To do this, draw two smooth, curved lines.

Draw the torso.

Using smooth lines depict the small torso, leaving free spaces for the legs.

Depict the front and back legs.

Sketch out short legs with a smooth line.

Add the rest of the legs.

Using a smooth line, draw the legs that are located further away from us.

Detail the mane and depict the tail.

Draw the strands on the mane with a few smooth lines and draw the small tail.

Add details.

Sketch out locks on the forehead, draw the eyes, cheek and wings.

Color the drawing.

Choose the most delicate shades of pink, blue, yellow, and lilac.
Do not forget to subscribe to us on social networks so as not to miss new exciting lessons. Download a short PDF version of this guide. Download the file and use it any time you want to draw.
In the myths of Ancient Greece, Pegasus is usually found as a character who helps various heroes and gods. It is also believed that without it, beautiful creations and works of art would not have appeared.