I invite you to a drawing lesson in which I will show you how to draw a puppet. Thanks to this lesson, you will improve your artistic skills.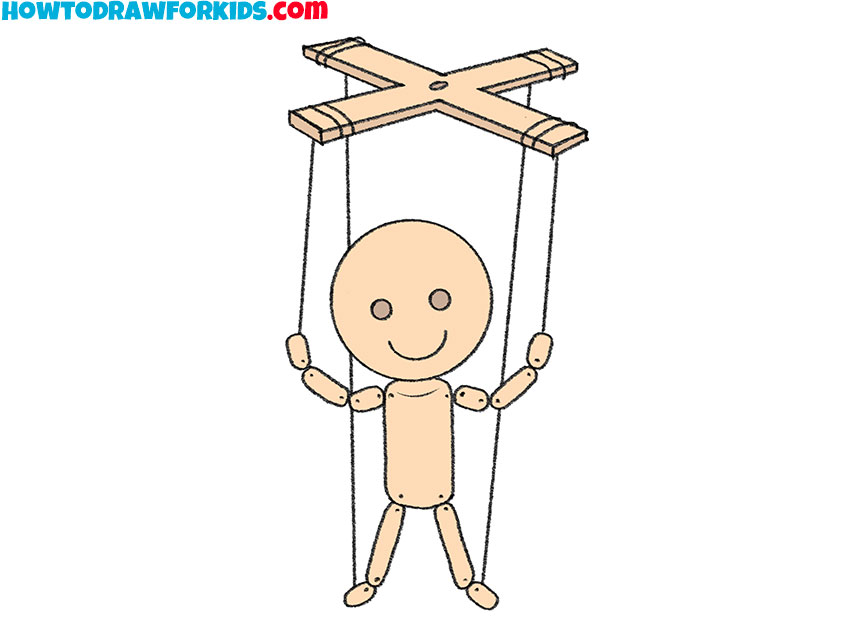 Especially for beginners, I created a fascinating lesson on how to draw a puppet. This is a controlled theatrical puppet, which the puppeteer sets in motion with the help of threads. It can also be a small toy that small children enjoy playing with.
In the figure, you can see that the body of the puppet consists of several elements connected to each other. All parts of the puppet's body are very mobile and there are threads at the ends that are connected to the crosspiece.
During the lesson, try to observe all proportions and strive to ensure that your drawing is as similar as possible to my example. Take your time and carefully draw all the lines that are marked in red. Now take all the necessary art supplies and start the lesson.
Materials
Pencil
Paper
Eraser
Coloring supplies
Time needed: 30 minutes
How to Draw a Puppet
Draw the torso.

Depict the head in the form of a circle and add the torso in the form of a small cylinder.

Add the hands.

Depict the arms on the sides of the body, which consist of elements in the form of cylinders.

Depict the legs.

The legs of the puppet are widely spaced and also have a cylindrical shape.

Sketch out the cross.

At some distance from the head, draw the cross using even, straight lines.

Detail the cross.

Draw the thickness of the cross, add the cross lines and the small hole in the middle.

Draw the threads.

Depict connecting lines from the limbs to the cross. Add the points on body elements.

Add the facial features.

Draw the eyes as two circles and use a curved line to draw the mouth.

Color the drawing.

For coloring, you will need different shades of brown.
So the fascinating lesson came to an end, with the help of which you learned how to draw a puppet. Show the drawing to your friends and invite them to complete the lesson together. It will be a pleasant and useful pastime. I recommend that you download the PDF file that I have prepared specifically for your convenience. In this file you will find all the useful information about the lesson, and you can return to it at any convenient time.