I bring to your attention a new interesting lesson on how to draw a simple bat. This step-by-step guide will appeal to any aspiring artist.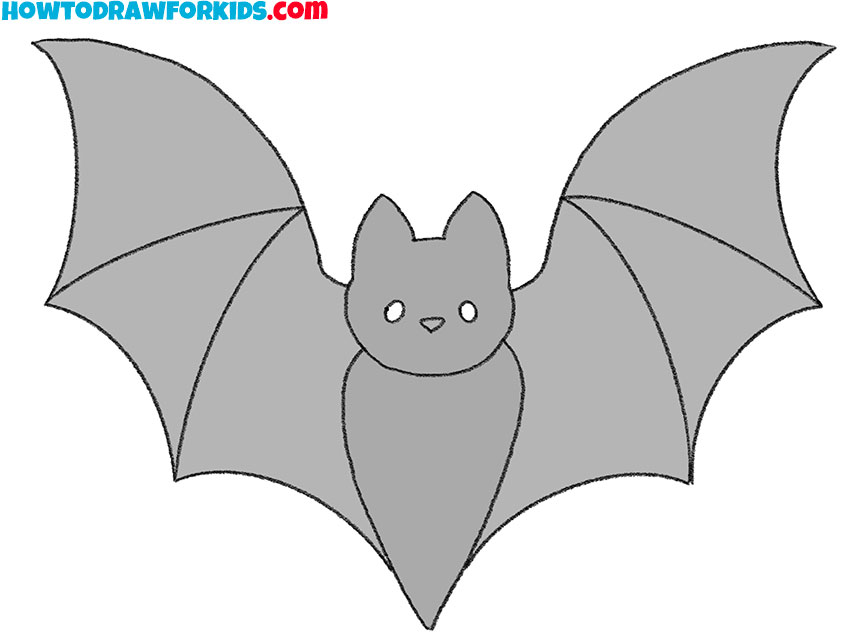 Now you will learn how to draw a simple bat. In this tutorial, I'll show you a very simple way to draw, which is great for a beginner. Bats have been on our planet for millions of years. Bats are very common and live on all continents except Antarctica.
Bats have a nasty reputation and at the same time are one of the most amazing creatures in the world. They are the only mammals that can fly. The wings of a bat are phalanges of the fingers covered with a skin membrane. Bats have poor eyesight, but excellent hearing.
I hope that you were interested in learning some information about bats, and you are ready to get down to creative work. If you already have all the art supplies at hand, then start drawing this amazing animal.
Materials
Pencil
Paper
Eraser
Coloring supplies
Time needed: 30 minutes
How to Draw a Simple Bat
Draw the head and torso.

Depict the head in the shape of an oval and add the torso which has a pointed lower part.

Add elements of the muzzle.

Draw two eyes in the form of an oval and add the triangular nose.

Sketch out the ears.

Draw two pointed ears on the top of the head.

Add the top outline of the wings.

From the head, draw two smooth curved lines to the sides, while maintaining symmetry.

Draw the membranes on the wings.

On each side, draw two smooth lines from the torso to the outer edge.

Add the side outline of the wings.

On the wings, draw curved connecting lines to represent individual membranes.

Correct inaccuracies.

Take a close look at your drawing and if you notice any mistakes, correct them at this stage.

Color the drawing.

You will need any shade of gray.
I suggest that you download a short version of the lesson in PDF format so that you can return to the lesson at any convenient time.