In this lesson I want to show you how to draw a simple bunny. I am sure that this step-by-step guide will appeal to any aspiring artist.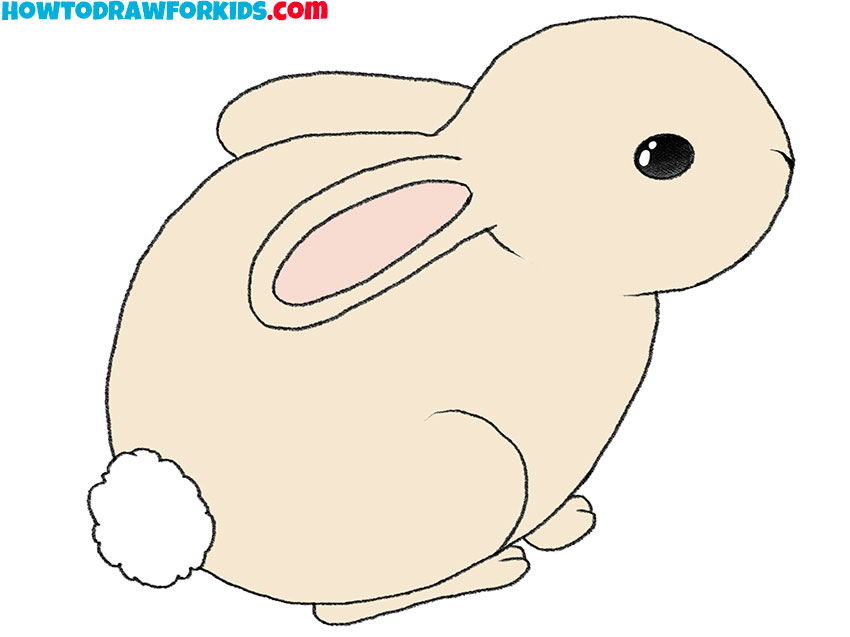 If you like to draw cute animals, then I recommend that you complete a new lesson on how to draw a simple bunny. This is a small fluffy animal that evokes pleasant emotions.
Table of Contents
Introduction to Bunny drawing tutorial
We decided to make a lesson on drawing a rabbit because it is a very simple object. Indeed, if you do not use super realistic drawing styles, you can draw a rabbit even if it is the first drawing in your life. Almost the entire lesson consists of circles and ovals of different sizes. Just repeat these steps and you will get great results.
Using the same sequential steps, you can draw other animals in a cartoon style. Just try this and you will understand how easy and simple the drawing method is.
Materials
Pencil
Paper
Eraser
Coloring supplies
Step-by-Step Bunny Drawing Tutorial
Time needed: 30 minutes
How to Draw a Simple Bunny
Draw the head.

Determine the size of your drawing and draw the head which is oval-shaped. Place this on the top and right side of your piece of paper.

Depict the torso.

Add a smooth line from the head to represent the torso. Pay attention to the ratio of the sizes of the body and head. It looks like a snowman or the body of a large insect.

Add elements of the muzzle.

Depict the eyes which are oval-shaped and use a short stroke to draw the nose. This is really a very simple step – just two regular shapes creating something that looks like a face.

Sketch out the ears.

With smooth curved lines, depict two ears that fit snugly against the body. You can choose any position for your Bunny's ears. We decided to place the ears parallel to the back.

Draw the tail.

In the lower part of the body, depict the small tail using wavy lines.

Add the back paw.

With a semicircular line, draw the upper part of the hind leg and add the long foot at the bottom.

Sketch out the front paw.

Draw the visible part of the front paw in the front part of the body. Divide this circle with small lines in front to make it look more natural.

Correct inaccuracies.

Take the eraser and carefully remove all the extra lines in your drawing.

Color the drawing.

Color the fur with a light beige color, you will also need pink and black.
Improving your artwork
You can improve your skills in drawing Bunny and other animals. Try to draw this as often as possible, in any free minute. Come up with different poses and angles for your beautiful animals. Draw a hare, turtle or other animals from the side, top or front. Create a short story with an animal and draw it as a short comic. As a result, you simply won't notice how one day you will start drawing it very quickly and efficiently without focusing on what you are drawing.
Additional content
If you want to draw Bunny anywhere, even without the Internet, be sure to download this PDF. In addition to the step-by-step drawing lesson, you will also find some interesting things there that will help you draw Bunny in other ways.
Conclusion
We always try to create new cool content for those who really love to draw. If you like this, don't forget to check out our social media. We also really appreciate your comments, it really helps us choose topics and strategies for new lessons.