Learn how to draw a velociraptor for kids with this super easy step-by-step drawing tutorial created for kids, their parents, and art teachers.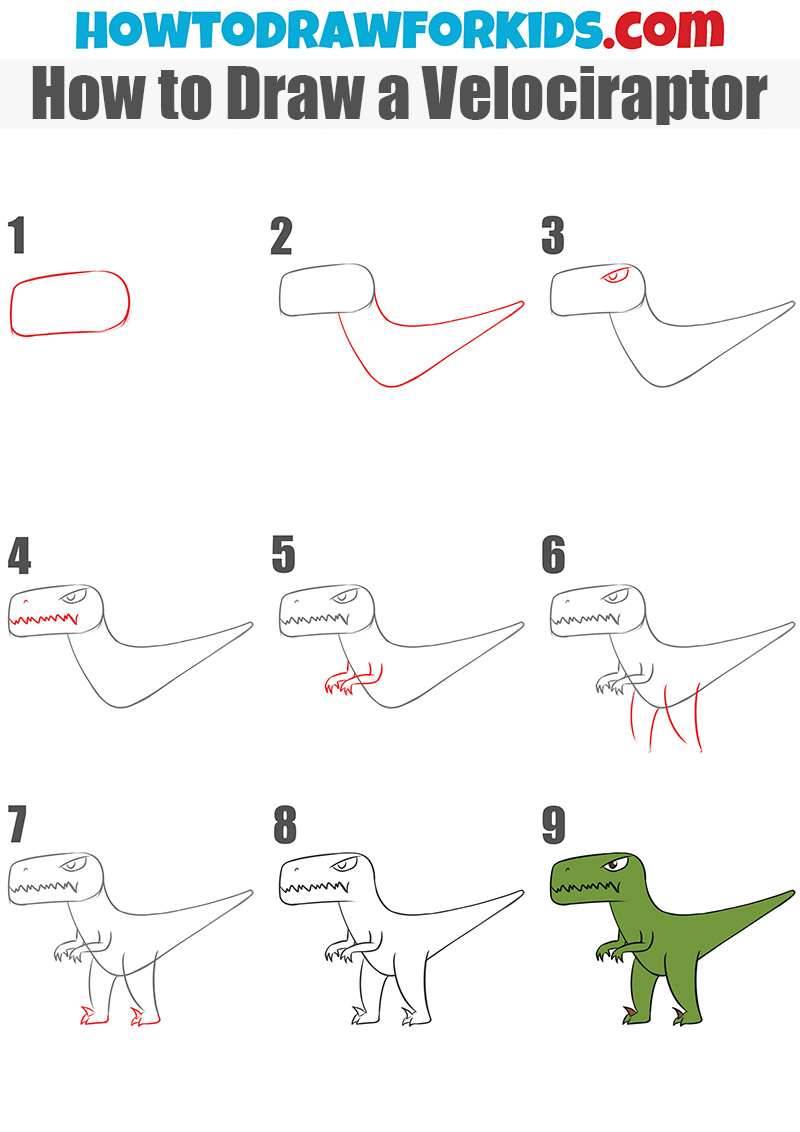 Drawing dinosaurs is very exciting for children because these creatures look extremely interesting and unusual.
In this drawing tutorial, I show you how to draw a Velociraptor, a bipedal carnivorous dinosaur.
I decided to show the process of drawing a velociraptor on the most classic representative of this genus, that is, with green skin and no feathers.
But let me remind you that recent studies have shown that velociraptors could have plumage, so in one of the next drawing lessons, I can show the process of drawing a feathered Velociraptor.
Directions on How to Draw a Velociraptor for Kids
Materials
Pencil
Paper
Eraser
Coloring supplies
Time needed: 30 minutes
How to Draw a Velociraptor for Kids
Draw the outlines of the head

First, draw the elongated head of the Velociraptor, similar to a rectangle with rounded corners.

Draw the outlines of the body

Using two long and flowing lines draw the body that looks a lot like a boomerang.

Draw the eye

Using two smooth short lines sketch out the outlines of the Veloceraptor's eye. Draw a round pupil inside it.

Draw the mouth

To make the Velociraptor mouth look as natural as possible, use a long zigzag line.

Draw arms

First, sketch out the upper parts of the arms. After that, draw hands with pointed fingers.

Draw legs

To draw the Velociraptor's legs correctly, first, draw the top parts of the legs using a few smooth lines.

Draw the feet

Continuing the lines from the previous step, draw out the feet of the Velociraptor with razor-sharp claws.

Erase the guidelines

To give your Velociraptor drawing a finished look, erase all unnecessary construction lines.

Color the Velociraptor drawing

In order to color the Velociraptor drawing, I decided to use green and brown colors.
If you have completed all the steps and were able to learn how to draw this cute dinosaur, then it's time to try some additional steps to improve your drawing skills.
For example, you can try to draw a feathered version of this dinosaur.
You can also try drawing other velociraptors in the background.
To practice drawing a Velociraptor, you can draw it again and paint it in other colors.
To use this Velociraptor step-by-step drawing tutorial, and all additional materials, you can download the completely free PDF file, which I created especially for you: Velociraptor Drawing Tutorial and Extra Printables.
Thanks for using my drawing tutorials. I really hope they help you improve your drawing skills.