Today I have prepared for you a lesson on how to draw a mummy for kids. This guide consists of nine simple steps.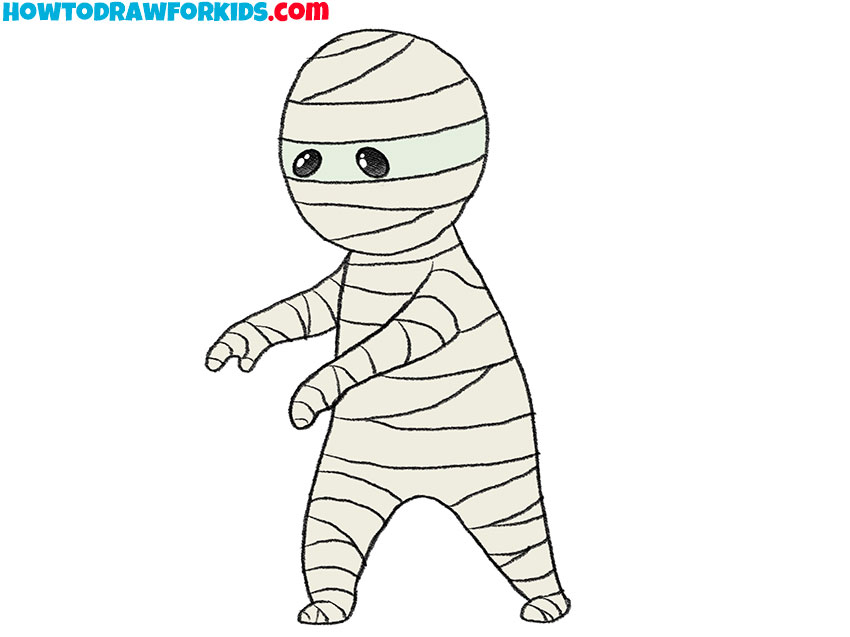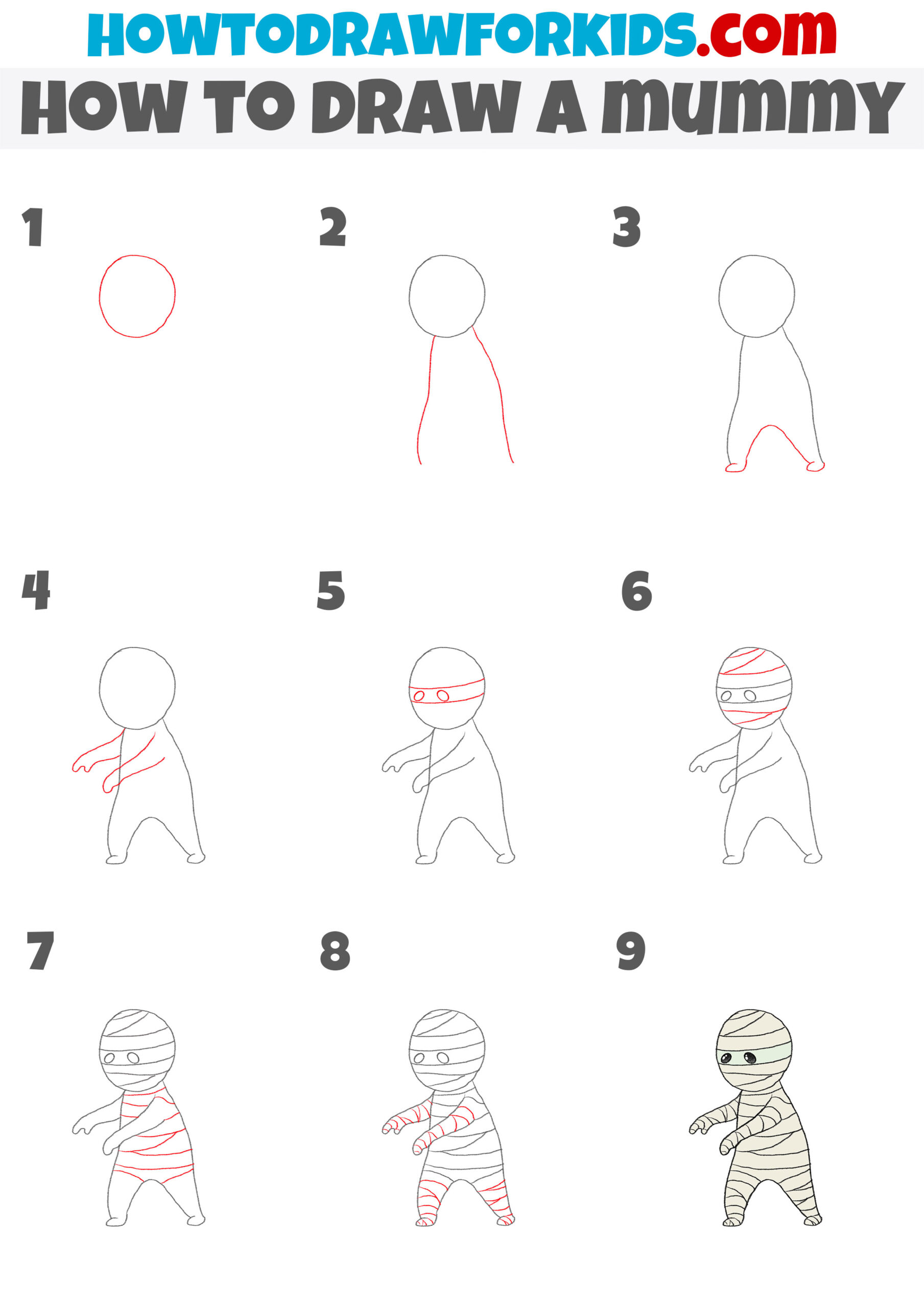 In this tutorial, I will show you how to draw a mummy. This lesson will be interesting and the creative process will give you pleasure. This is a simple step-by-step guide that any aspiring artist will love.
This simple instruction shows in detail how to draw a mummy. Many mummies have been found as a result of archaeological excavations, which made it possible to make important discoveries.
The mummy is the body of a deceased person that has been embalmed and therefore retained its shape. After embalming, the body is wrapped in a long bandage. It is such a mummy that you can see in the picture.
Here a revived mummy is depicted, the whole body of which is wrapped in thin long ribbons and only the eyes are visible. Such a mummy can be seen in films. Drawing a mummy is not difficult. To do this, just draw the outline of the human body and then add a lot of ribbons that wrap around the body.
Materials
Pencil
Paper
Eraser
Coloring supplies
Time needed: 25 minutes
How to Draw a Mummy
Draw the head.

To do this, depict an even oval.

Depict the torso.

From the head, draw down two smooth lines.

Sketch out the legs.

The mummy has short legs that are widely spaced.

Draw the arms.

Using smooth lines, add two arms in the same position as shown in the example.

Add details.

On the head, draw two transverse lines and depict two ovals to draw the eyes.

Depict strips of ribbon on the head.

On the head, draw several transverse lines of various shapes.

Add stripes of ribbon on the torso.

Repeat the previous step and add transverse stripes on the surface of the torso.

Depict the rest of the ribbon strips.

On the arms and legs, sketch out strips of ribbon using smooth transverse lines.

Color the mummy.

You will need a light gray color. Color the eyes black and add highlights.
have prepared a PDF file with a short version of the lesson in advance. Download the file to always have access to this lesson.
How to Draw a Mummy: Additional Method
Now let's try to look at the process of drawing a mummy from a slightly different angle.
In this tutorial you can see that I draw the head first, then the torso and limbs. Then I draw the bandages, after which I erase the unnecessary lines and paint the mummy drawing.