Today I will show you how to draw a cockatiel. I am sure that you will complete this lesson with great pleasure and acquire useful skills.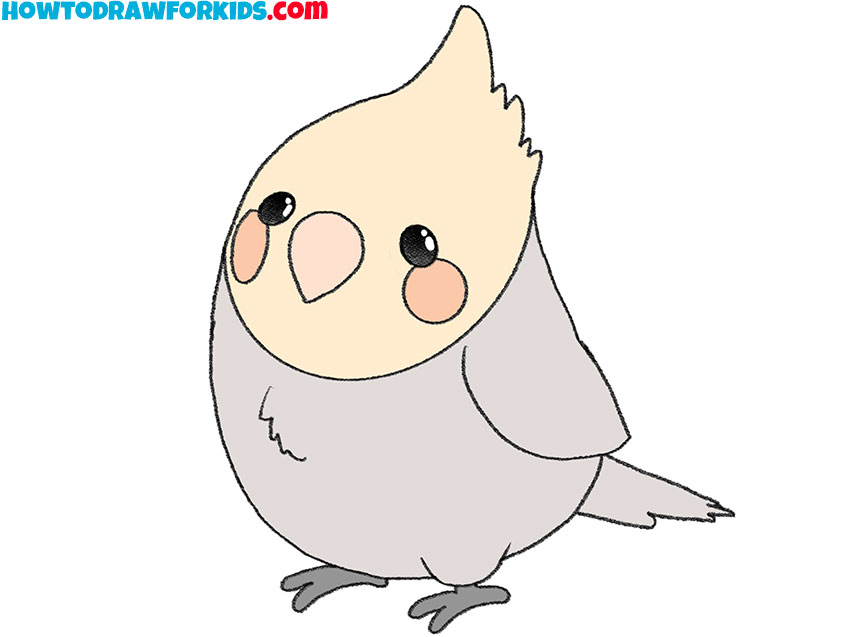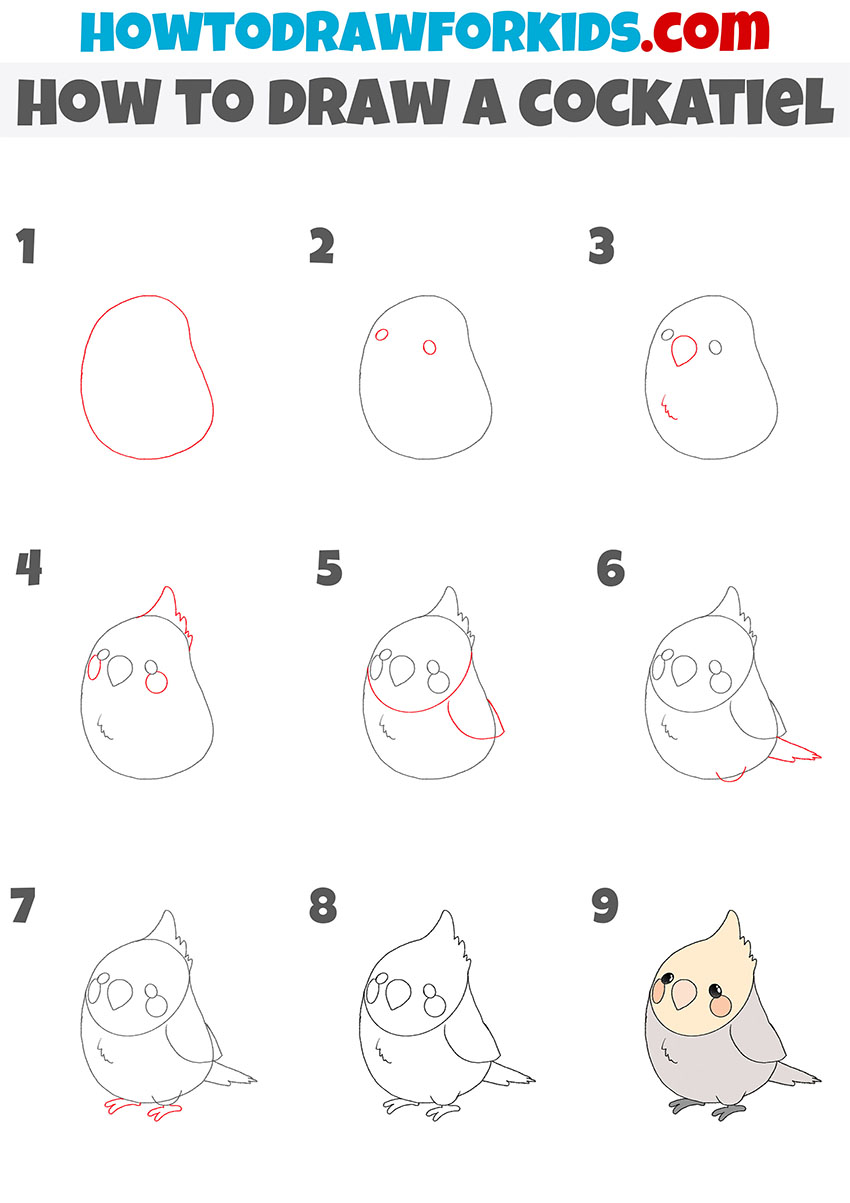 With the help of a simple instruction, you will learn how to draw a cockatiel step by step. This is a medium-sized parrot. Cockatiel looks very attractive and a large crest on her head gives her a special charm.
This type of parrot is especially popular and very often the cockatiel becomes a favorite pet. If the bird is provided with proper care and care, then it begins to talk and sing. Therefore, it is pleasant to spend time with such a bird.
During this tutorial, try to carefully draw all the lines that are marked in red and keep the proportions to get a great result. Now take all the necessary art supplies and start the lesson.
Materials
Pencil
Paper
Eraser
Coloring supplies
Time needed: 30 minutes
How to Draw a Cockatiel
Draw the outline of the body.

Depict the head and torso as one oval-shaped object.

Depict the eyes.

Draw two oval-shaped eyes at some distance from each other.

Add the beak and plumage on the chest.

Draw the pointed beak with smooth lines and draw a small uneven line on the chest.

Sketch out the tuft and spots under the eyes.

At the crown, add the small pointed crest. Draw circles under the eyes.

Detail the color and draw the wing.

Draw a smooth, curved line below the head. Add the wing to the side of the body.

Draw the tail and base of the paws.

Add the pointed tail and draw the base of the paws with a curved line.

Depict the paws.

In the lower part of the body, draw two paws of the same shape as in the example.

Correct inaccuracies.

Look carefully at your drawing and correct the mistakes. Remove extra lines.

Color the drawing.

For coloring, you will need several bright colors. Color the eyes black.
The lesson is over, and now you know how to draw a cockatiel. If you have suggestions and interesting ideas for the next drawings, then be sure to write about it in the comments. Download the short version of this tutorial in PDF, so you can come back to it at any time and do it again.