How to Draw an Ankylosaurus
In this lesson, you will learn how to draw an ankylosaurus. This instruction is quite simple and consists of nine steps with.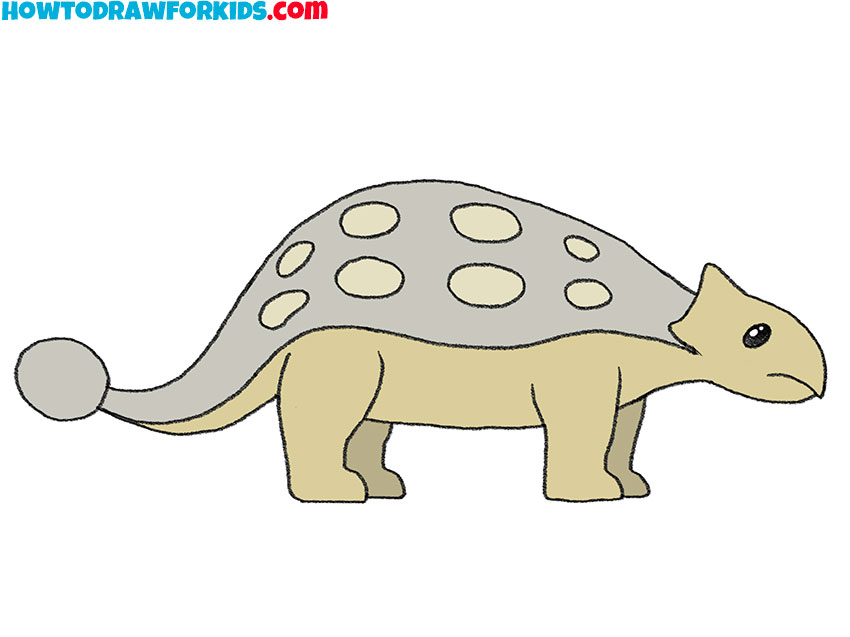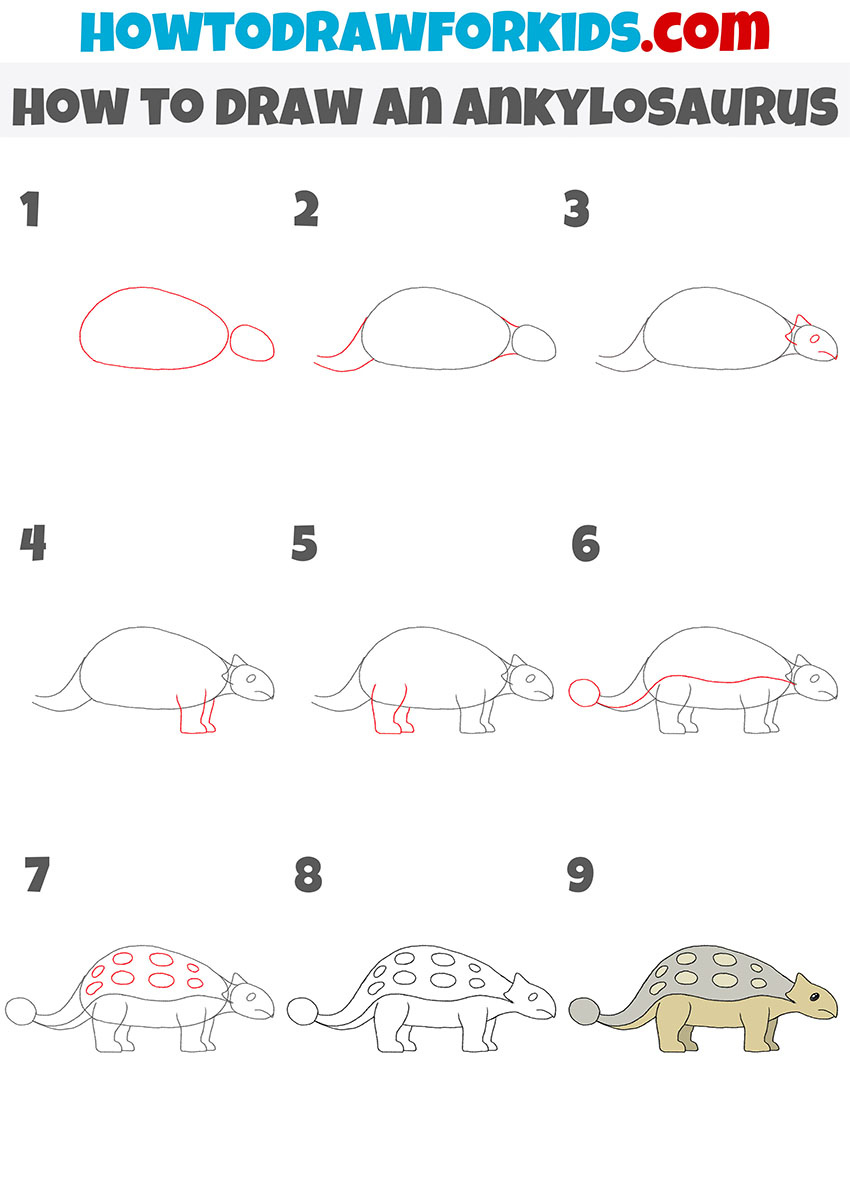 I am glad to bring to your attention this excellent drawing lesson, in which I will tell and show you how to draw an ankylosaurus step by step. This is another fascinating lesson dedicated to the image of ancient creatures that inhabited our planet many millennia ago.
By learning how to draw an ankylosaurus with this easy tutorial, you can use this animal as the main subject of your drawing, as well as complement it with an image of a natural landscape you have drawn, or depict it near other dinosaurs.
Ankylosaurus is a herbivorous dinosaur. This pangolin is distinguished by a flexible bony carapace on the entire body, except for the lower part, including the head and tail, and a bone mace at the end of the tail. The shell was formed by bone plates of various sizes and shapes, some of which had sharp spikes.
If you are interested in this lesson, and you already want to start drawing an ankylosaurus, then you can prepare the art supplies you need right now, and then carefully follow my instructions and enjoy the creative process.
Materials
Pencil
Paper
Eraser
Coloring supplies
Time needed: 30 minutes
How to Draw an Ankylosaurus
Draw the outlines of the head and torso.

To complete this step, you need to depict shapes that look like deformed ovals of various sizes.

Add the neck and part of the tail.

Using two lines, connect the drawn shapes, add two curved lines at the back of the torso.

Depict the facial features and elements on the head.

Draw an oval inside the drawn head, and add two curved lines at the top and front of the head.

Sketch out the ankylosaurus forelimbs.

In front of the torso, depict two paws using curved lines. The other partially covers one paw.

Draw the pair of ankylosaurus hind limbs.

Now you should add two more curved lines, placing them near the tail of the ankylosaurus.

Finish drawing the tail and add the element on the torso.

At the end of the drawn tail, draw an oval, and also add a curved line along the tail and torso.

Add decorative elements.

On the surface of the back, draw several ovals of different sizes, as shown in the figure.

Correct inaccuracies.

Use the eraser to remove unwanted lines and prepare it for coloring.

Color the drawing.

To color the ankylosaurus, use shades of green, gray and black, and add highlights on the eye.
You can also offer your ideas for future drawing lessons. Download the PDF file, which contains a short version of this lesson, as well as additional useful materials for you.