Now I will show you how to draw an easy cat toy step-by-step. Here is a simple instruction that any aspiring artist will love.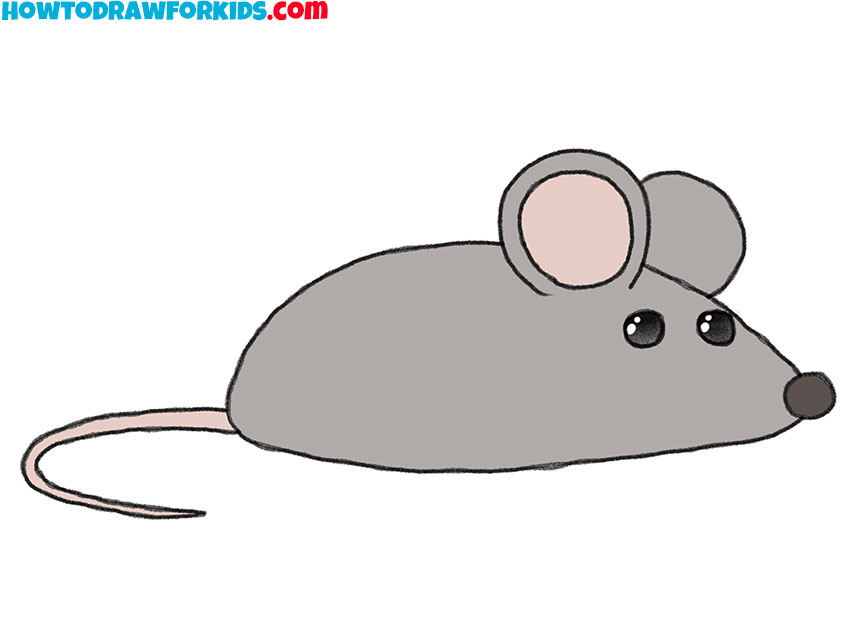 I propose to complete a new simple lesson with which you will train your creative skills. Here you will learn how to draw an easy cat toy.
Cats are very playful and need special toys, so the owners try to satisfy this need and buy special devices for active games. The most exciting toy for cats is a little mouse.
The toy mouse is made of any lightweight material and looks like a real mouse. This is a very exciting game and the cat can spend a lot of time with this toy.
Drawing a mouse is very easy, and soon you will see for yourself. The instruction contains eight simple steps that you can easily repeat. Try to draw the same lines as in the instructions and use small hints to achieve the best results.
Materials
Pencil
Paper
Eraser
Coloring supplies
Time needed: 25 minutes
How to Draw an Easy Cat Toy
Draw the outer outline.

Depict a rounded shape that has a convex top and a flatter bottom.

Sketch out the eyes.

Draw two small circles of the same size.

Depict the nose.

Add a circle in front of the head.

Add the ears.

At the top, consistently draw two rounded lines that are located side by side.

Draw the inside of the ear.

Inside one ear, draw a circle that is parallel to the outer outline.

Sketch out the tail.

With smooth lines, draw the long, thin tail.

Correct inaccuracies.

Remove extra lines in the drawing.

Color the easy toy.

Use gray as the main color. Color the ear pink.
By tradition, I prepared a short version of the lesson in PDF format. Save this file so that the lesson is available to you at any convenient time.