Simple Instruction on How to Draw a Doll for Kids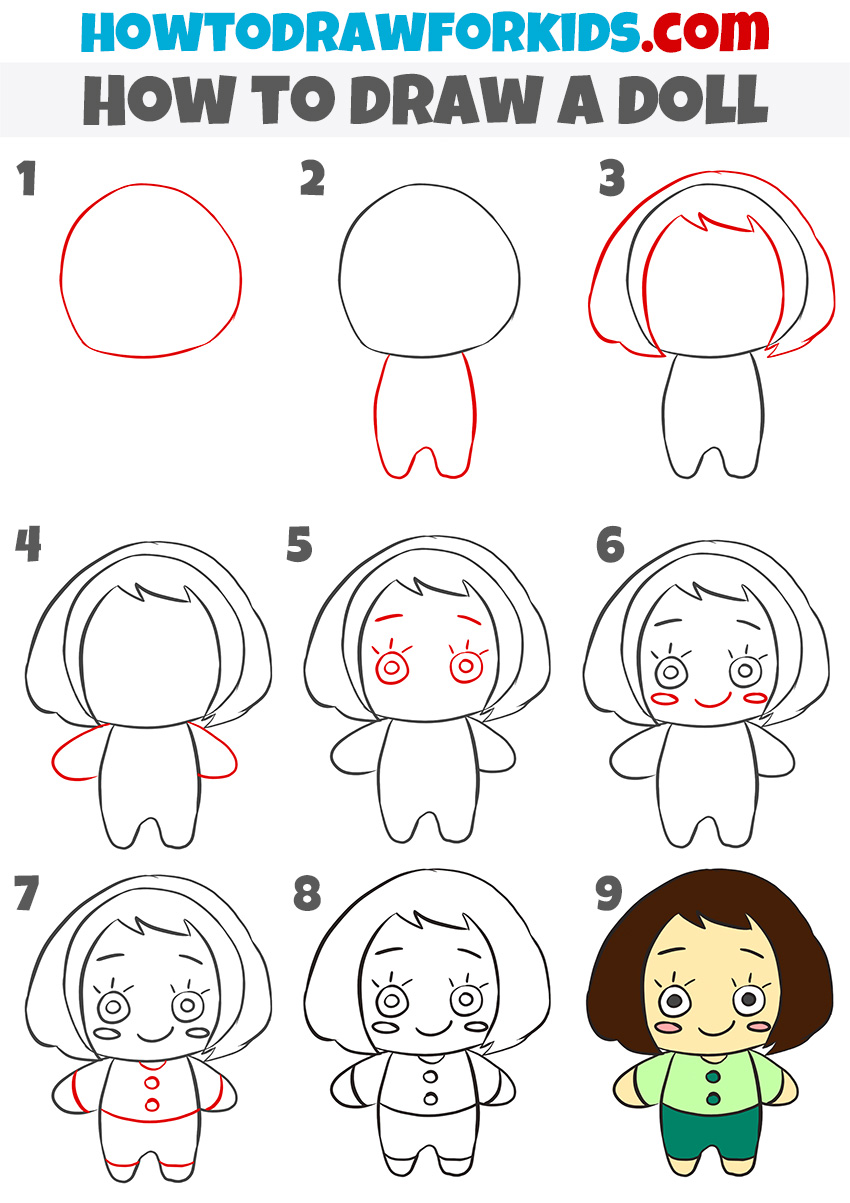 So, today I will teach you how to draw a doll for children. This will be a fairly short and simple tutorial that is adapted for artists of all difficulty levels. Even if you picked up a pencil for the first time today, you can try to draw it. I hope you gain confidence and feel your potential.
These are 9 simple steps to draw a stylish, pretty doll. Just follow the sequence and look at your drawing. By the way, do not forget to write in the comments about whether you have encountered any difficulties or errors. I will be happy to make my lessons better according to your suggestions.
Try to choose the most comfortable workspace for your drawing, grab your pencils, and provide the best possible light. Let's start!
Materials
Pencil
Paper
Eraser
Coloring supplies
How to Draw a Doll for Kids
Draw the head.

Depict the contours of the face using a rounded, asymmetrical shape.


Add the body.

Our doll has a small body that especially contrasts with a large, voluminous head.

Draw the doll's hairstyle.

You can invent any type of hairstyle for your doll. In my case, this is a lush, voluminous hairstyle that is formed by several smooth lines.

Draw the hands.

Draw the rounded outlines of the upper limbs. The chibi style makes drawing hands a lot easier, actually.

Depict the eyes.

Draw the large, expressive eyes of our doll. Don't forget eyelashes and eyebrows that look like regular sticks.

Draw the facial features.

Add the contours of the mouth and blush to the cheeks of this lovely doll.

Draw the clothes.

Draw the elements of the clothing using a few smooth lines.

Delete extra lines.

Erase all the guide lines from the previous steps.

Color the doll.

Choose the optimal colors for coloring in accordance with your ideas.
According to our tradition, I have prepared a special version of the drawing lesson in pdf format. Here you can see everything you need to draw a doll for children.