In this lesson, I will tell you how to draw a black Lab. This tutorial is sure to please, and it consists of nine easy steps.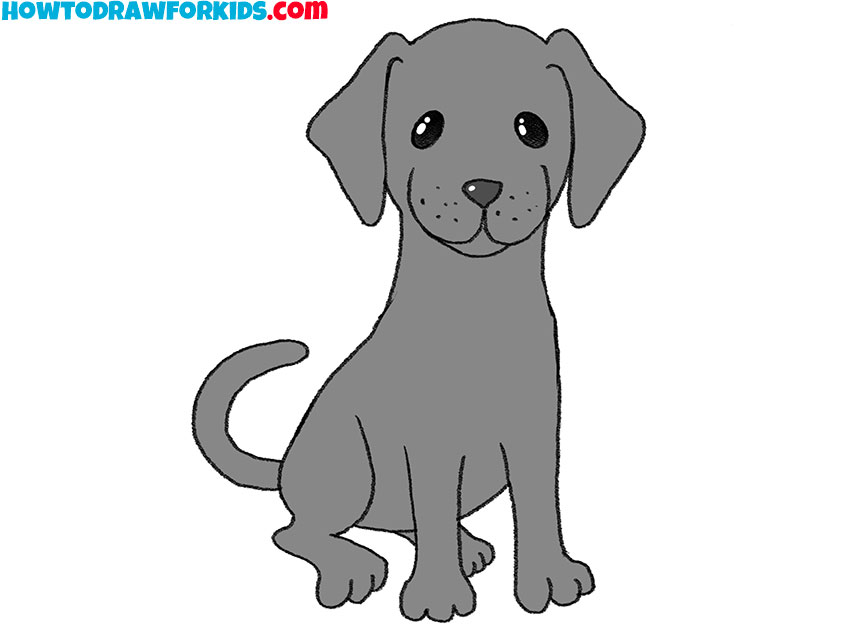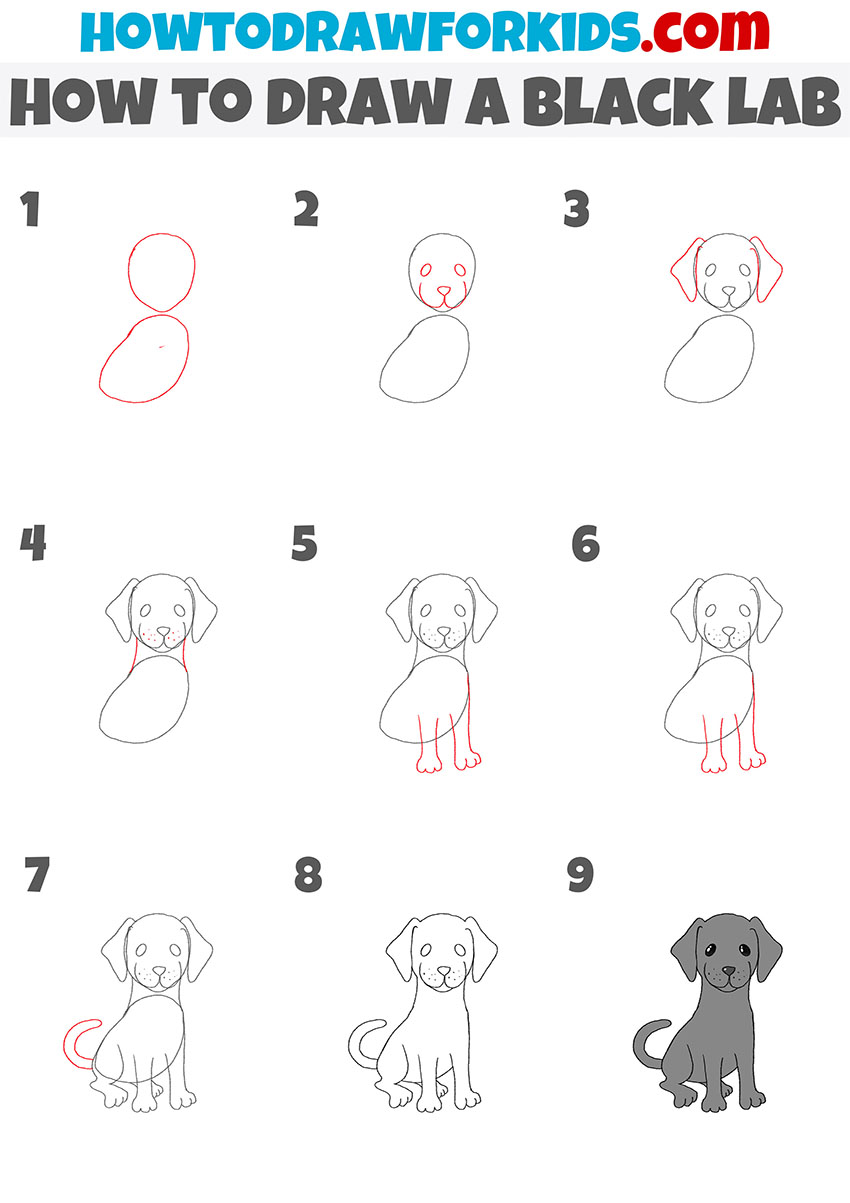 I am glad to bring to your attention an excellent drawing lesson in which I will tell and show you how to draw a black Lab step by step. This drawing lesson will help you develop your artistic skills and learn how to draw one more animal. The black Lab you will draw in this tutorial will look like a black Labrador puppy.
This drawing will turn out very cute and funny. The black Lab is a very beautiful and spectacular dog, among all the Labrador Retrievers, it stands out for its saturation of color.
Having learned how to draw a black Lab with the help of this instruction, you can easily draw this dog as the main object of your drawing in the future, as well as complement any natural landscape, road, houseroom or any other drawing you have drawn with this image.
I suggest you prepare your art supplies right now, and then proceed with this lesson and carefully follow my instructions. I am sure that you will get an excellent result of your work and will easily cope with this task.
Materials
Pencil
Paper
Eraser
Coloring supplies
Time needed: 30 minutes.
How to Draw a Black Lab
Draw the outlines of the animal's head and torso.

Depict two figures, as shown in the figure, using curved lines for this.

Add the front of the head and the facial features.

Draw two symmetrical ovals inside the outline of the head, as well as several curved lines.

Sketch out the outlines of the black Lab's ears.

On the right and left sides of the head, depict two symmetrical ears using curved lines.

Depict the neck and elements on the face.

Using curved lines, connect the outlines of the head and torso, add points in front of the head.

Draw the front limbs.

At the bottom of the previously drawn torso, depict two symmetrical paws using curved lines.

Add the outlines of the dog's hind legs.

In the back of the torso, depict the paws using curved lines. The front partially closes one paw.

Depict the outline of the black Lab's tail.

Next to the previously drawn hind legs, draw a long, curved line, as shown in the figure.

Correct inaccuracies.

Now you need to use the eraser to remove all unnecessary lines.

Color the drawing.

To color the black Lab, use different shades of gray and black, and add highlights.
For your convenience, I have prepared a PDF file that contains all the useful information from this lesson, as well as additional practice materials that will help you develop your artistic abilities. You can download this file right now, so you don't lose it in the future, and return to this tutorial even without an internet connection.