In this lesson, you will learn how to draw a Stormtrooper helmet. This drawing lesson is quite simple and consists of nine steps.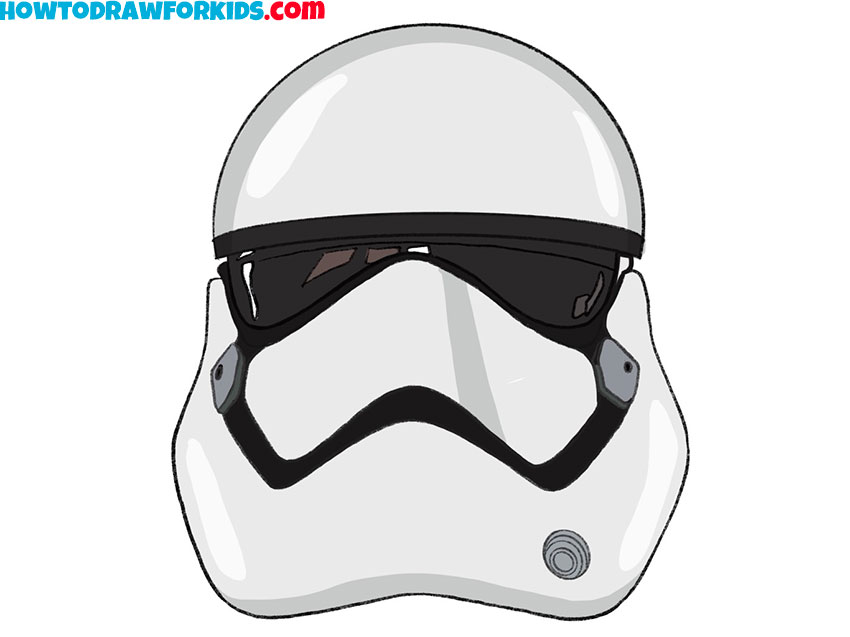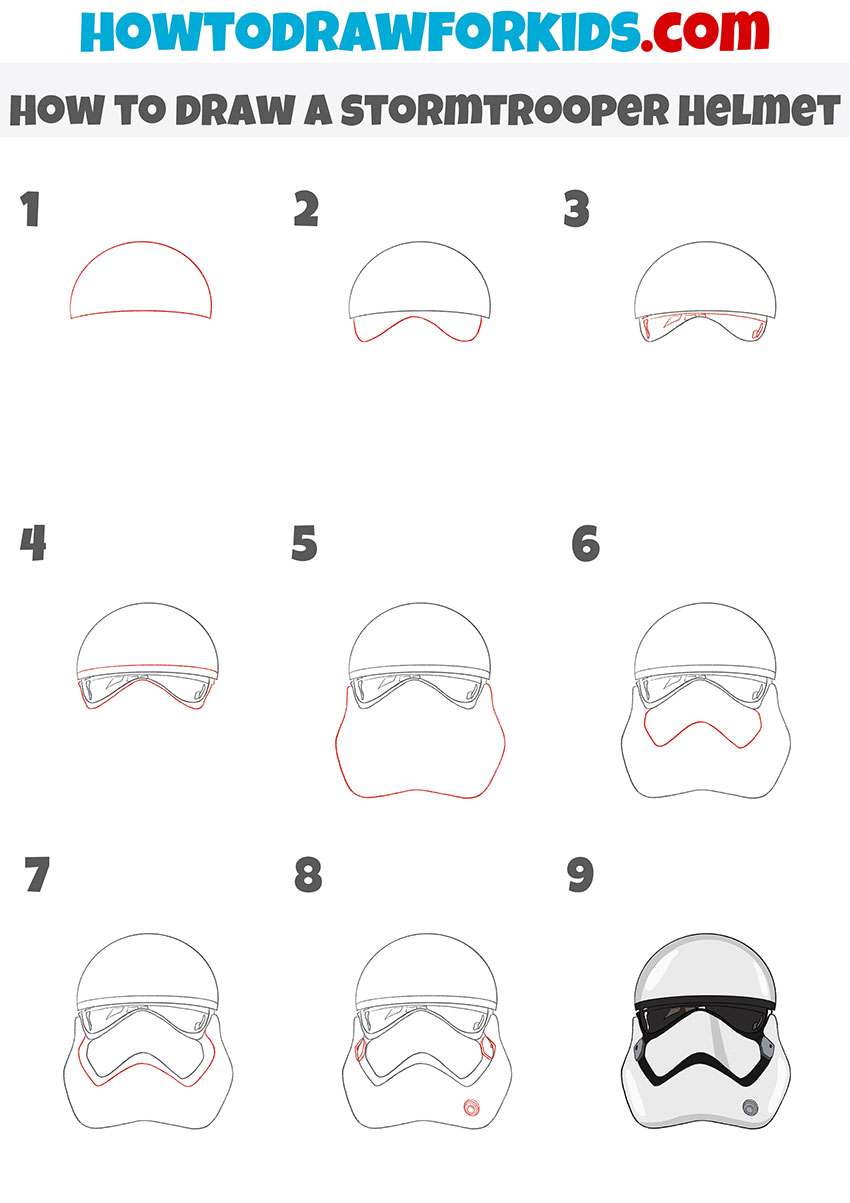 I am glad to offer you this wonderful and interesting drawing lesson, in which I will tell and show you how to draw a Stormtrooper helmet step by step. This instruction has a detailed description of each step, so that any novice artist, as well as a child, can easily cope with this drawing.
If you are a Star Wars fan, you have probably seen the subject that you will draw with this lesson many times. The Stormtrooper helmet is part of the protective suit that is standard equipment for soldiers of the Stormtrooper Corps of the Galactic Empire.
By learning how to paint a Stormtrooper helmet with this easy step-by-step tutorial, you will be able to depict this element as the main subject of your drawing in the future, as well as portray a Stormtrooper from Star Wars or some scene from a movie.
Materials
Pencil
Paper
Eraser
Coloring supplies
Time needed: 30 minutes.
How to Draw a Stormtrooper Helmet
Draw the top of the helmet.

You need to draw an arc and then connect its ends with a curved line.

Depict the insert for the eyes on the helmet.

Below the previously drawn shape, draw one curved line, as shown in the figure.

Add decorative elements.

Inside the drawn shape, add highlights using curved lines, as shown in the image.

Continue drawing the middle part of the helmet.

Draw an arc and also add a curved line below the previously drawn elements.

Add the contour of the main part of the helmet.

Depict one long, curved line below the previously drawn details as shown.

Sketch out an element in the center of the helmet.

Draw a curved line as shown in the figure, placing it in the middle of the helmet.

Continue drawing the previously drawn element.

Now you need to draw a long curved line, repeating the curves of the previously drawn line.

Add more details.

Draw ovals at the bottom of the helmet, and also add two symmetrical elements on the sides.

Color the drawing.

To color the Stormtrooper's helmet, use shades of gray as well as black.
Also, don't forget to leave a comment and tell us about your impressions about this tutorial. I remind you that for your convenience, you can download a PDF file that contains a short version of this lesson so that you can return to it at any time convenient for you, even if you are not connected to the Internet.