In this lesson, I want to show you how to draw an easy dragon. I promise that the lesson will be simple and useful for you.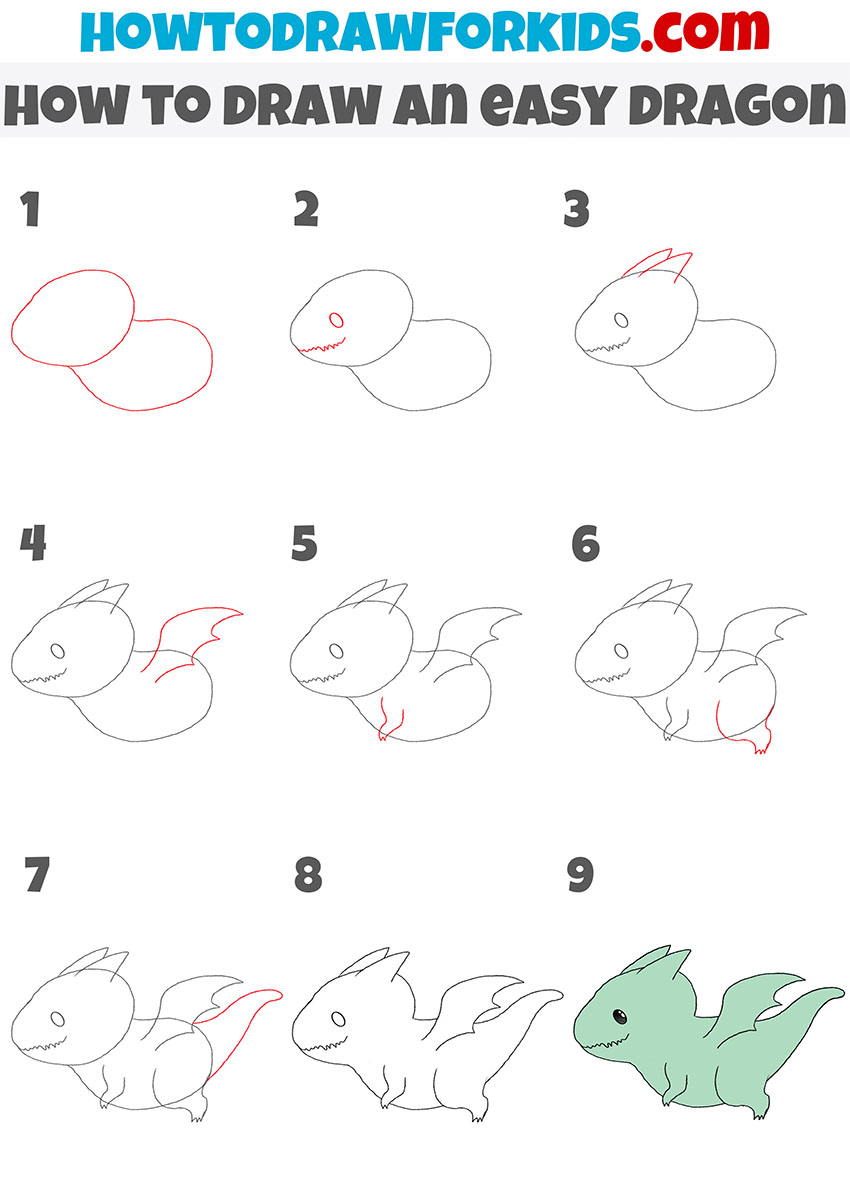 I hope you enjoy drawing a popular mythical creature, and in this tutorial I want to show you how to draw an easy dragon step by step.
The image of the dragon is very popular and often seen. This fairy-tale character has a formidable appearance and inspires fear, but in this case the dragon is still small and looks quite harmless.
The drawing is made in cartoon style and here the dragon is cute and cute. Thanks to a simple instruction, you can easily draw a dragon, even if you do not have much experience in drawing.
Materials
Pencil
Paper
Eraser
Coloring supplies
Time needed: 25 minutes.
How to Draw an Easy Dragon
Draw the head and torso.

Depict the head which is elongated and then draw the rounded torso.

Add the elements of the muzzle.

Depict an oval to draw the eye, and draw the mouth with a zigzag line.

Sketch out the ears.

On the top of the head, depict two pointed ears, which are located side by side.

Draw the wing.

The upper part of the wing has a rounded contour, while the lower part has pointed spikes.

Add the front paw.

The front paw is very short and has pointed edges.

Depict the hind paw.

With smooth lines, draw the hind paw of the same shape as in the example.

Sketch out the tail.

The tail has the wide base and the thin, rounded tip.

Correct inaccuracies.

Carefully remove all extra lines in your drawing.

Color the easy dragon.

You will need a light green color. Color the eyes black and add highlights.
I want to remind you that now you can download a PDF file with a short version of the lesson for free. Use the file at any convenient time when you want to get creative.