In this lesson, I want to show you how to draw an easy Leprechaun step by step. This tutorial will be easy and fun for you!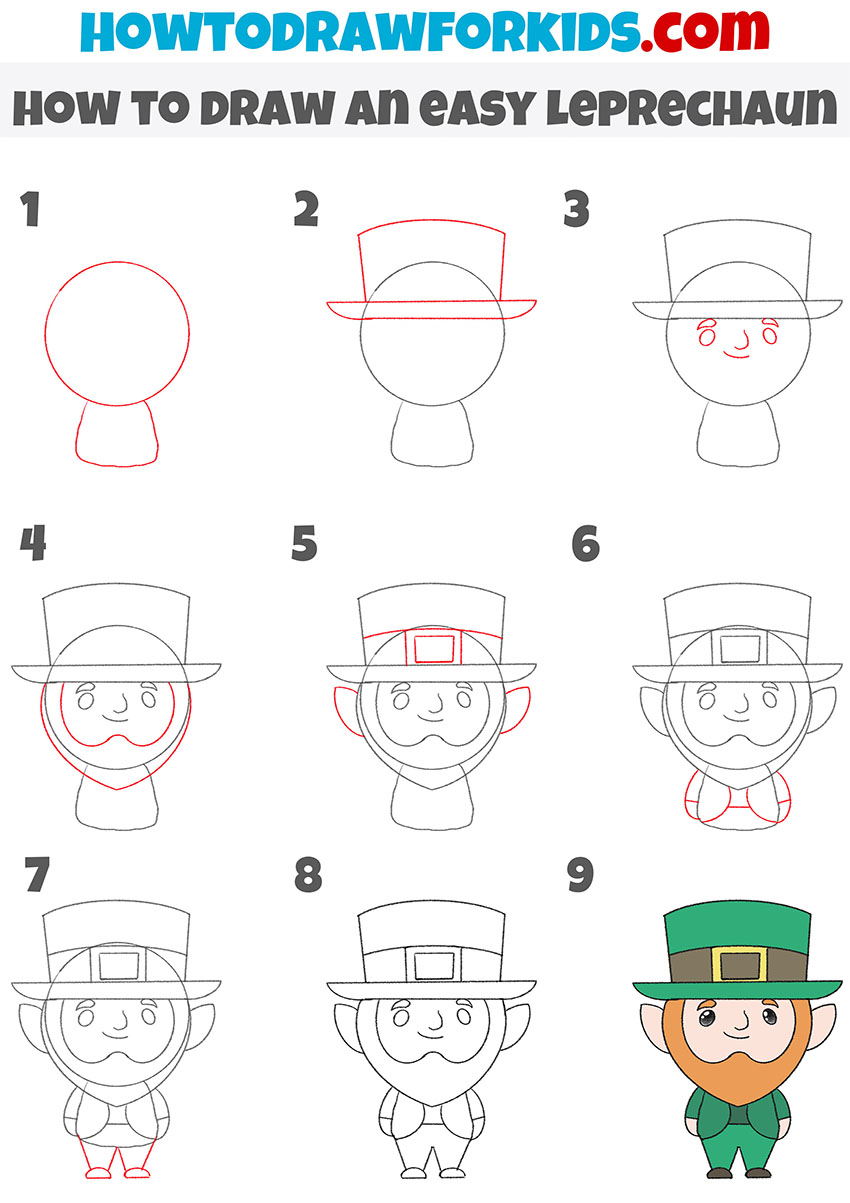 I have prepared an interesting lesson for you in which you will learn how to draw an easy Leprechaun step by step. This character is known to us from Irish folklore. The Leprechaun is a wizard who can grant wishes. The Leprechaun is short in height and strong in build. His distinguishing feature is his big beard. Clothing can be different colors, but most often the Leprechaun is depicted in a green suit. You may also notice that the Leprechaun always wears a tall hat.
If you often visit the pages of the site, you already know that the simplest figures are presented here and the drawing guide contains several clear and easy-to-follow steps. This lesson is also very simple and you will soon see it for yourself.
Now you will learn how to draw the Leprechaun step by step. I ask you to prepare all the necessary materials and you can begin this fascinating lesson.
Materials
Pencil
Paper
Eraser
Coloring supplies
Time needed: 20 minutes.
How to Draw an Easy Leprechaun
Draw the outline of the head and torso.

Outline a circle and add a small torso at the bottom, using curved lines.

Depict the hat.

The Leprechaun's hat is tall and has small brims. Draw it using straight and curved lines.

Add the facial features.

Draw the Leprechaun's eyes, eyebrows, nose, and mouth, using ovals and short curved lines.

Draw the beard.

With a few curved lines draw a wide beard at the bottom of the Leprechaun's head.

Add the ears and elements of the hat.

On the sides of the head draw two same ears. On the hat, draw a curved line and straight lines.

Draw the hands and add details of clothing.

Use rounded lines to draw two arms, and add straight and curved lines on the clothes.

Depict the legs.

Legs have a wide base and narrow bottom. At the bottom of them add shoes.

Erase unnecessary lines.

Use an eraser to remove auxiliary lines that appeared during the drawing process.

Color the drawing.

Color the face in any color and the beard in orange. Use yellow, brown and green for clothes.
This was a lesson in which you learned how to draw an easy Leprechaun. I hope you did a great job drawing this character. Share your impressions of this lesson in the comments. Finally, I suggest you download a short version of this guide in PDF format. Download the file and use it whenever you like.