With this simple tutorial, you will learn how to draw an igloo step by step. This guide consists of just nine easy steps with helpful hints.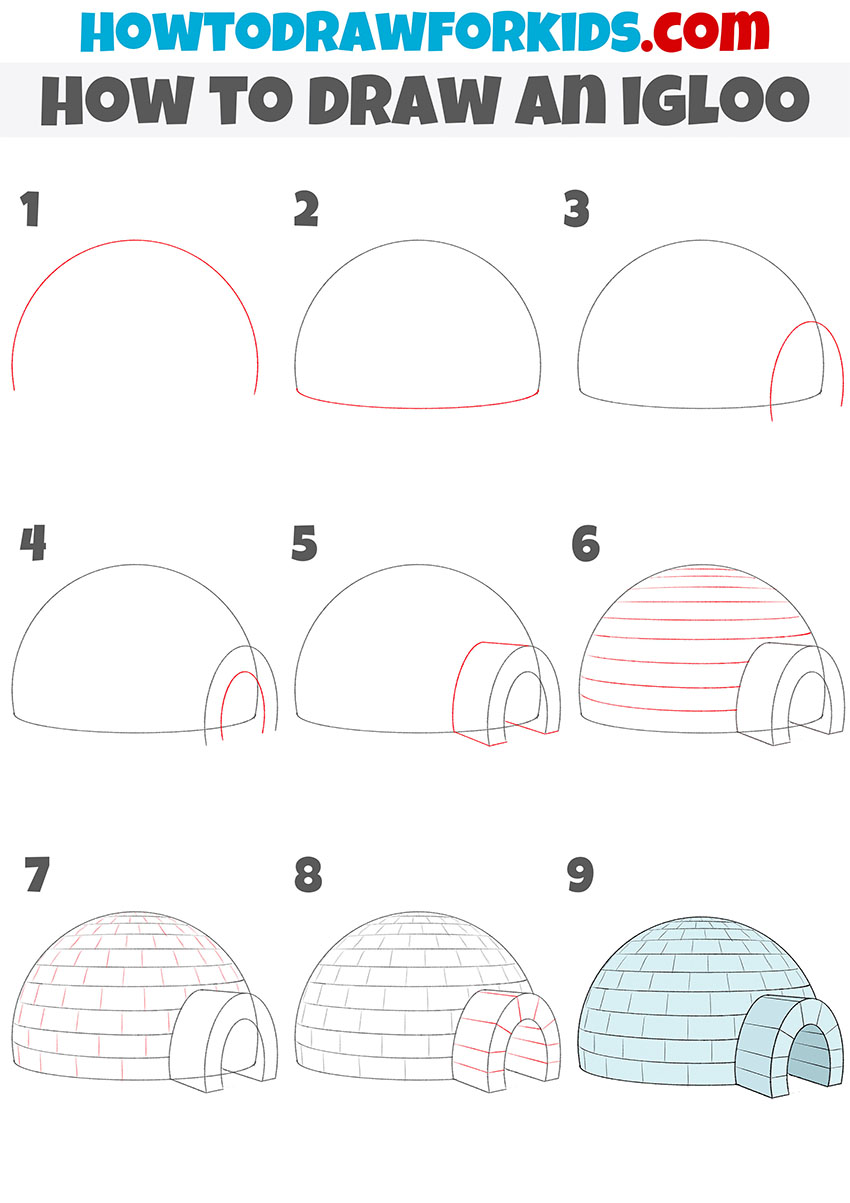 A new, exciting lesson is interesting for you, in which I will show you how to draw an igloo step by step. I hope that this lesson will be interesting and useful for you.
Here is a simple step-by-step guide through which you will learn how to draw an igloo. This is the winter home of the Canadian Eskimos. Residents of the northern regions build such a dwelling from snow and ice.
The igloo is dome-shaped and consists of several ice blocks. On one side there is an ice corridor, this is the entrance to the dwelling. The design of the hut is stable and reliable. All ice blocks fit snugly together.
There is heating inside the room, while the inner walls do not melt. In such a hut, a person feels warm, dry, and comfortable, despite the fact that the igloo is completely made of ice.
I hope you enjoyed learning a few facts about the igloo and enjoy this lesson. In this lesson, you will need attention and spatial imagination. Try to correctly depict the outline of the main dome and the corridor.
Materials
Pencil
Paper
Eraser
Coloring supplies
Time needed: 20 minutes.
How to Draw an Igloo Step by Step
Draw the top outline.

Sketch out a smooth semicircular line.

Depict the bottom of the igloo.

At the bottom, draw a smooth line that connects both sides of the igloo.

Start drawing the corridor.

At this stage, you need to draw a semicircular line.

Draw the thickness of the corridor.

Depict another semicircular line of a smaller size.

Add the sides of the corridor.

Draw lines that connect the outer part of the corridor and the main room.

Detail the surface of the igloo.

Consistently depict even horizontal lines on the surface of the dwelling.

Sketch out the ice blocks.

Draw short vertical lines on each row.

Add details.

Depict the ice blocks that make up the corridor.

Color the igloo.

Use different shades of light blue.
For your convenience, I have prepared a PDF file with a short version of the lesson. This will help you return to the lesson whenever you feel like drawing.