I have prepared a drawing lesson for you on how to draw an octopus. This guide is very simple and consists of nine easy steps. So you don't have to worry that this task will be too difficult for you.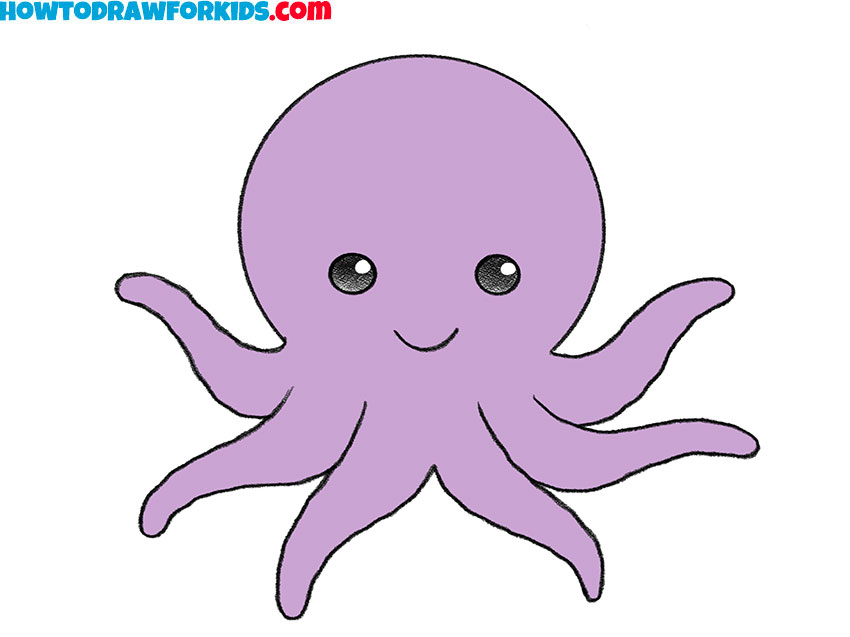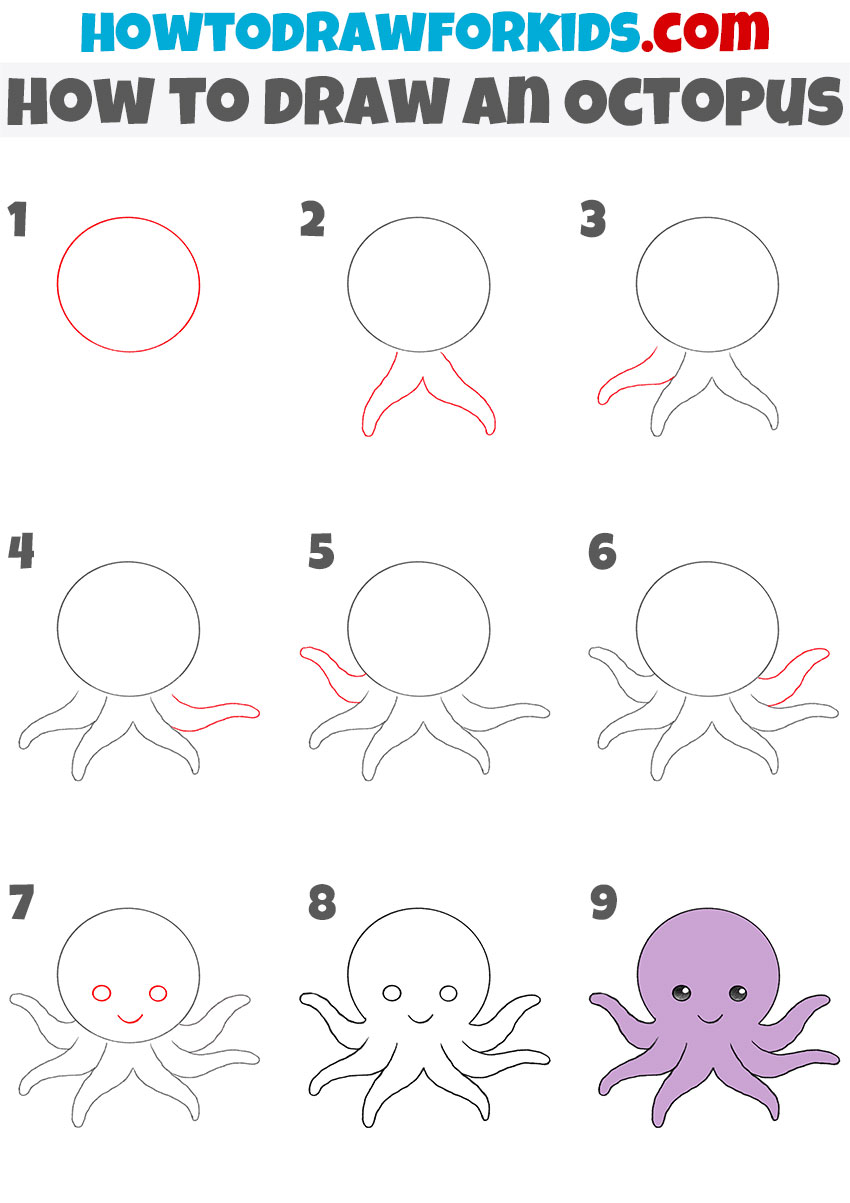 In this tutorial, I will show you how to draw an octopus. The finished drawing will look very pretty. I have created this lesson specifically for children and aspiring artists, so it doesn't contain any difficult elements to draw.
Octopuses are sea animals famous for their rounded bodies, bulging eyes, and eight long arms. They live in all the world's oceans but are especially abundant in warm, tropical waters.
So, let's start drawing the octopus!
Materials
Pencil
Paper
Eraser
Coloring supplies
Time needed: 20 minutes.
How to Draw an Octopus
Draw the upper part of the octopus's body.

To complete this step, draw a circle in the middle of a sheet of paper.

Add two tentacles.

At the bottom of the octopus body, add two tentacles using curved lines.

Draw another tentacle.

On the left side, add another tentacle similar in shape to the previous two.

Outline one more tentacle.

Now add the same octopus tentacle on the right-hand side.

Draw the next one tentacle.

Depict this octopus tentacle slightly raised upwards. Draw it on the left-hand side.

Add the last tentacle.

Draw it raised up like the previous one and place it on the right-hand side.

Depict the facial features.

Draw the octopus's eyes as two circles and its mouth as a short, curved line.

Erase the auxiliary lines.

Take an eraser to remove unnecessary lines from the octopus's body.

Color the drawing.

Use purple to paint the whole body of the octopus. Color its eyes black, adding highlights.
This drawing tutorial has come to an end. Do you like the result of your efforts? If you liked this drawing lesson, be sure to tell your friends about it. Subscribe to our social networks and do not forget to comment on drawing lessons. I remind you that for your convenience, I have created a PDF file in which you can see a short version of this tutorial. You can download this file and return it whenever you feel like drawing, even without the Internet.