In this lesson we will tell you how to draw a ship. We will present you with several drawing guides of different difficulty levels so that you can choose what is right for you.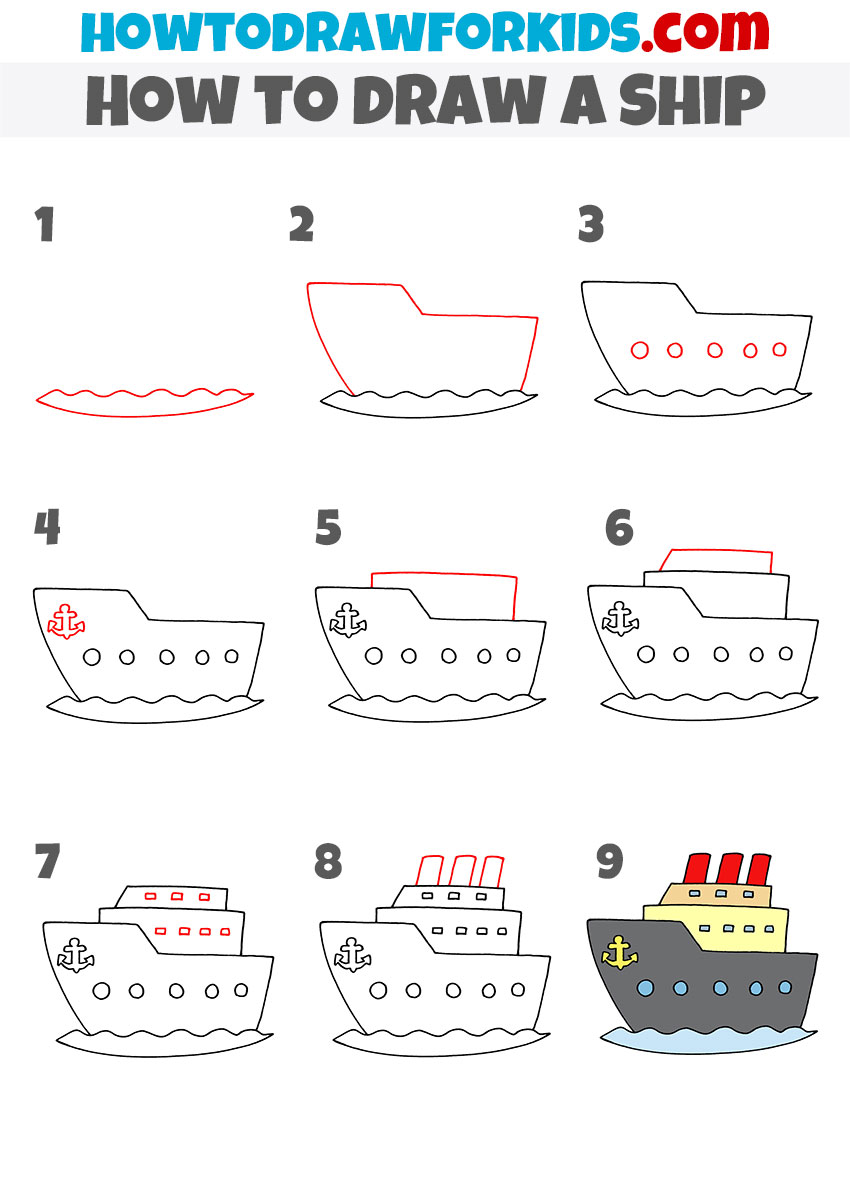 In this lesson, I want to talk about how to draw a ship. Just look at his pipes, which one is powerful steam… And the huge blue belly? This huge blue hull is simply designed to cut through large bodies of water in the sea or ocean.
Let's get comfortable and spend the next 20 minutes drawing a ship – huge, beautiful, and powerful. And you don't need to be intimidated by a lot of details. It will be more interesting with them.
And then relax, prepare pencils, paper and draw a ship, following our instructions.
If you want to download our ship drawing tutorial and portray a ship later, then at the end of the master class there is a file in PDF format that anyone can download.
Let's paint! It's actually very simple!
Materials
Pencil
Paper
Eraser
Coloring supplies
Time needed: 20 minutes
How to Draw a Ship
Draw the sea.

Depict the semicircle, with small waves on top.

Draw the hull of the ship.

Creat round, massive. No sharp corners!

Draw the portholes.

Add the small, round windows. They must be the same size, at equal distances from each other.

Don't forget the anchor.

Add the anchor at the top left of the body. The real ship has its anchor in the same place.

Draw the top of the ship.

It is there that the wardroom gathers in the evenings. Do not abuse sharp corners.

One more tier.

This will be a kind of pipe platform. The left corner should be at an angle.

Draw the windows on the tiers.

Depict the many small windows in the wardroom and platform.

Three-pipe.

Draw 3 pipes, they are needed so that the steam leaves our ship on time.

Color the ship.

Add color to your ship. Let it be bright. Don't forget to color the sea too.
Did you know that bright ships are less likely to be shipwrecked? This can be explained by their coloring, which becomes even brighter if the soffits of other water transport are directed at it.
To save our ship drawing tutorial, you can download it in PDF format.
How to Draw a Ship Step by Step
The main difference between this sketch is the large number of straight lines and shapes with angles. There are practically no smooth rounded shapes here. Choose this drawing method if you want to practice your skill of creating straight lines.
How to Draw a Ship for Kindergarten
This lesson is the easiest of all the drawing lessons in this post. If you repeat just four simple steps, you will be able to draw such a simple but very nice ship as in our sample.
How to Draw an Easy Ship
This lesson presents a very simple way to quickly and easily draw a ship. In the picture you see a beautiful sailboat that has a main hull, two sails and a mast. To successfully complete this lesson, you will need your ability to draw smooth curved lines.