With the help of this drawing tutorial you will learn how to draw charcoal. This will be an unusual but very interesting lesson.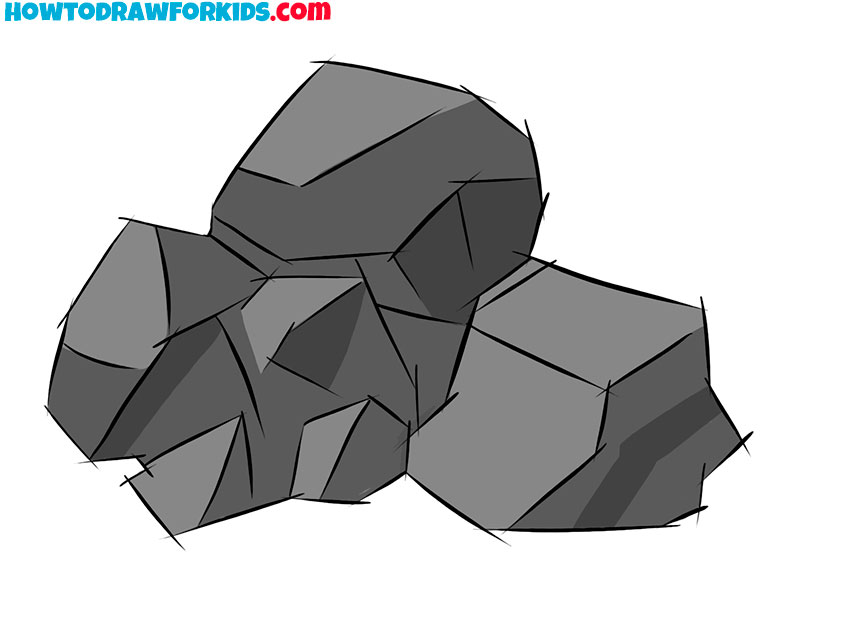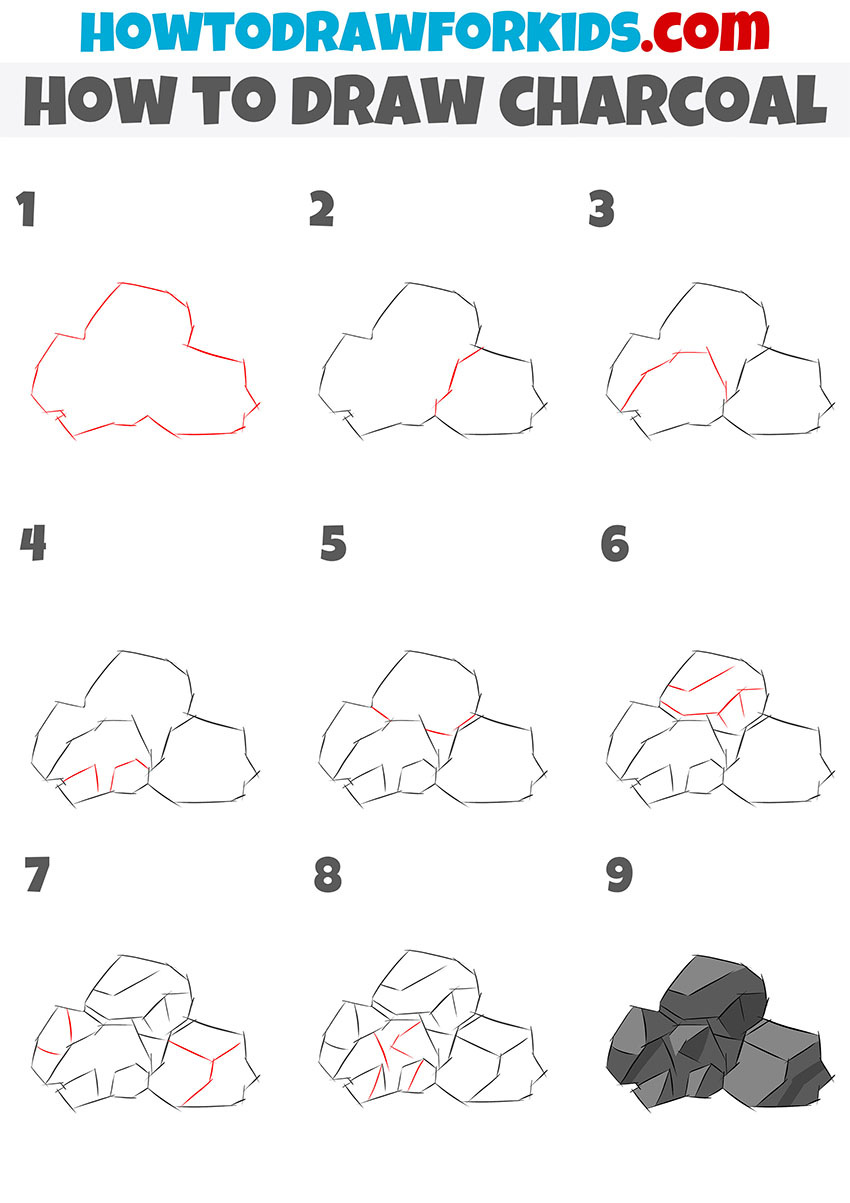 Now you will learn how to draw charcoal. Charcoal is a solid combustible substance that is used in various fields – both in everyday life and in industry.
You will complete this lesson very quickly and easily. The main feature of this tutorial is that freeform lines are allowed here. You do not need to repeat all the lines exactly, as in the example. You only need to memorize the sequence of steps and color the finished drawing correctly.
The acquired skills will be useful to you in the future when you want to draw some elements of nature, for example, a mountain landscape. If you have noticed, charcoal is very similar to any rock, so you can easily draw any stone objects if you learn how to draw charcoal.
Now prepare all the necessary supplies and start the lesson.
Materials
Pencil
Paper
Eraser
Coloring supplies
Time needed: 20 minutes
How to Draw Charcoal
Draw an outline.

Determine the size and location of the charcoal and draw the outline.

Highlight the separate piece of coal.

Depict a jagged line in the middle of the outline.

Highlight the next part.

Using a few jagged lines, draw the separate piece of charcoal on the left.

Draw two small pieces of charcoal.

Using jagged lines, depict two small pieces of charcoal at the bottom.

Add the border of the top lump of charcoal.

Sketch out some straight lines as shown in the example.

Detail the tallest piece of coal.

Draw some jagged lines in random order.

Detail the rest of the charcoal.

Sketch out some more freeform lines.

Add details.

Draw a few more straight lines.

Color the drawing.

Use a few shades of gray to show the relief of the charcoal.
Another drawing lesson is over. Now you have learned useful new skills and enjoyed your time doing creative work. If you want to leave your feedback, you can do it at the end of the lesson in the comments. Don't forget to follow us on social media.
Finally, I suggest you download a PDF file with a short version of the lesson. It will be convenient for you. Now you can use this file and complete the lesson even without an Internet connection.