In this tutorial, you will learn how to draw Robin. If you are a fan of Batman comics, then you will really like this lesson.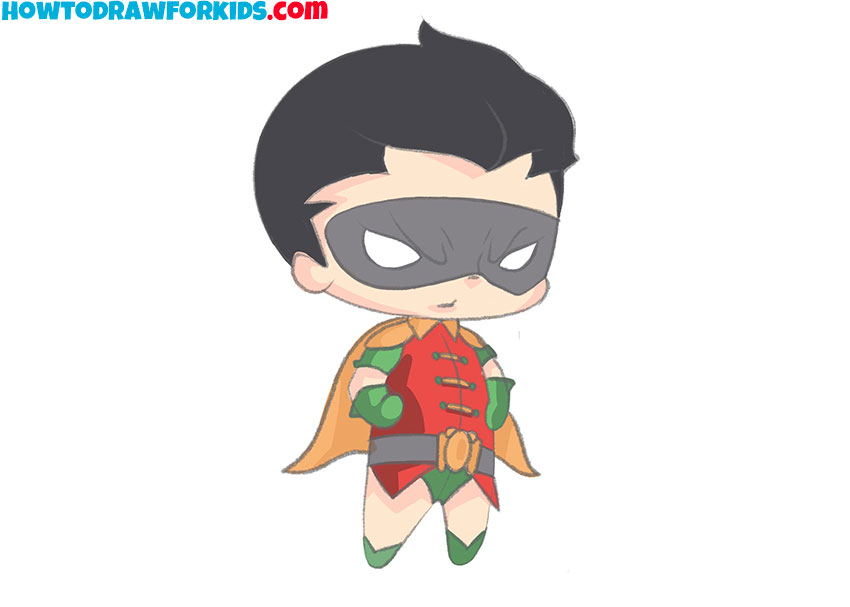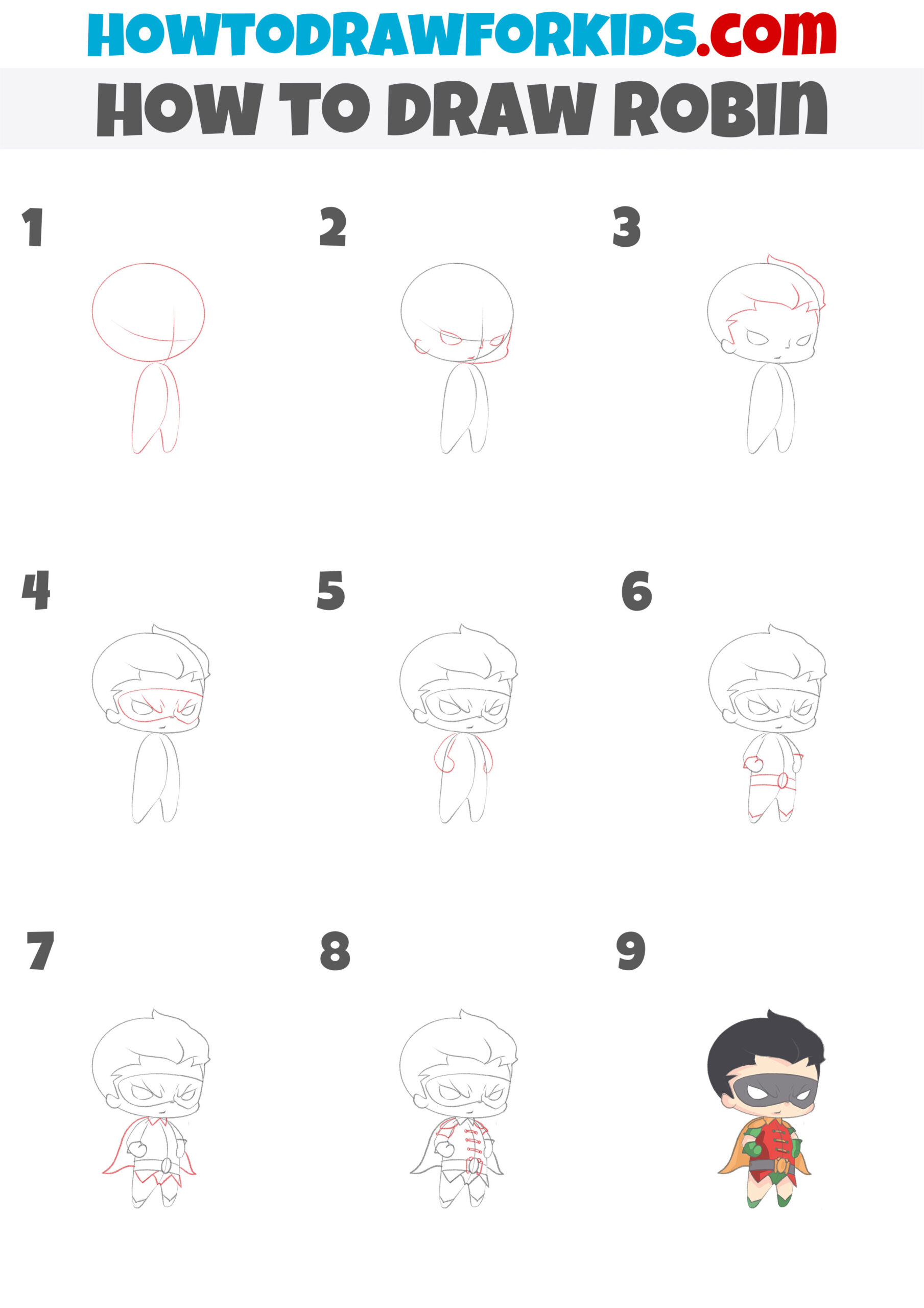 I suggest you complete the drawing lesson, in which I will tell you how to draw Robin step by step. This tutorial is great for beginners or kids, and anyone with an interest in comics will love it.
Robin is a superhero, Batman's partner, who fought with him against crime in the city. At different times, different characters were hiding under this pseudonym. These characters are usually Batman's sidekicks, but sometimes act as separate heroes. Robin can be seen in many Batman comics, cartoons, TV series and animated series, as well as video games.
I am sure that you will enjoy this lesson very much and will help you improve your artistic skills. I propose you prepare your art supplies and start this lesson right now if you are ready.
Materials
Pencil
Paper
Eraser
Coloring supplies
Time needed: 35 minutes
How to Draw Robin
Draw the outline of the character's torso head.

Depict an oval and also add some curved lines inside and below it.

Add the facial features.

Draw the eyes, nose, mouth, chin, and ear using curved lines of varying lengths.

Sketch out the outline of Robin's hair.

At the top of the head, add several curved lines of varying lengths, as shown.

Add the Robin mask.

In the central part of Robin's face, draw curved lines near his eyes and nose.

Depict the character's arms.

On the right and left sides of Robin's torso, depict two arms using curved lines.

Draw the elements of the costume.

Add the sleeves, waistband, and bottom of the suit using arcs, an oval, and lines.

Sketch out the cloak and collar.

Use straight and curved lines in different sizes as shown.

Add details.

On the Robin's costume, add circles, as well as straight and curved lines of different sizes.

Color the drawing.

To color the Robin, use black, beige, gray, red, green, and brown.
So this useful drawing lesson came to an end, in which you could learn how to draw Robin step by step. For your convenience, I have prepared a PDF file that contains all the useful information from this lesson, as well as additional practice materials that will help you develop your artistic abilities. You can download this file right now, so you don't lose it in the future, and return to this tutorial even without an internet connection.