How to Draw a Unicorn Cake
In this tutorial, I will show you how to draw a unicorn cake. This lesson will be very exciting, and you will have a good time.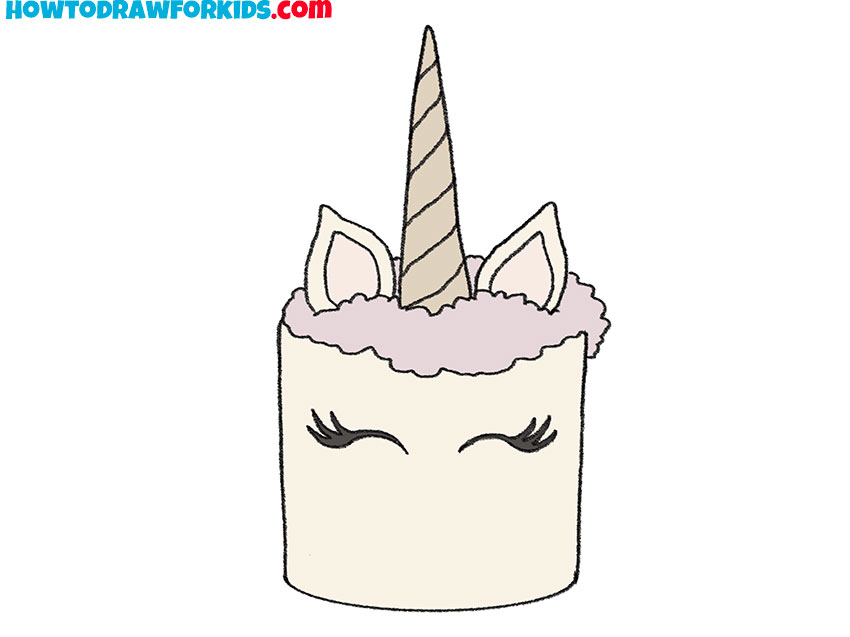 If you love different desserts and want to improve your creative skills, then you will love this tutorial. Here you will learn how to draw a unicorn cake.
The cake can be decorated in a variety of ways, and you can even create a real masterpiece of confectionery art. The figure shows one of the ways to decorate the cake.
Here is a cake of a standard cylindrical shape, which has elements of a unicorn – eyes, ears and a large horn. All these elements are made from sugar mastic.
This cake looks very funny, and it can be a great dessert for a children's party. Any child will be interested in eating a cake with a picture of a cute unicorn.
Even a beginner can draw a unicorn cake, because simple lines and a minimum of elements is used here. Be consistent and careful to get great results.
Materials
Pencil
Paper
Eraser
Coloring supplies
Time needed: 30 minutes
How to Draw a Unicorn Cake
Draw the sides of the cake.

This is a very simple step in which you have to draw two vertical lines.

Add the bottom outline of the cake.

Depict a rounded connecting line at the bottom.

Sketch out the eyes.

Approximately in the middle of the cake, draw two eyes with long eyelashes.

Depict the horn.

Draw the pointed horn at the top of the cake.

Detail the horn.

On the surface of the horn, draw diagonal lines in sequence.

Sketch out the ears.

On each side depict the ear of the same shape as shown in the example.

Add the inside of the ear.

Using smooth lines, draw the inner outline in each ear.

Depict the cream.

With an uneven wavy line, draw the cream on the surface of the cake.

Color the unicorn cake.

Use several shades of lilac and purple.
The unicorn cake is ready! I hope you have a great drawing, and you are proud of yourself. Subscribe to us on social networks so as not to miss new interesting lessons.
For your convenience, I have prepared a PDF file with a short version of the lesson in advance. Download the file and enjoy drawing at any convenient time.