I have prepared a tutorial on how to draw Mr.Krabs. I am sure you will like this guide very much. Start the lesson and enjoy drawing.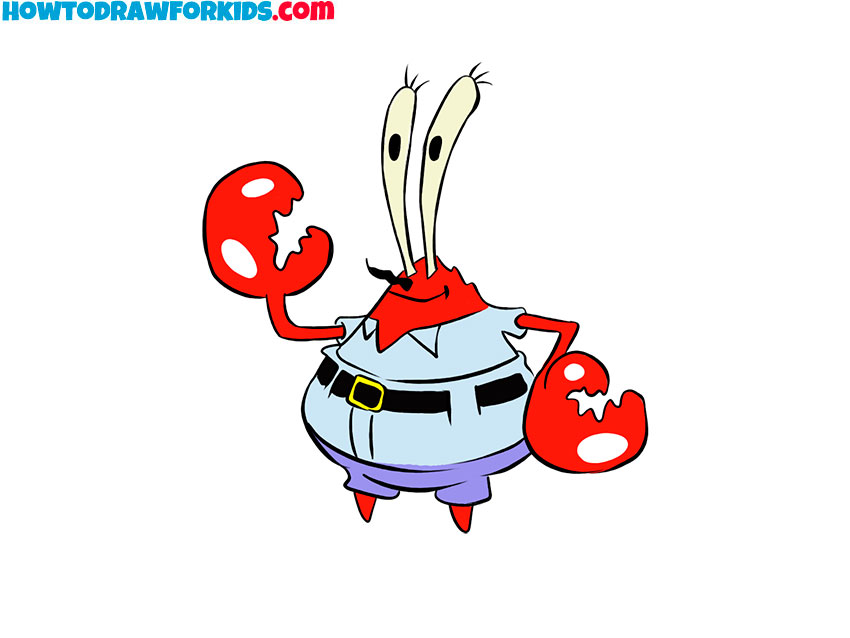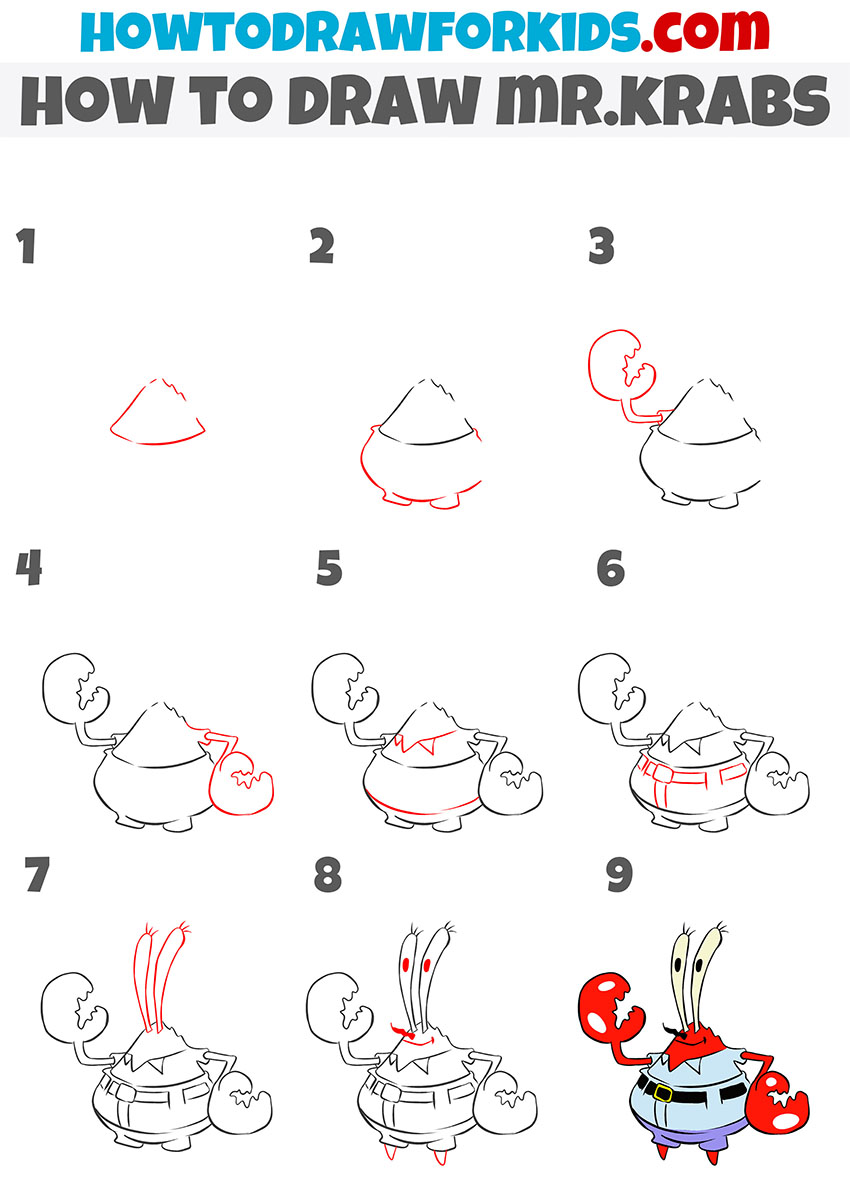 In this tutorial I would like to show you how to draw Mr.Krabs step by step. I am sure that you will really enjoy drawing this character and this tutorial will be interesting and useful for you.
If you have ever watched the American animated series "SpongeBob SquarePants", then you definitely know one of its main characters – Mr. Krabs. The full name of this hero is Mr. Eugene Krabs. This character is very funny. Mr. Krabs is the crab who owns the Krusty Krab fast food restaurant. SpongeBob and Squidward squid work in this restaurant. By nature, Mr. Krabs is rather greedy and fixated on money and his wealth. With this hero, various funny and interesting stories are often switched.
Now let's get down to drawing this character rather quickly.
Materials
Pencil
Paper
Eraser
Coloring supplies
Time needed: 20 minutes
How to Draw Mr.Krabs
Draw the outline of the character's head.

This element is quite simple to draw. Depict a shape like a triangle.

Depict the torso of Mr. Krabs.

Mr.Krabs is short and large in build, with a slightly oval-shaped body.

Draw the claw of the crab.

Add a raised claw on the left side.

Sketch out the second claw.

Now draw his claw on the right side, bent at the elbow and down.

Depict the details of the costume of Mr. Krabs.

Add a pointed collar and a curved line at the waist of the crab.

Draw the belt for the trousers.

Sketch out this element using straight dashed lines.

Add the eyes of Mr. Krabs.

Mr. Krabs has tall eye stalks. Draw them using long, curved lines by adding eyelashes.

Add details.

Draw the pupils as bold dots, add the mouth and nose, then draw short and pointed legs.

Color the drawing.

Color the body of the crab in red, the shirt in blue, the pants in purple, add a black belt.
If you have any questions, you can write them in the comments. Don't forget to join us on social media. Traditionally, I have prepared a short PDF version of this tutorial for you. You can download this file and return to the lesson any time you want and will be convenient.