How to Draw a Pitbull Face
In this drawing lesson, I will tell you how to draw a Pitbull face step by step. This simple instruction consists of nine steps.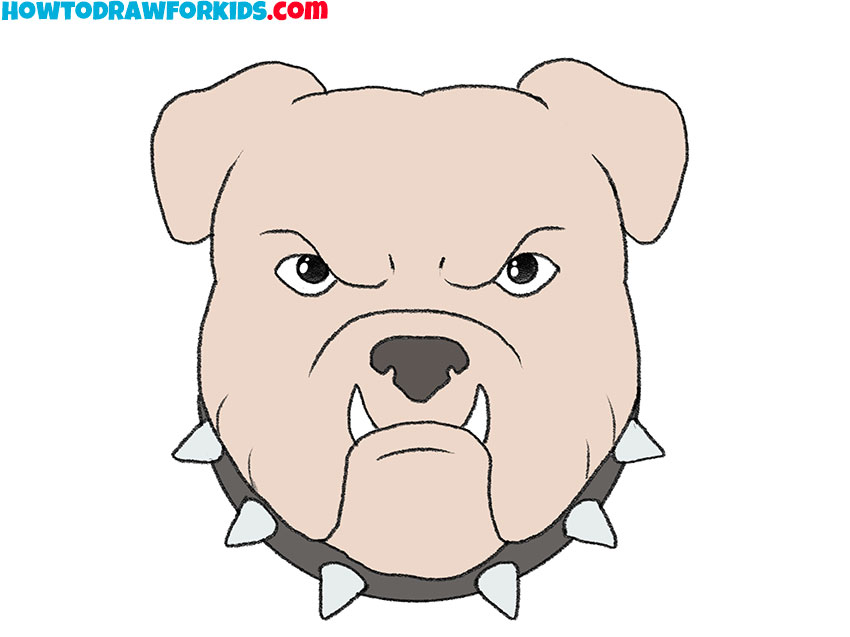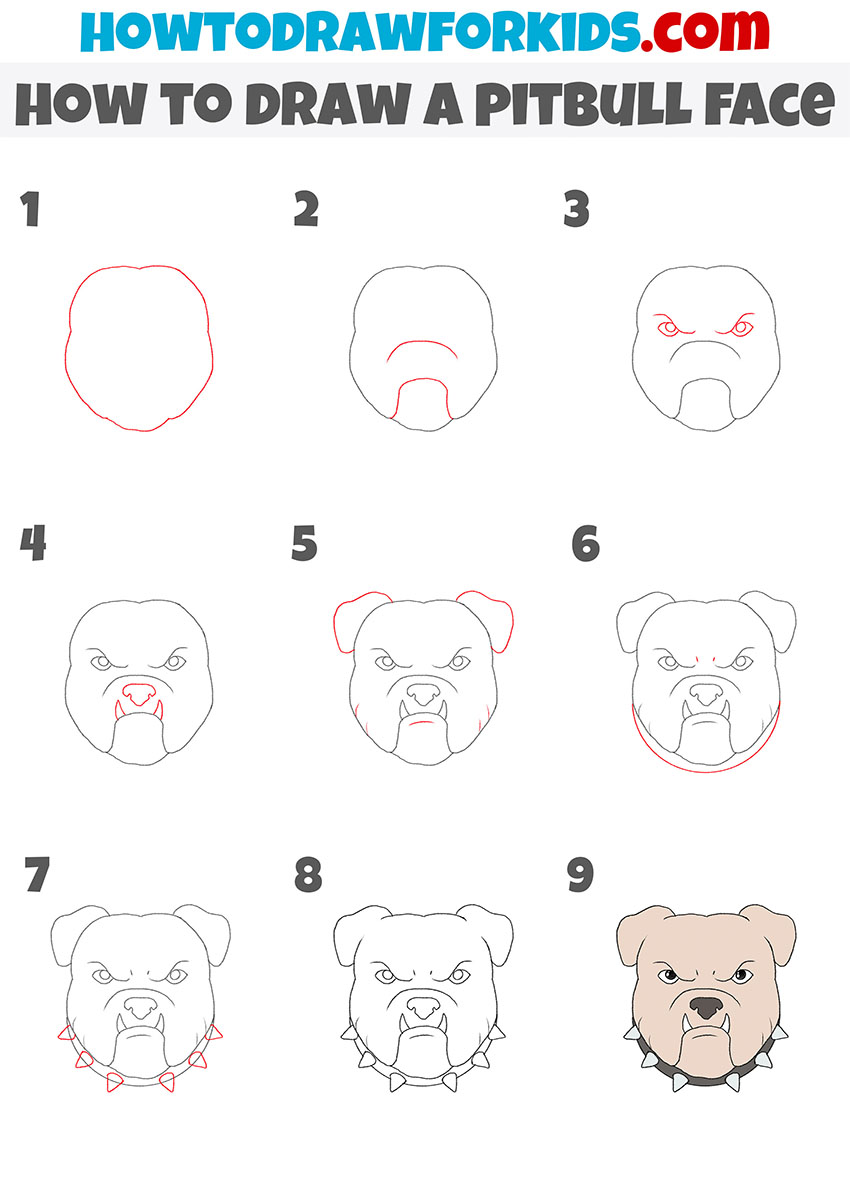 I am glad to bring to your attention this useful drawing lesson in which you can learn how to draw a Pitbull face step by step. This instruction is sure to appeal to all novice artists and children, because when you follow it, you will not encounter elements that are too difficult to draw.
By learning how to draw a Pitbull's face with the help of this drawing lesson, you will be able to draw a whole pit bull in the future, or use it as the main subject of your drawing. The face of the pit bull has a rather stern and formidable expression, his eyebrows are furrowed. Also, at the bottom of the pit bull's face, you will need to depict his collar with spikes.
So, I think each of you already wants to start doing this wonderful lesson as soon as possible. Then you can prepare your art supplies and start drawing the pit bull's face now. I'm sure this tutorial will help you develop your artistic skills, and you'll have a great time doing it as well.
Materials
Pencil
Paper
Eraser
Coloring supplies
Time needed: 30 minutes
How to Draw a Pitbull Face
Draw the outline of the Pitbull's face.

To complete this step, you need to use a curved line as shown in the picture.

Depict the bridge of the nose and the outline of the jaw.

Draw one arc inside the previously drawn shape, as well as one curved line below it.

Sketch out the eyes on the face.

Now you should depict two symmetrical eyes using curved lines of different lengths and ovals.

Add the nose and fangs.

To draw the nose, use curved lines and also add two pointed fangs using arcs.

Draw the wrinkles and ears.

Sketch out the ears and add short lines at the bottom of the face.

Add wrinkles to the forehead and outline of the collar.

Between the two drawn eyes, add two short lines, and also draw an arc below the face.

Depict the spikes on the Pitbull's collar.

Now you should use curved lines to draw the six pointed spikes on the collar.

Prepare the drawing for coloring.

Before you color this drawing, you need to use the eraser and remove the extra lines.

Color the drawing.

To color the Pitbull face, use black, gray, and shades of brown. Don't forget to add the highlights.
I remind you that you can download the PDF file that I have prepared especially for your convenience. This file contains a short version of this lesson and has additional useful training materials. Download this file so as not to lose it and return to this lesson at any time convenient for you.