In this drawing lesson, I will tell you how to draw Natsu. I think you will really enjoy drawing this character.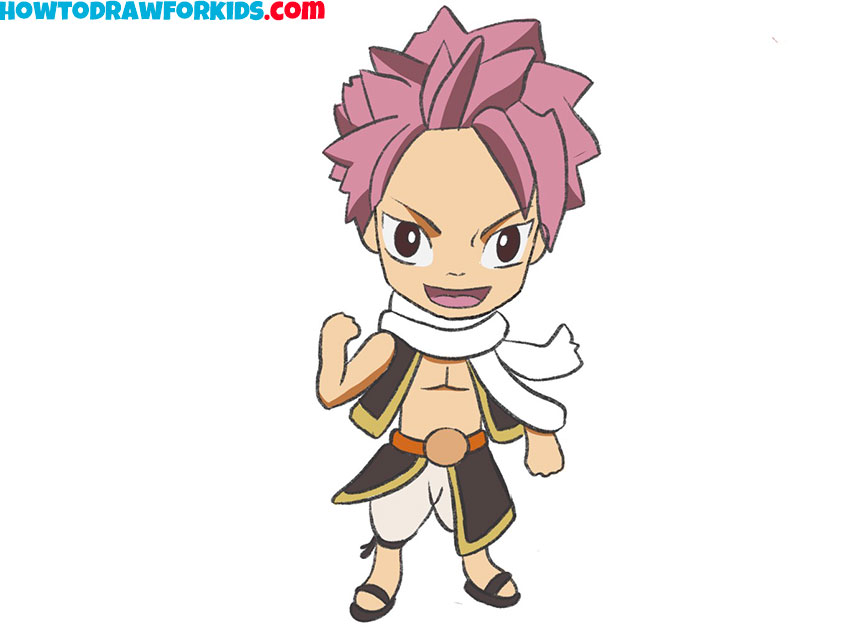 I suggest you learn how to draw Natsu step by step with this easy tutorial. This character drawing guide consists of nine steps, each of which has a detailed description. You don't need to be a professional artist or have much drawing experience to complete this tutorial.
Natsu is a fictional character and the protagonist of the Fairy Tail manga series. This character is considered one of the most powerful wizards and a fiery dragon slayer. He is a member of the Fairy Tail Guild.
Natsu has pink hair, a scaly scarf, and a special mark located on his right shoulder. This character has powerful magic. Also, this character has developed such physical abilities as the absorption of fire, a strong sense of smell and the ability to arrange physical attacks.
I think that this character is very interested in you, and you want to start drawing Natsu as soon as possible. You should prepare the art supplies that you will use when following this instruction, and then you can start drawing.
Materials
Pencil
Paper
Eraser
Coloring supplies
Time needed: 30 minutes
How to Draw Natsu
Draw the outline of the head and markup.

Depict a circle, and also add a curved line at the bottom of it and two lines inside it.

Add the ears and facial features of the hero.

Depict arcs on the sides of the head, draw eyebrows, eyes, nose, and mouth inside the head.

Sketch out the character's hair.

To draw the lush hairstyle, depict many individual thick strands of the hair.

Depict the character's scarf.

Draw the scarf below the head using curved and as shown.

Depict the Natsu's arms.

Now add the arms using curved lines. One hand is raised up, the other is lowered down.

Add the outline of the torso and elements of the costume.

At this stage, use curved lines to draw the character's lower torso and vest.

Draw the bottom of the suit.

Below the previously drawn elements, add an oval and some curved lines.

Draw the legs of the character.

Now sketch out the two legs and elements of the costume using rounded and curved lines.

Color the drawing.

Use beige, brown, pink, purple, green, and black.
I remind you that you can download the PDF file that I have prepared especially for your convenience. This file contains a short version of this lesson and has additional useful training materials. Download this file so as not to lose it and return to this lesson at any time convenient for you.