How to Draw 8-Ball from Fortnite
Tutorial on How to Draw 8-Ball from Fortnite Video Game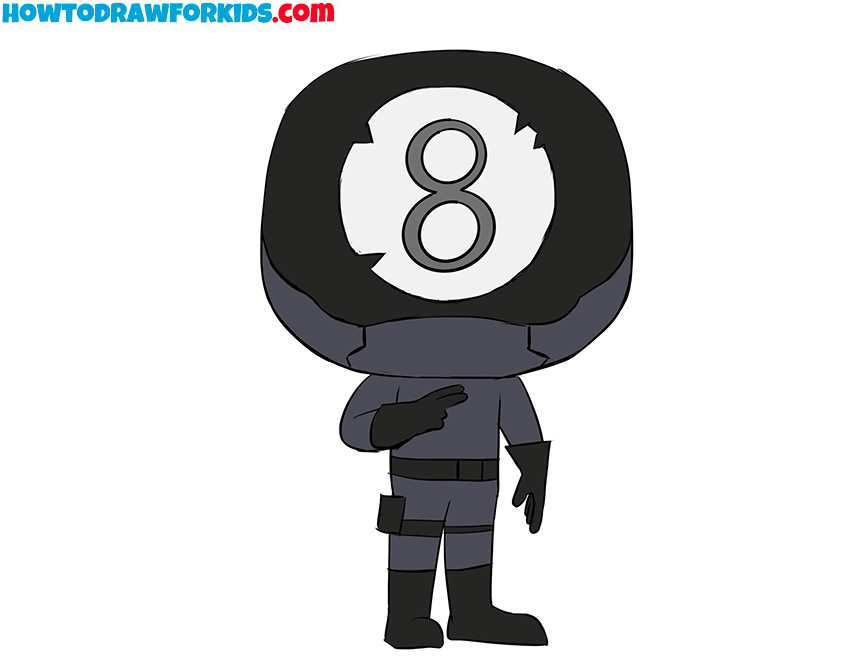 This lesson on how to draw 8-Ball from Fortnite will be very simple, as it contains a small amount of detail, and the body parts of the characters are depicted in the simplest way.
As you can see, the character in this instruction is drawn in a chibi style. As you probably know, the chibi style is a simplified anime style.
You can make 8-Ball look more like the original version from Fortnite. To do this, make the head a little smaller, and the rest of the body a little larger.
If you are ready, then let's proceed to the 8-Ball drawing lesson.
Materials
Pencil
Paper
Eraser
Coloring supplies
Time needed: 35 minutes
How to Draw 8-Ball from Fortnite
Sketch out the head.

This part of the character's body should look like a circle or oval.


Sketch out the torso of 8-Ball.

This body part should be outlined as a small rectangle.


Sketch out the limbs.

To do this, use light, simple lines like in my example.


Draw the hands.

Try to reproduce the outline of the palm and fingers as close as possible.


Add details.

Using simple lines sketch out the belt, gloves, and feet.


Detail the mask.

Here you need to repeat the pattern drawn in my example.


Add more details.

Draw the number eight on the mask, straps, and a pocket on the legs.


Erase the guidelines.

After that, carefully trace and darken the drawing of 8-Ball, making it more cartoonish.


Color 8-Ball.

For this, use dark gray and black colors.

So, was this tutorial simple and helpful to you? Write your opinion in the comments. Your opinion is very important to me.
Also, don't forget to download the PDF version of this tutorial. There you will find the steps of this tutorial, a coloring page, tracing worksheet, and grid drawing worksheet.