I have prepared a really easy tutorial on how to draw a duck for you. Just nine steps and you can feel like a real artist!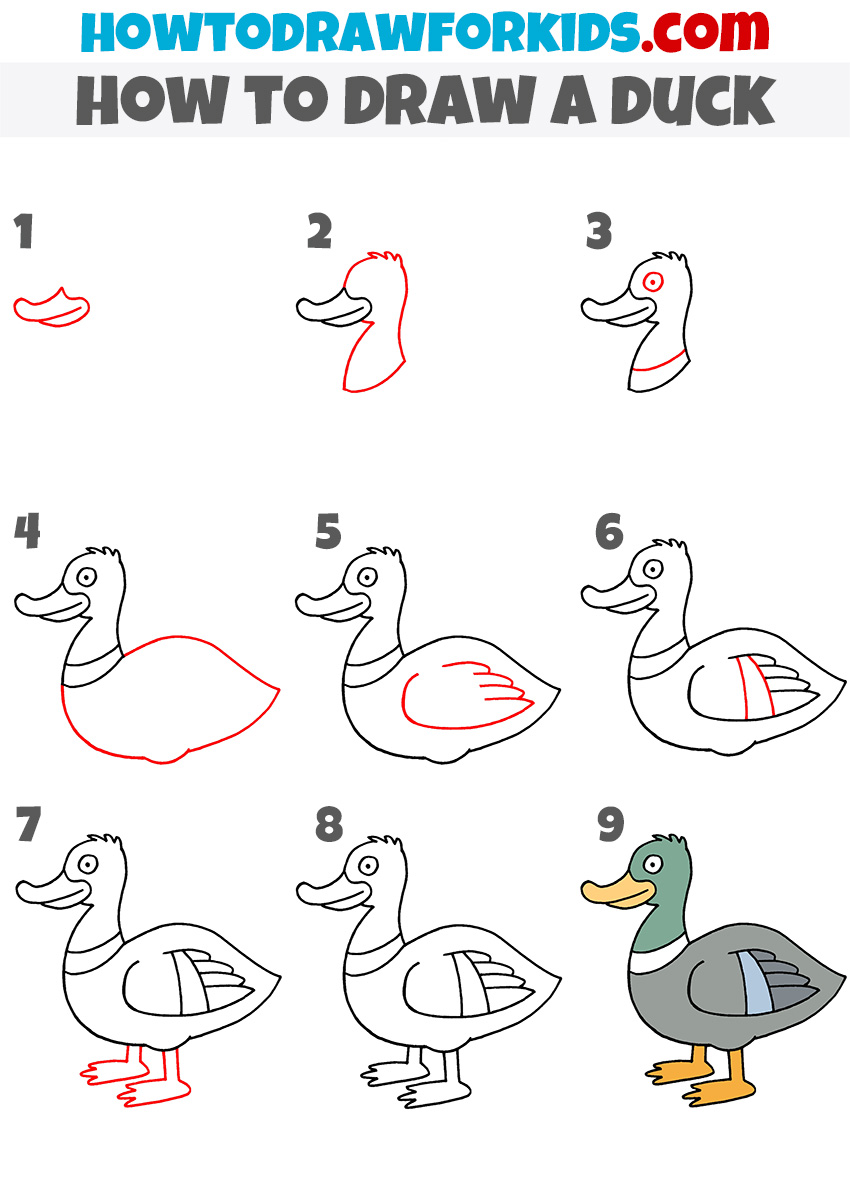 This tutorial on how to draw a duck is part of my bird drawing tutorial series. After this instruction, try other lessons from this series, for example, the tutorials about a pigeon or turkey.
Ducks are one of the most common birds encountered by humans in the wild and in the household.
Probably many of you have seen how easy ducks swim in cold water. Did you feel sorry for the bird, because its legs might freeze? You don't have to worry. The thing is, their feet don't get cold.
My simple nine-step duck drawing tutorial will help you draw these wonderful birds.
Materials
Pencil
Paper
Eraser
Coloring supplies
Time needed: 20 minutes.
How to Draw a Duck
Depict the beak.

Let's start drawing with the duck's beak. Draw it as in my example.

Depict the head and neck

At this point, sketch out the outline of the head and the neck using smooth lines.

Draw the eyes and a ring on the neck.

Using a circle draw the duck's eye. Draw a short curved line to depict a ring on the neck.

Depict the torso.

The torso is very easy to draw, because it's shape is like a leaf.

Depict the wing.

First, draw an oval line to represent the border of the wing. After that add feathers.

Add details.

Draw two lines on the duck's wing. This will be the part of the wing in which the color of the feathers is different.

Draw the legs.

In the lower part depict the legs using simple lines.

Erase the guidelines.

Remove all unnecessary guidelines, because this gives the drawing a finished look.


Color the drawing.

That's it, now you can paint the bird. Ducks are usually yellow-green or brown, but you can choose other colors that you like.
So, we have reached the end of the duck drawing lesson. I hope my drawing guide helped you.
So, do not forget to download the free PDF file that contains all the steps of this tutorial, a coloring page, tracing worksheet, and grid drawing worksheet.