Today you will learn how to draw a gummy bear step by step in just eight easy steps. Start this tutorial lesson and get useful skills!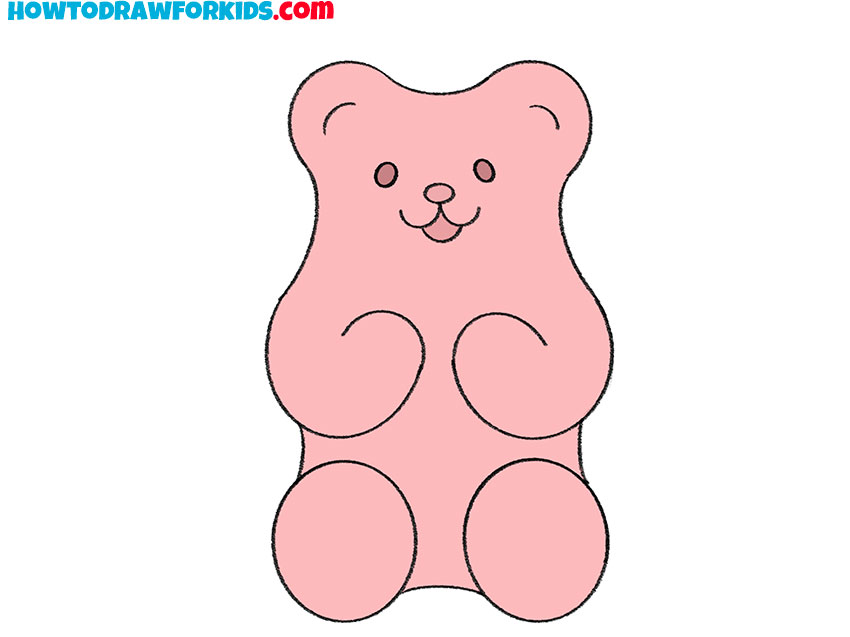 You will definitely enjoy this lesson, because here I will show you how to draw a gummy bear step by step. This is a popular delicacy, which is made on the basis of gelatin, sugar syrup, starch and other additional ingredients.
Bears come in different colors. In this lesson, you will draw a pink bear, but you can choose any other color, such as yellow or green. I think that you are very fond of these sweets and have tried the gummy bear more than once.
Usually gummy bears are sold in a small package. These sweets taste good and smell very appetizing. The gummy bear has smooth edges, so in this tutorial you will need the ability to draw even, rounded lines.
Materials
Pencil
Paper
Eraser
Coloring supplies
Time needed: 20 minutes
How to Draw a Gummy Bear Step by Step
Draw the top of the head.

With a smooth line depict two round ears.

Add the neck and front paws.

Continue the lines and add the paws that are folded in the chest area.

Depict the lower paws.

Sketch out two ovals of the same size.

Connect the parts of the body together.

Connect the upper and lower legs on the sides and connect the two lower legs at the bottom.

Sketch out the eyes.

Draw two small ovals on the muzzle.

Add the nose and inner outline of the ears.

Depict the nose as a small oval on the ears and add small rounded lines.

Draw the cheeks and mouth.

From the nose, draw two rounded lines in different directions and add the mouth at the bottom.

Color the gummy bear.

You will need a light pink color.
You now have the option to download a PDF file that contains a simplified version of this walkthrough. Thus, this lesson will be available to you at any time, even when there is no Internet.