Simple Hot Dog Drawing Instruction for Kindergarten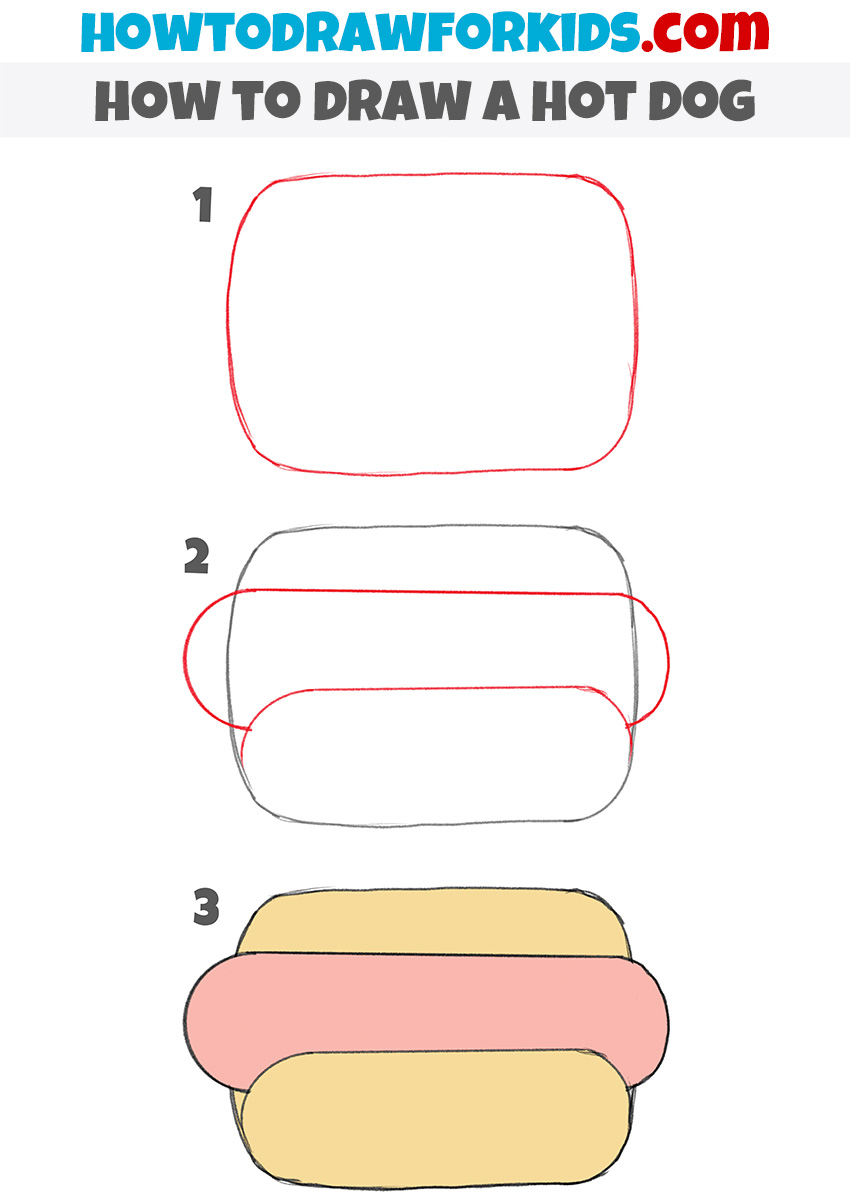 In this tutorial, we will return to the topic of food. Here I will show you how to draw a hot dog for kindergarten. This is a very popular fast food item. A hot dog is a wheat flour bun with a sausage. Additionally, a hot dog may contain mayonnaise, ketchup, mustard, chopped vegetables, and herbs.
The hot dog drawing tutorial contains only three easy steps, so you will get through this task very quickly. This tutorial is adapted for children and aspiring artists. The drawing consists of several simple elements that you can easily repeat.
This lesson will not only be interesting but also useful for you. During the lesson, you will practice your ability to make smooth, rounded lines. This skill will come in handy in the following lessons.
A hot dog looks very simple. This product consists only of a bun and sausage. You can get creative and complete this drawing if desired. For example, you can paint a wavy strip of mayonnaise on the sausage, or add twigs of greenery to the sides. Thus, the hot dog will look more appetizing.
A hot dog is delicious. This sausage bun is good for filling, so it's great for a quick bite. Moreover, it is very convenient, since you do not have to hold a hot sausage in your hands.
So, let's get down to the lesson.
Materials
Pencil
Paper
Eraser
Coloring supplies
Time needed: 10 minutes
How to Draw a Hot Dog for Kindergarten
Draw the outline of the bun.

Use a smooth line to depict a rectangle with rounded corners.

Add the sausage and the edge of the bun.

Portray the sausage and the outline of the bun. Use an eraser to remove unnecessary lines.

Color the hot dog.

Use beige for the bun and pink for the sausage.
It was very simple! The hot dog drawing tutorial is over, and you can evaluate your result. I suggest you complete the drawing and make some surroundings. For example, you can draw a round plate with the hot dog on it. Feel free to experiment and get creative. Supplement your drawings with various elements to make the drawing look more interesting.
Especially for you, I have prepared the PDF file that contains a short version of the lesson. Download this file and use all the useful tools it contains.