In this very simple step-by-step drawing tutorial, I will teach you how to draw a knight helmet for kids.
Scroll down the page to get a PDF version of this drawing tutorial with additional worksheets.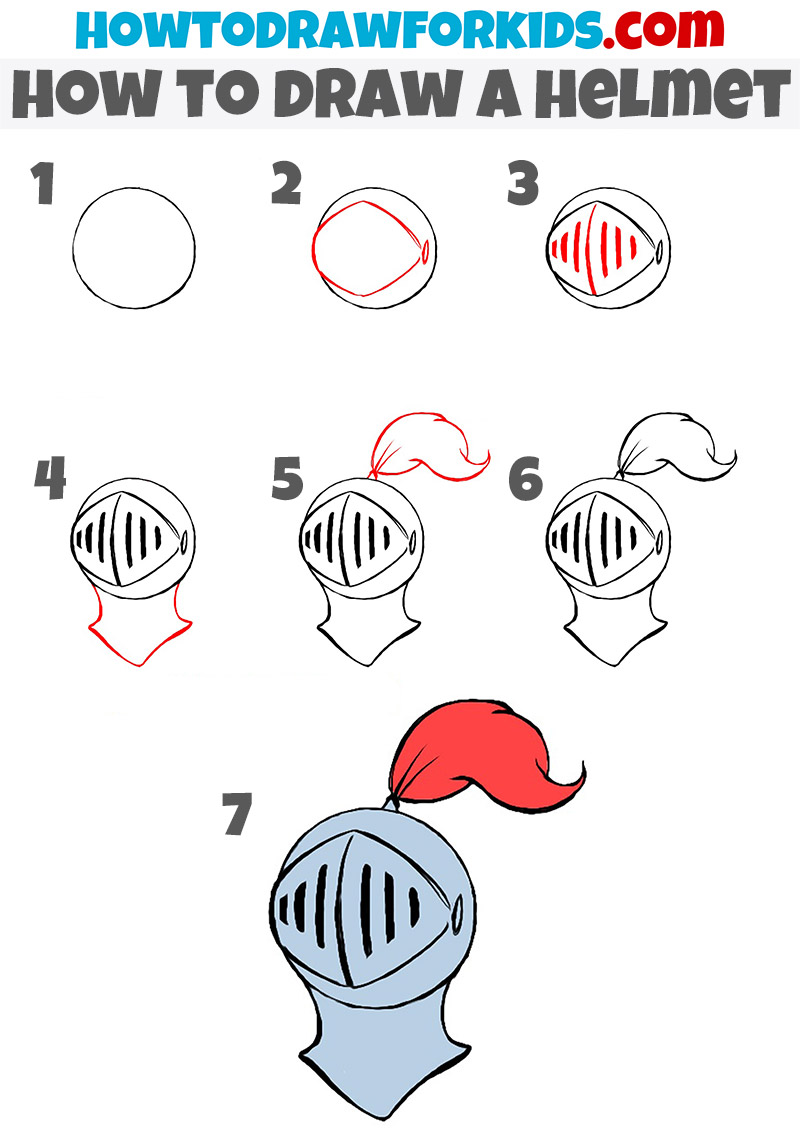 I tried to make this tutorial on how to draw a knight helmet as simple as possible. The entire sketching process consists of seven extremely simple steps.
In the process of drawing a helmet, a young artist will be able not only to get acquainted with how to depict a given object but also to learn how to create smooth lines.
In addition, this lesson teaches you how to correctly depict a turn of a person's head, without being distracted by the details of the face.
So, if all the art supplies are ready, then it's time to start the lesson.
Materials
Pencil
Paper
Eraser
Coloring supplies
Time needed: 30 minutes.
How to Draw a Knight Helmet
Sketch the outline of the helmet.

First, draw a circle as we do when we draw heads.
 

Sketch out the visor and circular hinge.

Here you should be as careful as possible because it is the location of these details that indicates the turn of the head.


Draw the openings in the visor.

To do it, sketch out some vertical thick lines and a long line in the center of the visor.


Create the gorget.

The gorget is the part that covers the knight's neck and upper chest.


Draw the plume.

To do this, use long and smooth lines that flow into each other.


Add some finishing touches.

Find all mistakes and fix them if any. If they are no mistakes, then start coloring.


Color the knight helmet drawing.

Paint the knight helmet in light blue or light gray and the feathers in red or blue.

Helmet – a means of protecting the head of a warrior (in our case a knight). Helmets have been known since ancient times. They were first made from leather, and then from copper and steel. Such an element of armor was widespread in antiquity, in the Middle Ages (it was this helmet that we drew today) and received a new life in the 20th and 21st centuries.
So, as always, at the end of the article, I provide a shortened version of the lesson. It will come in handy if you want to draw without the Internet or print it out for your children or students.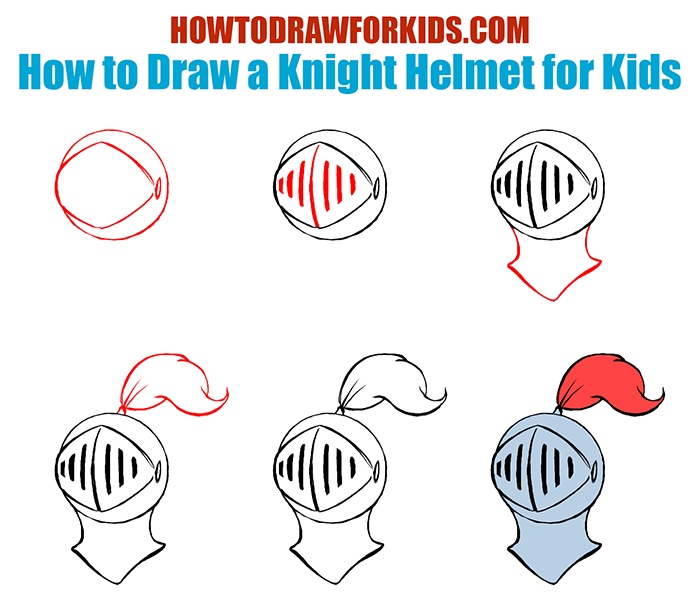 And also a PDF version of the lesson with all possible additions, including this knight drawing instruction, coloring page, tracing worksheet, and grid drawing worksheet.
Do not forget to share this lesson, and subscribe to Howtodrawforkids.com on social networks, so as not to miss new lessons.