I have prepared for you a simple lesson on how to draw Phineas, which consists of nine easy steps. Start the lesson and get useful skills!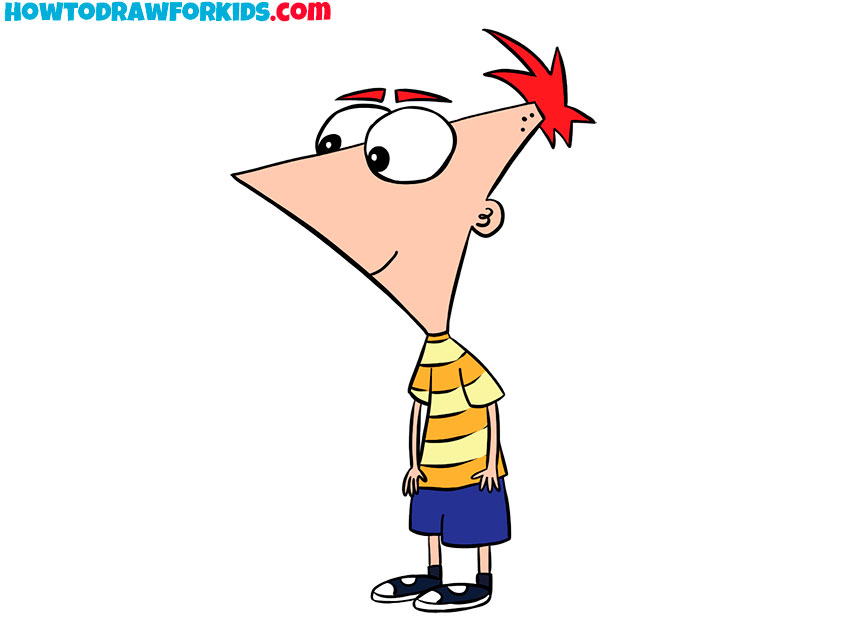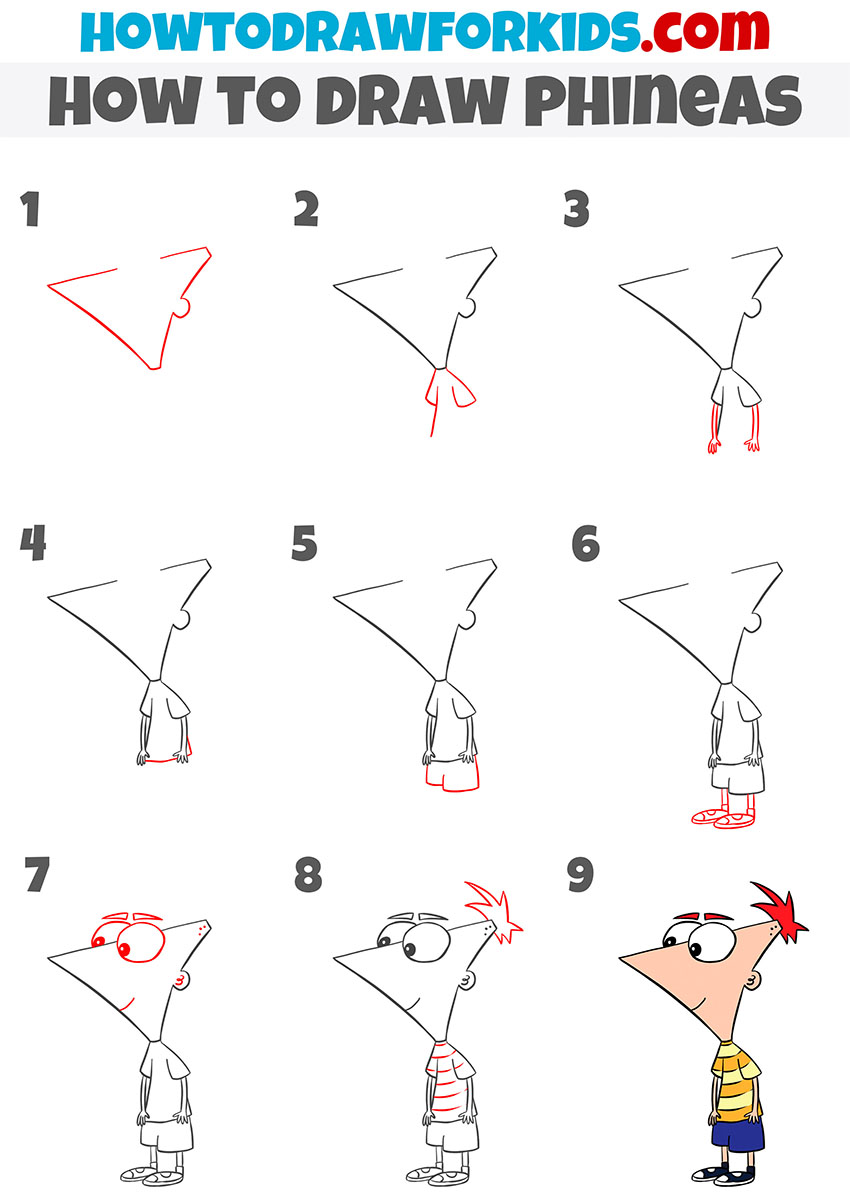 In this lesson, I want to show you how to draw Phineas. Phineas Flynn is the hero of the popular cartoon Phineas and Ferb. This is a story about two brothers. Various funny events took place in their lives. Phineas is smart, inventive, and resourceful. He often comes up with interesting ideas.
If you have watched this cartoon, then you will be interested in drawing the main character. Even if this character is not familiar to you, you will still spend time with pleasure and benefit, because creative work is always good.
Phineas has a very unusual appearance. The shape of the head is in the shape of a triangle, so the nose seems very large, the eyes are also very large and the hair sticks out bizarrely to the sides. The body is relatively small. You will depict all these features in your drawing.
The lesson consists of several simple steps. At each stage, you can use a little advice on how best to depict the next element. If you are ready, you can start drawing this funny character.
Materials
Pencil
Paper
Eraser
Coloring supplies
Time needed: 30 minutes
How to Draw Phineas
Draw the head.

The head has the shape of a triangle, draw the small ear on the side.

Add the upper body.

From the head, depict down straight lines to draw the sleeves and belly.

Sketch out the arms.

With the help of smooth lines draw two thin arms.

Draw the bottom of the T-shirt.

Depict a straight line to mark the edges of the T-shirt.

Add the shorts.

Below the shirt draw short shorts using straight lines.

Depict the legs.

Draw two parallel lines on each side to depict thin legs and add shoes at the bottom.

Add the facial features.

Depict two round eyes, eyebrows, the mouth, and the inside of an ear.

Add details.

Using zigzag lines draw the hair. Depict several horizontal lines on the T-shirt.

Color the drawing.

Choose beige for the skin, red for the hair, blue for the shorts, and add yellow stripes to the t-shirt.
It was the lesson in which you learned how to draw Phineas. I will be glad to receive feedback from you. Finally, I suggest you download the PDF file, which contains a short version of the lesson and some useful content. Thus, this lesson will be available to you at any time.