Learn how to draw Ben 10 easily and quickly with this very easy step by step tutorial. I promise you will really enjoy this tutorial!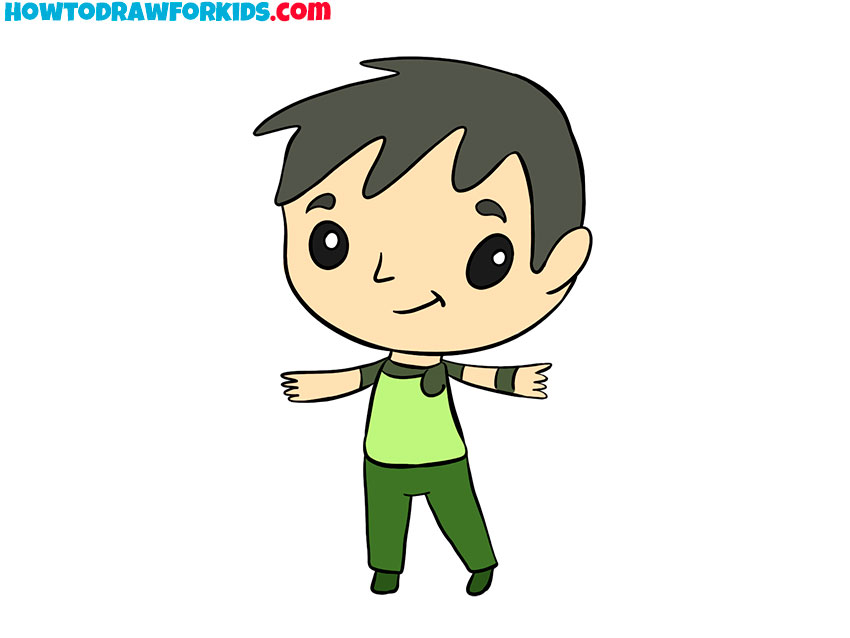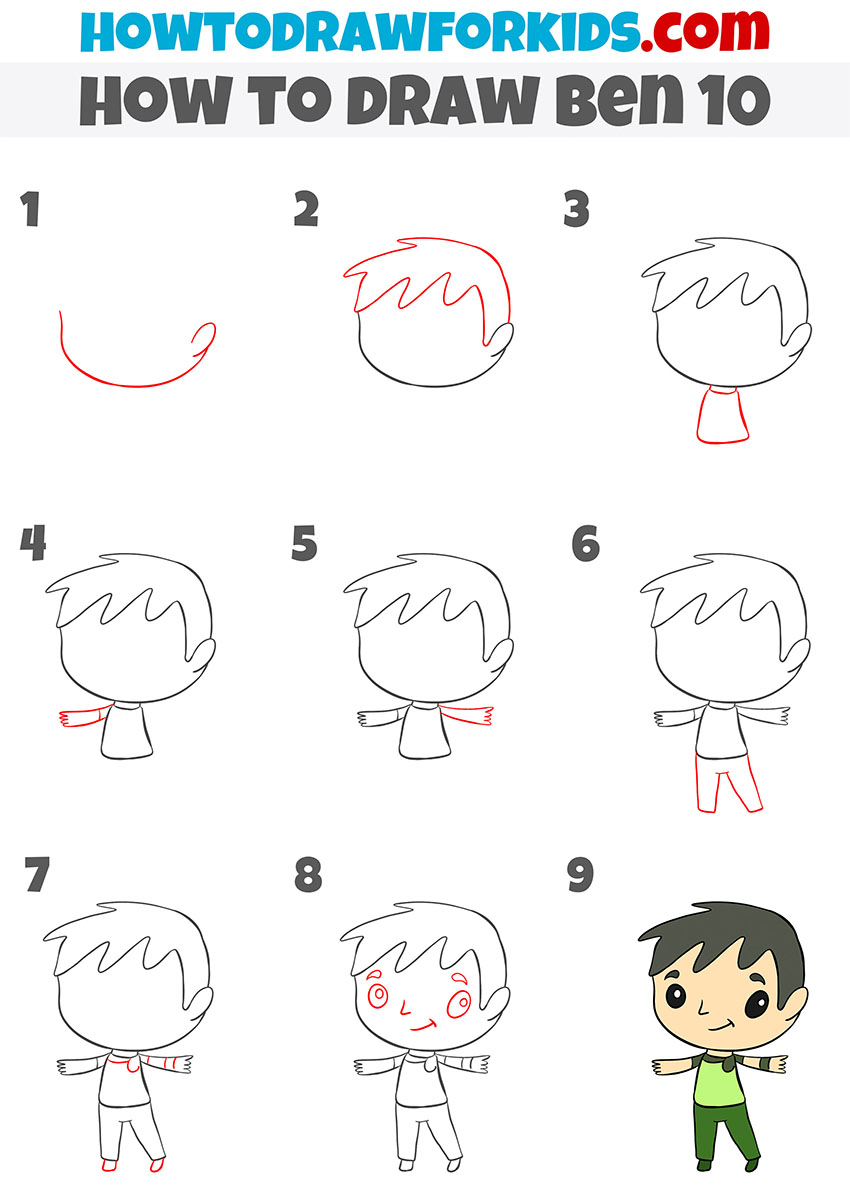 In this tutorial, I will show you how to draw Ben 10. This is the main character of the popular animated series. Ben 10 is a short, thin teenager, but at the same time, he has great strength. Full name Ben Tennyson.
As you remember, Ben owned a powerful Omnitrix device that allowed him to transform into various alien life forms. The boy wore this device on his arm.
I think that you will enjoy drawing this popular character, especially since it is very easy to do. This step-by-step guide is designed for kids and beginners, so it uses the simplest elements that can be easily replicated.
In this tutorial, Ben 10 is presented in chibi style. This is one of the graphic styles of manga, in which the character has certain proportions, that is, the head is much larger than the body, arms and legs are short. The main thing is to correctly depict the main features, hairstyle, and clothing style, and then the character will be easily recognizable.
Materials
Pencil
Paper
Eraser
Coloring supplies
Time needed: 25 minutes
How to Draw Ben 10
Draw an oval for the face and an ear.

Depict a smooth rounded line and draw the small ear on one side.

Depict the hair.

Using several zigzag lines draw the hairstyle of the same shape as shown in the picture.

Draw the torso.

Below the head, depict the small torso that is shaped like a trapezoid.

Add one arm.

On one side draw the short arm.

Depict the second arm.

Repeat the previous step and add the arm on the other side.

Sketch out the legs.

Using straight lines draw two small legs.

Add details.

On the legs draw the shoes, on the arm depict the magic device, and detail the clothes.

Draw the facial features.

Sketch out the eyes, nose, mouth, and eyebrows.

Color the Ben 10.

For clothes, use different shades of green, beige for skin, dark gray for hair.
Another lesson has come to an end. Now you know how to draw Ben 10 and a new character has appeared in your collection of drawings. Now you can download a short version of the lesson in PDF format for free. Thanks to this, you can return to the lesson at any time, even if there is no Internet.