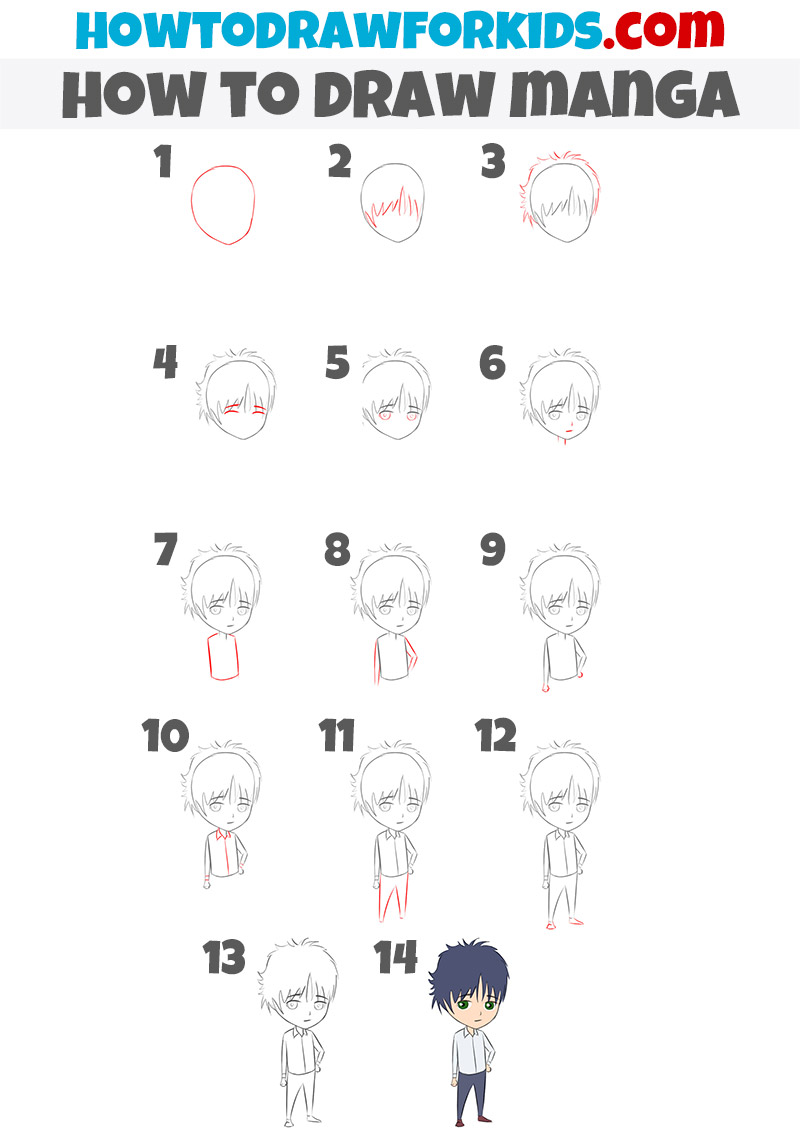 In the previous instructions, we drew anime, and now I will show you how to draw manga very easily.
This style of drawing appeared a long time ago and became popular all over the world. In the style of drawing manga, there are many features that will be discussed in this instruction.
But it is important to note that on the pages of Howtodrawforkids.com, I show how to portray animals, people, and characters in the most simplified form. And in the instructions on how to draw manga easily, I will show the easiest way to draw manga.
To draw manga, you will need a pencil or marker, as well as a sheet of paper. At the very end of the work, you can use a set of paints, colored pencils, or markers for painting the result.
Step 1
First, draw a large, round head.
Step 2
Now draw the bangs using the jagged line.
Step 3
Now draw the top edge of the hairstyle with smooth lines.
Step 4
Now depict the thick eyebrows and upper eyelashes.
Step 5
Draw large pupils using semicircular lines.
Step 6
Now depict the nose, miniature mouth, and thin neck.
Step 7
Draw a rectangular torso below.
Step 8
Depict the arms with a few simple lines.
Step 9
Finish drawing the arms by depicting hands clenched into fists.
Step 10
Now depict the collar and other lines on the shirt.
Step 11
Draw legs below the torso as in the example below.
Step 12
Finish drawing the legs by depicting the feet.
Step 13
Delete all the construction lines from the manga drawing.
Step 14
I decided to use purple, green, gray, and brown colors.
But you can of course use completely different colors. You can paint any part of the manga character's body in any color you like.
As you can see, this instruction on how to draw manga was really simple. If you want to see some specific instructions on the pages of Howtodrawforkids.com, write me about it in the comments.