In this tutorial I will tell you how to draw a lion for kindergarten. The lion is a very large animal, however, my guide will help you create a beautiful realistic drawing.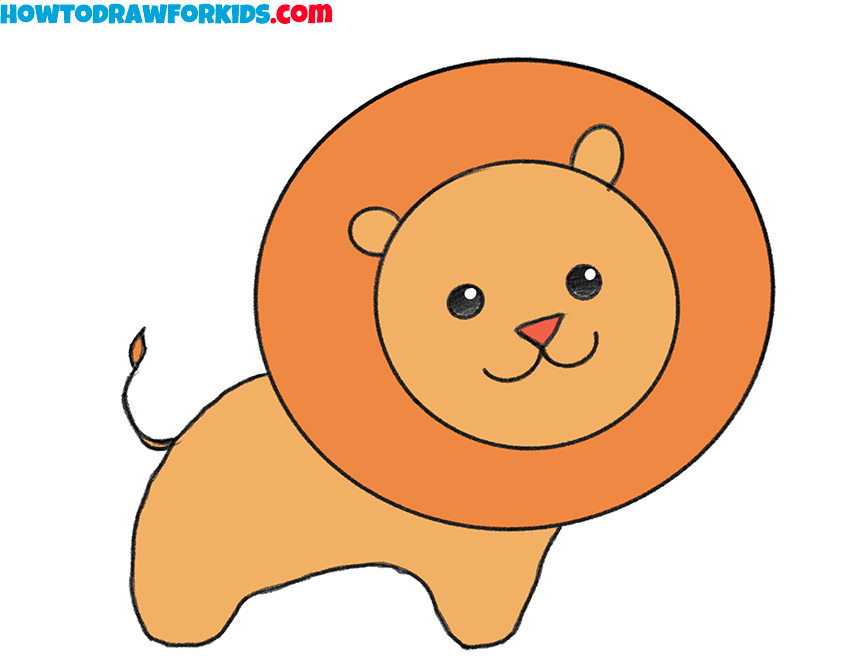 Do you think drawing a lion is a very difficult task? In fact, it's easy enough. I have deliberately simplified many of the details and proportions so that you can get a great result. At the same time, with the help of some techniques, you can get a complete and vivid drawing. I will talk about this a little later.
In this tutorial, you can see several rounded shapes. It will be ideal if you draw this without any auxiliary tools. This will greatly help develop your drawing skills from lesson to lesson.
So, grab your favorite painting supplies, put on some nice music, and start painting!
Materials
Pencil
Paper
Eraser
Coloring supplies
Time needed: 20 minutes
How to draw a Lion for kindergarten
Depict two circles.

Place these two circles in the upper right corner of your piece of paper.

Draw the torso and tail.

The torso looks like a very fluid shape under the circle from the previous step. The tail is a curved line with a tassel at the end.

Draw the facial features and ears.

Just repeat my steps in this step. The ears and eyes look like regular circles, and the nose looks like an inverted triangle.

Color the lion.

The slight glare in the eyes is a very important detail that will bring your drawing to life.
Well, this drawing guide is over and you can enjoy your drawing. I have created a special PDF version of this tutorial for you. It contains the coloring page, tracing worksheet, and grid drawing worksheet. With this pdf, you can practice drawing at any time, even when the Internet is turned off.